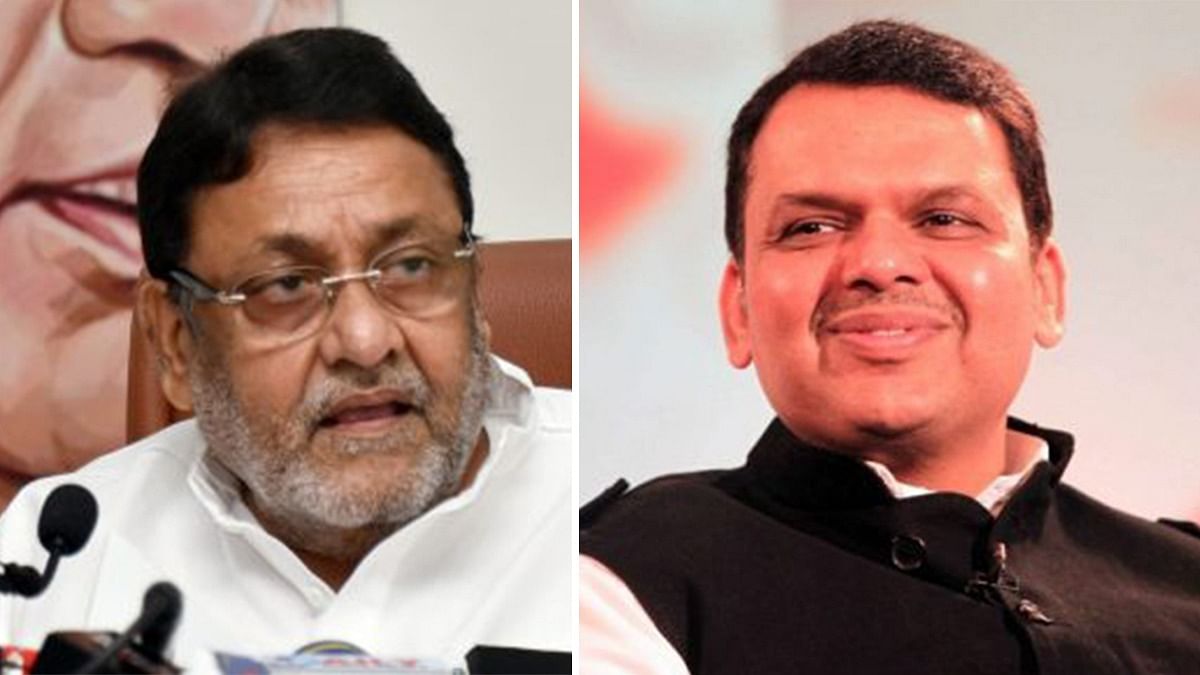 Mumbai: Devendra Fadnavis, the former Maharashtra chief minister and current Leader of the Opposition in the assembly, has dropped the 'bomb' he had promised after Diwali, alleging that a company owned by the family of NCP minister Nawab Malik bought land at a throwaway price from two men linked to the underworld.
The underworld-linked men Fadnavis mentioned are a 1993 Mumbai blast convict, Sardar Shahawali Khan, and the "right-hand man" of Dawood Ibrahim's sister Haseena Parkar, Saleem Patel.
Malik, in his own press conference following Fadnavis' Tuesday, strongly denied "any relation with either Haseena Parkar or any gang lords" and maintained that the land was purchased legally. He said he now plans to drop a "hydrogen bomb" exposing Fadnavis' links with the underworld the following morning.
Malik is the NCP's chief spokesperson, president of its Mumbai unit, and a cabinet minister in the Maha Vikas Aghadi government. He has been holding press conferences almost daily since October, poking holes in the Narcotics Control Bureau's alleged drug bust involving actor Shah Rukh Khan's son Aryan Khan, and targeting BJP leaders.
He started his slugfest with Fadnavis last week when he alleged that the former Maharashtra CM was the "mastermind" of the state's drug trafficking business.
Fadnavis had then dismissed the allegations as a "fuska fataka" (damp firecracker), promising to deliver a "bomb" about Malik's alleged underworld connections post Diwali.
---
Also read: Nawab Malik — UP-born Maharashtra minister becomes household name with Aryan Khan case
---
Kurla land deal
Addressing a press conference Tuesday, BJP leader Fadnavis said the land in question is a 2.8-acre plot at L.B.S. Marg in Kurla called the Goawalla Compound, which was purchased by Solidus Investments Private Limited in 2005 at "a pittance of Rs 30 lakh, or Rs 25 per square feet".
According to papers released by Fadnavis, the property was part-owned by Sardar Shahawali Khan, and the power of attorney was with Saleem Patel. Khan, a civil contractor, is currently serving a life term for his role in the 1993 blasts, after being held guilty of helping Tiger Memon execute the blasts, attending weapons training programmes and key meetings related to planning the conspiracy. Patel is said to be the driver and bodyguard of Haseena Parkar, who was also the "chief of Parkar's land grabbing business", Fadnavis alleged.
According to Fadnavis, Haseena Parkar was amassing wealth on Dawood Ibrahim's behalf after he went absconding, and her henchman for this was Saleem Patel.
Fadnavis claimed Patel held an "irrevocable power of attorney" for the Goawalla Compound.
Fadnavis said the original owners — Miriambhai Goawalla and Mubira Plumber — had given the power of attorney to Patel, while Sardar Shahawali Khan was the third owner. The BJP leader showed registration documents from 2005 to back his claim that Solidus Investments purchased the plot from Saleem Patel and Shahawali Khan in 2005, and Nawab Malik's son, Faraz Malik, had signed as the purchaser.
The former CM said Nawab Malik himself was briefly part of the company in 2019, before becoming minister.
"I want to ask Nawab Malik, did you know who Saleem Patel was? Why did you buy land from criminals in Mumbai and those who planted a bomb in the city? Why did they sell their land at LBS Road to you?" Fadnavis asked.
"Was this a deal to prevent prime land in Mumbai from being forfeited to the government under TADA [Terrorist and Disruptive Activities (Prevention) Act]? This shows a direct connection to the underworld," he alleged, adding that there are a total of five such dubious property deals involving Malik, and in four of them, there is a clear underworld connection.
Fadnavis claimed, in 2005, there were land deals at L.B.S. Marg on a nearby plot for Rs 2,053 per square feet, and yet Solidus closed the deal at Rs 25 per square feet and actually paid just Rs 15 per square feet.
"The transaction is so complicated that it will leave you confused. They also created fake tenancies on the land to further complicate it," Fadnavis alleged.
He added he plans to give all the evidence he has to the "competent authority" and also share it with NCP president Sharad Pawar for appropriate action.
'Nothing illegal'
Soon after Fadnavis' press conference, Malik addressed his own, and refuted all the allegations, saying the former CM's informants are "kachche khiladi" (weak players).
The NCP leader said his family were tenants on a portion of the plot for many years before the purchase, and he had also run his 1996 election campaign, when he first became an MLA, from the Goawalla Compound office. He added that Shahawali Khan's father was employed with the owners of the Goawalla Compound, and over a period of time, he claimed ownership on a small 300-metre plot, which the Malik family got him to surrender when Solidus Investments bought the plot.
"We were already tenants on the land. We converted it to full ownership legally, completing all formalities. The owners asked us to deal with the person who had power of attorney. Shahawali Khan's father owned a small part of the plot, which we got him to surrender by paying him money for it," Malik said.
Malik added that allegations of the purchase being made for a paltry amount are also baseless, and the area of the plot is not what Fadnavis is making it out to be. "There is a cooperative housing society on the plot with over a hundred houses, and Solidus is in contest with it over the plot area," he claimed.
(Edited by Shreyas Sharma)
---
Also read: Nawab Malik claims NCB's Sameer Wankhede part of plot to kidnap Aryan Khan for ransom
---