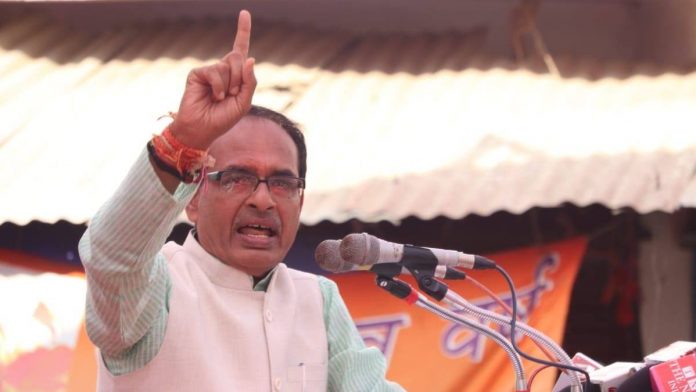 Text Size:
Chouhan's 'preferential treatment' in candidate selection process could backfire him as well, say party leaders.
New Delhi: The list of 230 candidates the BJP has announced for Madhya Pradesh assembly elections has chief minister Shivraj Singh Chouhan's stamp all over it.
Top BJP sources claimed that even the party high command, after much persuasion by Chouhan and union minister Narendra Singh Tomar, had left the candidate selection task to the state leadership.
Chouhan, who is facing anti-incumbency, had put his candidates in place while keeping the strong leaders in check — a trick that could backfire on him as well, analysts say.
"It is his (Chouhan) list that finally got the approval from the central leadership," a senior party leader said.
"He had taken care of his former ministers by repeating their sons and relatives who had already fought and won election for him and managed to keep the national leadership out of the process," the BJP leader added.
While, the party had given tickets to many former ministers and their sons — most of them had been contesting elections for the third time — Chouhan had kept relatives of tall leaders such as Lok Sabha Speaker Sumitra Mahajan, Narendra Singh Tomar and Thawar Chand Gehlot out of the list.
The BJP sources claim this kind of 'preferential selection' would harm the party in the upcoming polls. Even for those who have got tickets for their wards, things have been made complicated, said a source.
---
Also read: BJP's ticket distribution in MP clearly shows party also indulging in dynasty politics
---
'Pick and choose' policy
Sumitra Mahajan had sought ticket for his son Mandar from Indore -3 constituency, a seat that was allocated to Akash Vijayvargiya, son of BJP's national general secretary Kailash Vijayvargiya. However, the latter wanted Indore-2, which is considered a safe seat for the BJP, for his son.
"Finally, Akash was given ticket from Indore-3, which is the stronghold of Sumitra Mahajan. She is already unhappy about rejection of his son's candidature and both leaders had their differences in the past as well. This will have a big impact in the polls," a senior party leader said.
It is learnt that Indore-2 candidate, Ramesh Mendola, a confidante of Kailash Vijayvargiya, requested the party leadership to change his seat so that it could go to his son, but the state leaders remained adamant on allotting Indore-3 seat to Akash.
Sources claim even Tomar is not happy about his son, Devendra Pratap Singh Tomar, being ignored by Chouhan.
"Tomar has been asked to sit tight as he could be the CM candidate in future but if he insists on his son's ticket, then his candidature could be in jeopardy," a senior leader of the state said.
Similarly, Union minister Thawar Chand Gehlot's son Jitendra, a sitting MLA, has been given ticket, but Gehlot's close aide Satish Malviya was dropped from the final list.
Instead, Ajit Borasi, son of former Congress MP Premchand Guddu – both had joined BJP recently — was allotted the Ghatiya seat. It was Vijayvargiya who had brought Guddu to the party fold.
---
Also read: Shivraj Singh Chouhan to Kamal Nath: Everyone has a son ready in Madhya Pradesh politics
---
Fighting anti-incumbency
In the 2013 assembly polls, the BJP that had contested in all 230 seats won 165 seats. The party had introduced 100 new faces and repeated 130 candidates in 2013. This time, the party has gone overboard by changing 102 candidates from its previous list.
Get the PrintEssential to make sense of the day's key developments