Prime Minister Narendra Modi's ruling party swept to a comfortable win in India's most politically significant state, signaling voters still trust him despite economic hardship in the wake of the pandemic. But rising prices could still pose a risk to his chances for a third term.
According to the leads counted by the Election Commission of India Thursday, Modi's incumbent Bharatiya Janata Party-led coalition was ahead in 269 seats in Uttar Pradesh state's 403-member assembly. Its main rival, Samajwadi Party, and its allies were leading in over 129 seats. However, despite comfortably sailing well past the halfway mark, the BJP remained short of the 312 seats it won in the state five years ago.
Uttar Pradesh, where Modi was the star campaigner for his party and its allies, is seen as a test of the prime minister's popularity ahead of national elections in 2024. The strong showing could strengthen his position and allow him space to implement hard-to-sell reforms, such as simplifying archaic labor laws, the privatization of state-owned power distribution companies and two state-owned banks.
"If general elections were held today one could expect the results to move further in the BJP's direction since Modi's popularity will shine even brighter in the national theater of politics," said Milan Vaishnav, director and senior fellow, the South Asia Program at the Carnegie Endowment for International Peace.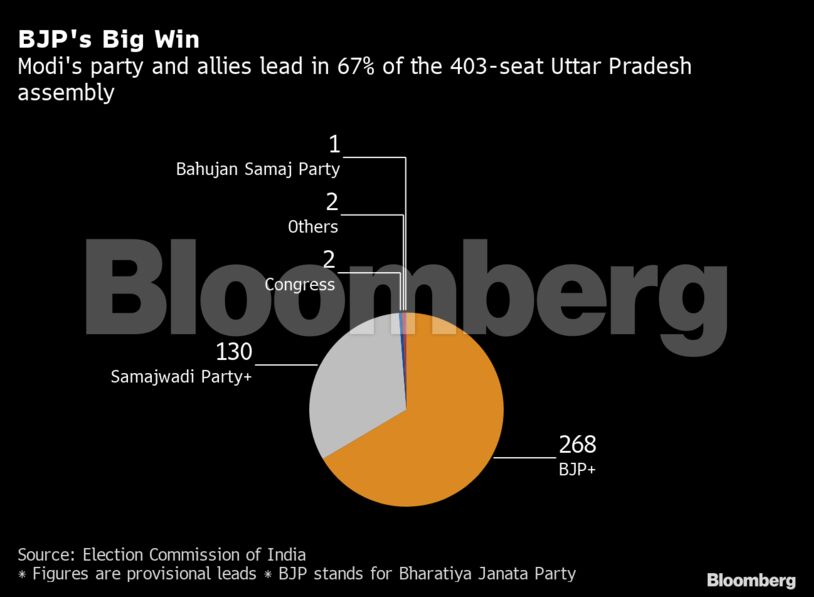 Massive crowds of jubilant BJP supporters on Thursday thronged outside the party's headquarters in New Delhi and state capital Lucknow to celebrate the win.
"Today is a day of celebration and joy," Modi said in a victory speech in New Delhi. "I'm sure that political analysts will see that the results of the 2022 elections will decide the verdict for 2024."
The results show the prime minister has overcome a difficult 2021 when India experienced a brutal second-wave of coronavirus infections that overwhelmed hospitals and crematoriums. His popularity also briefly dipped as tens of thousands of farmers held a yearlong protest against his government's new agricultural laws, which he was forced to reverse.
"Modi's surprise decision in November to repeal three controversial agricultural reforms appears to have paid off," said Peter Mumford, head of South & Southeast Asia, at risk consultancy Eurasia Group.
Economic Worries
However, rising prices and joblessness are likely to linger as points of pain in the economy. In January, India's inflation breached the upper end of the central bank's tolerance band and the country has already lost 8.8 million jobs this year. The war in Ukraine could have ripple effects on both costs and the labor market.
"There are, of course, many looming issues that will pose a challenge to the BJP," Vaishnav said. "The spike in oil and commodity prices, persistent inflation, unemployment, and muted investment will, individually and collectively, complicate the very patchy economic recovery."
With a population of 230 million, Uttar Pradesh also has outsize importance in the federal parliament, with lawmakers from there accounting for 80 of the 543 seats in the lower house, more than any other state in the country. The opposition Samajwadi Party, led by former chief minister Akhilesh Yadav, failed to capitalize on voters' angst about unemployment and price rise.
Four other Indian states are also electing new legislatures and Modi's party is set to win in three — Uttarakhand state, Goa in the west, and the northeastern state of Manipur. The Aam Aadmi Party, which is trying to expand its reach beyond the capital New Delhi, swept the northern state of Punjab, wresting power from the Congress party.
Final results will be released late Thursday night.
Hindu Nationalism
The strong electoral showing could also empower the prime minister and the BJP to tilt more sharply to the party's Hindu nationalist agenda — such as a proposal for a uniform civil code covering areas such as marriage and divorce that would apply to everyone regardless of religion, or the implementation of a national registry of citizens — that would worry minority groups.
The BJP's campaign in Uttar Pradesh was a mix of touting their pro-poor policies — like low-cost housing and toilets — along with appeals to the Hindu majority spearheaded by its firebrand Chief Minister Yogi Adityanath.
The BJP-coalition "will likely return for a third term," said Priyanka Kishore, head of India and Southeast Asia at Oxford Economics. "But similar to 2019, the BJP's manifesto will focus on non-economic agenda, as the economic outlook has definitely taken a turn for the worse." – Bloomberg
---
Also read: New hope for Modi govt's economic reforms agenda after big win in assembly elections
---