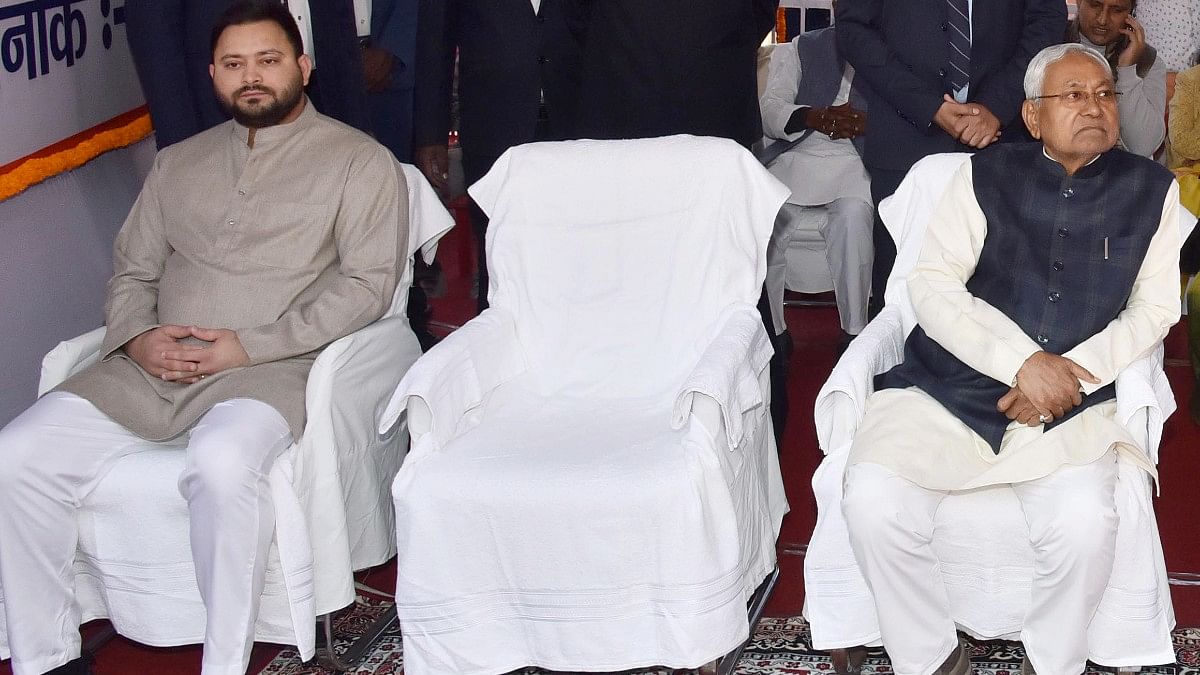 Patna: The public spat between leaders of the Janata Dal (United) and Rashtriya Janata Dal goes beyond RJD MLA Sudhakar Singh's statements against the Bihar chief minister and the controversial comments of education minister Chandra Shekhar on 'Ramcharitmanas'. Its roots lie in CM Nitish Kumar's refusal to give space to the RJD in administrative decisions, ThePrint has learnt.
"This government was formed in August last year. Since then not a single RJD minister has been able to get an officer of his choice. Even the health and road construction department headed by Deputy CM Tejashwi Yadav is still headed by Pratyaya Amrit — who has a reputation of being the CM's man," an RJD minister told ThePrint.
The 1991 batch IAS officer is known to be Nitish's go-to man, who has bailed the CM out at various junctures, including the Covid pandemic.
Nitish also has not filled vacancies in boards and corporations in which the RJD had hoped to "adjust" its own representatives. The couple he has formed, like the Most Backward Classes Commission, has JD(U) nominees at the helm. While JD(U)'s Navin Arya was made the chairman of the Commission, the RJD had to remain content with the remaining membership in the panel.
A series of important appointments in the state administration have also seemingly not been to the RJD's likings. While appointing R.S. Bhatti last month as the new Bihar Police chief at the last moment, Nitish ignored the plea of his ally which is said to have preferred another senior IPS officer Alok Raj to lead the force.
Nitish also made Bhatti's predecessor S.K. Singhal the chairman of central selection council, which conducts various exams including those for recruiting police constables. The RJD had come out against Singhal's style of functioning, including his ability to lead the police force, when it was in the opposition ranks before August last year.
Former Bihar minister P.K. Shahi's appointment this month as the advocate general further irked JD(U)'s ally. Shahi had earlier served in the same capacity from 2005 to 2010.
In 2013, RJD chief Lalu Prasad had alleged that the trial court judge in a fodder scam case was biased as he is a relative of Shahi, then education minister in the Nitish Kumar government.
During his ongoing Sadbhavana Yatra, Nitish has avoided including RJD ministers in his interactions with the people and made it a JD(U) show.
"Whenever Tejashwi Yadav raised some of these grievances to the CM, Nitish dismissed him with a 'ho jayega' (will be taken care of) and not doing anything about it. He would say that he (Tejashwi) should concentrate on 2025, when he will lead the alliance," the RJD minister said, stressing that being ignored has led to resentment among RJD leaders and workers.
On the surface, JD(U) spokesperson Neeraj Kumar and his RJD counterpart Mrityunjay Tiwari told ThePrint that the CM was entitled to take these decisions.
Last month, during his ongoing Jan Suraj Yatra, political strategist Prashant Kishor had hinted that the alliance might be over before 2025, when state election is due in Bihar. In 2020, Kishor fell out with Nitish, who in 2018 had made him the JD(U) national vice-president. 
---
Also Read: Why Bihar CM Nitish's latest yatra has BJP scoffing, JD(U) weary — 'whole show is staged'
---
The bitterness
When the Mahagathbandhan came to power in Bihar, political observers thought Nitish would play second fiddle and would shift to Delhi leaving Bihar to Tejashwi. 
However, Nitish has said the next election will be contested under Tejashwi's leadership, suggesting that he intends to keep the CM's chair all through his current term. 
It was only in the first week of January that Nitish announced he would work for ensuring unity in opposition ranks at national level after the Assembly's Budget session concludes on 31 March.
But the bitterness between the JD(U) and the RJD has been ongoing since October last year when former agriculture minister Sudhakar Singh bad-mouthed Nitish and questioned his governance. As JD(U) was bent on action against Sudhakar, the RJD finally relented Wednesday when its national vice-president Abdul Bari Siddiqui issued a show-cause notice to Sudhakar.
Siddiqui told ThePrint he had done it on the instruction of RJD chief Lalu Prasad, who is recuperating in Singapore after a kidney transplant. 
Education minister Chandra Shekhar, meanwhile, is yet to tender an apology for his remarks about 'Ramcharitmanas', as demanded by the JD(U). Tejashwi has also defended Shekhar, asserting it was a matter of freedom of speech.
The RJD leader had claimed the poem based on 'Ramayana' "spreads hatred in the society" as well as propagates discrimination against certain castes.
"After the RJD's show-cause notice (to Singh), we expect things to cool down as elections are coming near and allies do not want to disturb each other as it has an adverse impact on the vote bank. But the resentments will be there," a senior JD(U) leader conceded to ThePrint. 
(Edited by Tony Rai)
---
Also Read: From 'jamaat' to 'jaat' — how Nitish is using the caste census in Bihar to corner the BJP
---