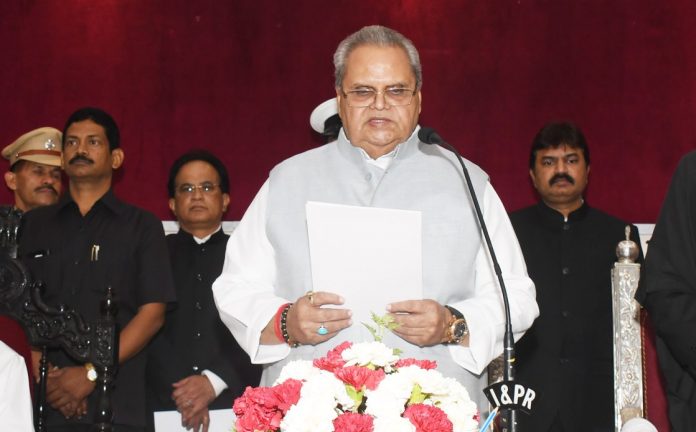 Text Size:
J&K Governor Satya Pal Malik says Friday's killing of 3 special police officers shows militants' desperation, because security forces have taken upper hand.
New Delhi: Jammu and Kashmir Governor Satya Pal Malik has ruled out any "underhand" deal at government formation, and said fresh elections will be held "as soon as possible".
In an interview to ThePrint, Malik also said Friday's killing of three special police officers (SPOs) in Kashmir was a sign of the militants' desperation.
Fresh assembly elections
Responding to a question on whether the Central government has any plan to restore an elected government in J&K, which has been under Governor's Rule since June, Malik said: "Not right now. Our focus is the ensuing panchayat elections. Once these are done peacefully, we will look at fresh elections as soon as possible.
---
Also read: BJP will not take initiative to form govt in Jammu & Kashmir, says Ram Madhav
---
"But we don't want to cobble together a government through any underhand means. After the ongoing elections, we will start looking at holding fresh elections for the J&K assembly. There is no plan to form a government by engineering defections."
On panchayat elections and whether, in light of the increasing incidents of violence, the state would continue the process, Malik said: "There is no way elections will be postponed. The process will be carried through. The home ministry is sending extra forces to provide security to candidates."
Combating militancy
Asked about the killing of three police personnel by militants in Kashmir Friday, Malik said the security situation in J&K was "improving".
He said the killings were just a reaction to the successes that the security forces had registered in anti-militancy operations.
"In Ireland, terrorism was controlled in 30 years. But, we will end it soon. Our forces have established complete domination and have the upper hand. Our understanding is that just a handful of terrorists are left now," the governor said.
"In the last one month, we have neutralised 15-20 militants without losing even one of our boys. J&K Police is at the forefront of all anti-militant operations. What has happened today only shows the frustration of the terrorists. And to kill unarmed SPOs, who didn't have a direct role in the operations, only proves that," he said.
---
Also read: 7 Kashmir special police officers resign amid Hizbul threats, govt says it's propaganda
---
"Now, the militants have come to the situation where they can only kill unarmed people. If this is not cowardice, what is? Let me tell you, we will punish those behind the incident. We are identifying the perpetrators of the crime. They won't be allowed to escape."
He also played down the resignation by seven SPOs Friday, which the home ministry has called "false propaganda".
'Terrorism is not in the gun'
Malik said the government was of the firm view that "terrorism is not in the gun — it survives in the minds of the people. That is what needs to be addressed".
"The alienation of the youth has to be addressed. That is our focus now. But, it can't be controlled if we fight with them. We have to see how to address the issues pertaining to the youth," he said.
"It can be through sports, music, arts and culture. We have constructed two state-of-the-art auditoriums — one each in Jammu and Srinagar. Recently, when one youngster (Qamran Iqbal) made it to the (under-19) national cricket team, over 20,000 people turned up to celebrate his achievement.
The governor said Kashmir will host two Indian Premier League matches in the next season.
"Kashmiris also like listening to FM channels, and we have decided to take all FM channels to all disturbed districts of Kashmir," he said.
The question of talks
Malik, the first politician to be appointed governor of the state, also said the only way to end J&K's alienation was through development and talks.
"That is the only answer. Arguments will not get us anywhere. First generate goodwill (among the masses) and then hold talks. That is the only way forward," he said, when asked if the Central government plans to hold talks with Kashmiris.
But when will talks happen? And will separatists be part of the talks?
"Talks will be held. They are our own people. Talks will have to happen at some stage when they express the desire to talk. But, I don't want a situation similar to when our people went and Hurriyat leaders didn't even open their doors," he said.
"When there is enough goodwill and they feel like talking, we will talk to them respectfully."
Ouster of DGP Vaid
On the unceremonious ouster of state DGP S.P. Vaid last month, Malik said: "The decision to bring in a new face was taken before I came in.
"I was very comfortable with him (Vaid). He was doing a good job, a very good officer. He has also accepted it very gracefully. The process to appoint the new (full-time) DGP is already on and the UPSC is looking at it."
Mandate given by PM
Asked if, when he was appointed governor, he was given any mandate by the Central government, particularly Prime Minister Narendra Modi, Malik replied in the affirmative.
"The Prime Minister's mandate to me was to go to J&K and give clean, sensitive government and carry out development work… development hasn't happened in the state. The mandate is to show development," he said.
"My target is to open the doors of the Governor House to the public. I meet anyone and everyone who comes to meet me."
Get the PrintEssential to make sense of the day's key developments