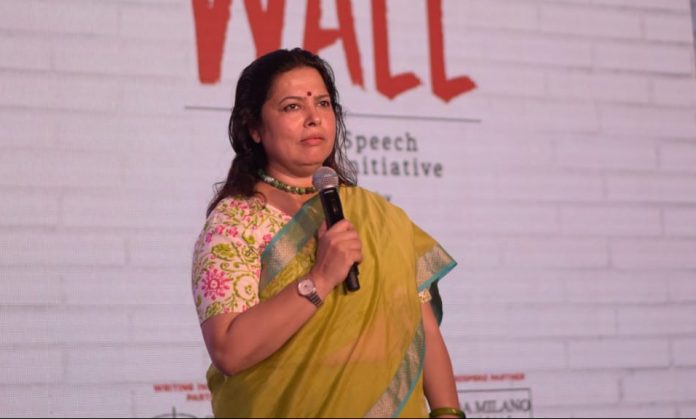 Text Size:
On India's #MeToo movement, BJP's Meenakshi Lekhi says women shouldn't wait for years but should handle cases of sexual harassment then and there.
New Delhi: With the BJP government maintaining a studied silence over allegations of sexual misconduct and harassment against Minister of State for External Affairs M.J. Akbar, party MP Meenakshi Lekhi Wednesday said since the minister had a background in the print media, the onus to speak on the issue was on media editors and not on her.
"The minister you are talking about comes from print media, so editors should speak about it, not me," Lekhi said, speaking at ThePrint's monthly event, the Democracy Wall, this time being held in Vellore.
---
Also read: On M.J. Akbar, Narendra Modi doesn't have luxury of staying silent
---
Lekhi is the first BJP leader to comment on the allegations of sexual harassment that have surfaced against Akbar, a former journalist.
Although Lekhi stepped around the question on Akbar, she weighed in on the larger #MeToo debate raging in the country.
"Sexual harassment is serious… It exists everywhere where man-woman interaction happens, and men somehow think they are superior creatures," she said. "So if you can correct that bias and notion of freedom then a lot of it will get corrected."
Over the last two days, several women journalists, including Saba Naqvi, Priya Ramani, freelance journalist Kanika Gahlaut, resident editor of The Asian Age Suparna Sharma, author Ghazala Wahab, a former The Asian Age journalist, author Shuma Raha and journalist Prerna Singh Bindra, have come forward to give their accounts of alleged harassment by Akbar.
'Women should handle harassment immediately'
While Union Minister Maneka Gandhi has supported the #MeToo movement and said women should be allowed to come out with their accounts of harassment at any time, Lekhi toed a different line.
"I normally say (you) don't have to wait for 10 or 20 years…handle it (harassment) immediately in 10 minutes right there and then," she said.
Arguing that not speaking up immediately works against the survivor, she said, "When there is a long lag of time, you bring the suspicion onto yourself.
"If somebody is mishandling or mistreating you, you should immediately put that in writing… putting the time then and there that I entered at 10.30, now it is 10.54, this is exactly what happened to me and then your mind is also fresh."
While she said that sexual harassment is a reality, Lekhi added that there was also misuse of such complaints.
---
Also read: #MeTooIndia can change the way we treat women in India
---
"Sexual harassment is the reality of the day but the second reality is that many women use sexuality also…There are many false cases of all kinds," she said. "So when you're dealing with an issue of this complex nature, timing is very important."
At a time when several women are speaking out about instances of harassment that took place years — even decades — ago in what is widely being seen as a cathartic moment for women, Lekhi said #MeToo may not be the way forward.
"Instead of MeToo, we should campaign for 'handle it right there and then' and give that confidence to women that 'you have that authority and you have that autonomy to walk out on no matter who that boss is'," she said.
Separate fact from fiction, the real from the fake going viral on social media, on HoaXposed .