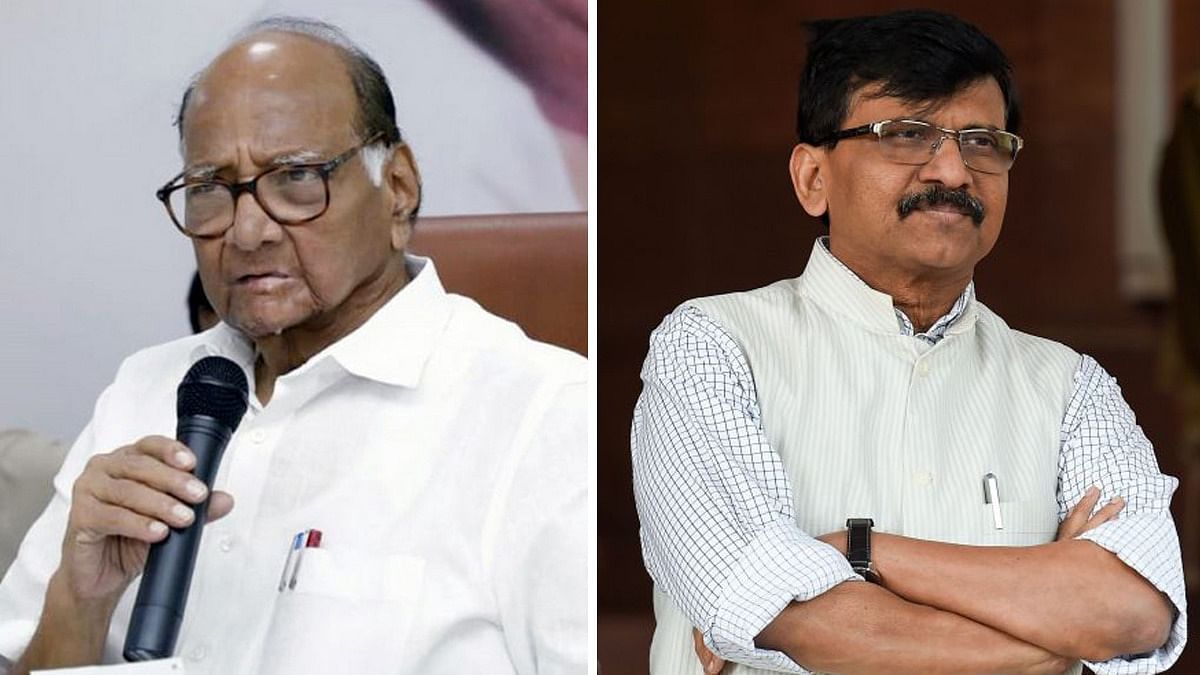 Mumbai: In November 2019, when the Shiv Sena was scrambling to form a government without its traditional ally, the Bharatiya Janata Party (BJP), party leader Sanjay Raut played a key role as the emissary of Sena President Uddhav Thackeray. He had then held closed-door meetings with Nationalist Congress Party (NCP) chief Sharad Pawar.
Seven months later, when there are growing differences between the two main partners in the three-party coalition of the Congress, the NCP and Shiv Sena, all of which constitute the Maharashtra Vikas Aghadi government, Raut once again met Pawar behind closed doors, but this time in the role of a journalist.
Raut, the executive editor of Shiv Sena's mouthpiece, Saamana, and known for his tart, acerbic editorials, interviewed Pawar Monday in what he said was typical "Saamana style".
"Had a candid conversation with national leader Sharad Pawar. This political interview interview will cause a stir in national politics," Raut, a Rajya Sabha MP, tweeted Monday night. "It will soon be published in Saamana and broadcast as well. Pawar spoke strongly on everything right from China to developments in Maharashtra."
Saamana has, however, not disclosed the date on which the interview is to be published.
Raut's tweet came the same evening that Pawar had to rush to Matoshree, the residence of Chief Minister Uddhav Thackeray, to iron out recent creases in the NCP-Shiv Sena relations. Senior leaders from both sides such as Anil Deshmukh, Eknath Shinde and Subhash Desai were also present.
---
Also read: How many Covid cases in Maharashtra? State govt and civic bodies can't make up their minds
---
Shaky three-party alliance in Maharashtra 
Pawar, who has been the main hinge of the otherwise shaky alliance, is likely to have spoken his mind on Thackeray's leadership as CM and the coordination between the parties, between ministers and the CM, and ministers and the bureaucracy.
Senior Congress as well as NCP ministers have alleged that they are not consulted or kept in the loop regarding decisions concerning their departments. In an interview to The Indian Express, former chief minister and Congress cabinet minister Ashok Chavan said, "There is no rift as such. But there is a growing feeling among senior Congress leaders and ministers that the party isn't getting its due as a partner…. there is a feeling among some of our ministers that they aren't being heard or addressed."
Shiv Sena President Thackeray, inexperienced in running the government, has also faced charges of relying too much on the bureaucracy. Congress leaders had strong reservations over Thackeray's decision to appoint former chief secretary Ajoy Mehta, who many politicians say has become a power centre within the government, as his personal advisor.
NCP-Shiv Sena rift
The interview is also likely to make Pawar's point of view public on the growing differences between the Shiv Sena and NCP. Pawar visited Matoshree Monday evening to mediate between the two parties on recent differences such as the internal transfers of 10 deputy commissioners of police from the Mumbai Police and the poaching of Shiv Sena corporators by the NCP at Parner in the Ahmednagar district.
The state government, at CM Thackeray's behest, scrapped the internal transfers of the 10 DCPs in less than 72 hours. Sources said, NCP Minister Anil Deshmukh, who handles the home portfolio, was aware of the transfers but CM Thackeray was not personally informed about them.
The Shiv Sena was also riled by the NCP's poaching of five corporators from the Parner Municipal Council last week. They were inducted into the party at Baramati in the presence of Thackeray's deputy CM Ajit Pawar.
In response, the Shiv Sena too decided to scorn the NCP by joining hands with the BJP for panchayat samiti elections in Kalyan.
---
Also read: Mumbai's Lalbaugcha Raja won't be part of Ganpati festival this year due to Covid
---
NCP-BJP relations
Raut is also said to have quizzed Pawar on former Chief Minister Devendra Fadnavis' claim that Pawar was in discussions with the BJP to form a BJP-led government after the assembly elections last year.
In an interview to senior political journalist Raju Parulekar, Fadnavis said that the BJP had been in talks with Sharad Pawar as well as his nephew Ajit Pawar to form a government and it was the former who had come up with the proposal.
"In 2017, there were a couple of meetings but things didn't work out. The same thing was tried in 2019. Sharad Pawar ditched us despite coming up with the proposal of forming the government. He changed his decision at the eleventh hour," Fadnavis said.
Newspapers had gone to press with headlines of how Thackeray was to be sworn in as chief minister in a Sena-Congress-NCP government. However, by morning Fadnavis had sworn in as chief minister and Ajit Pawar as his deputy. By the end of the day, most NCP MLAs who had supported this government backed out and the government fell within three days with the CM and deputy CM quitting before the floor test.
Pawar is now expected to bring clarity on the NCP's relations with the BJP, his own personal equation with Prime Minister Narendra Modi, and Fadnavis' claims that there were discussions to join hands with the NCP in 2017 too when BJP-Shiv Sena relations were extremely stormy.
---
Also read: Eyebrow threading device, kaadha instead of tea: Mumbai's beauty salons reopen with tweaks
---