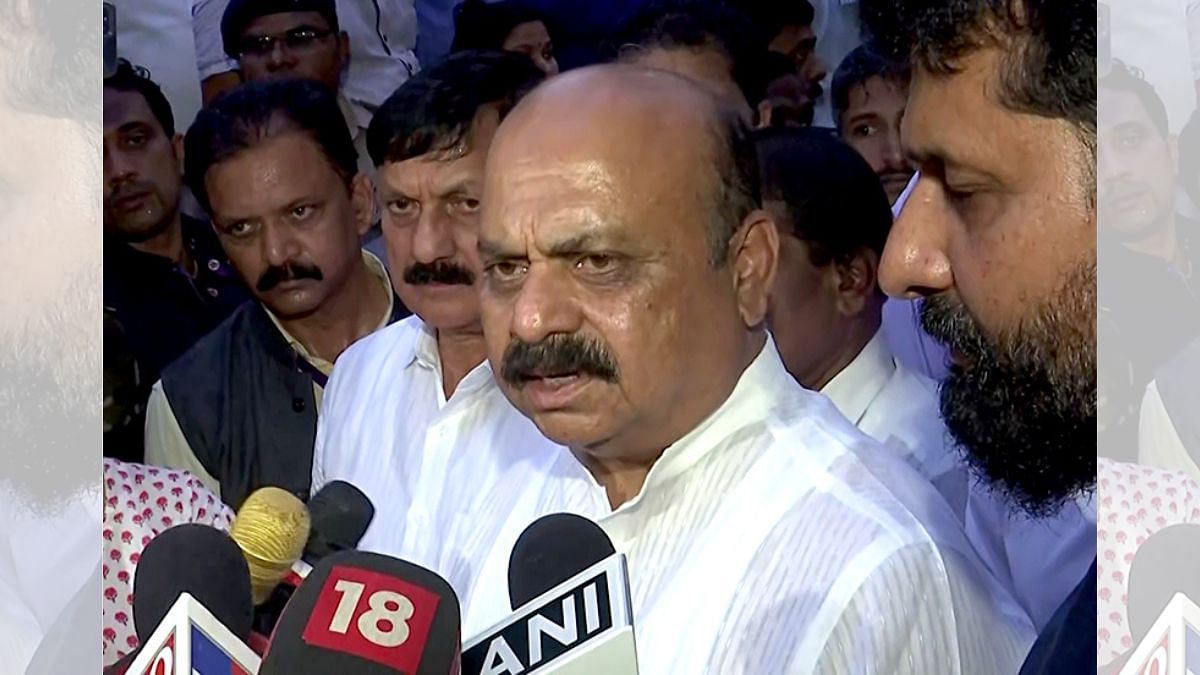 New Delhi: At a time when elections are looming in Karnataka, the Bharatiya Janata Party (BJP) government in the state — the only southern state where the party is in power — is busy dousing fires set by its own ministers as Chief Minister Basavaraj Bommai faces trouble from within the ranks.
The assembly polls are scheduled to be held in or before May 2023, with the BJP seeking a repeat term. However, despite assurances from the central leadership that the party will fight the polls under Bommai's leadership, the CM has been left embarrassed by comments made by two of his own ministers this past week.
Speaking at an event Tuesday in Ballari, Karnataka transport minister B. Sriramulu said that he wanted to see Congress leader Siddaramaiah as CM again.
"We criticise each other only for political reasons, it's not personal," said Sriramulu about the Congressman. "We are good friends. I am making this statement because I am not a slave to anyone. I am sure that one day Siddaramaiah, too, wants to see me become chief minister."
Sriramulu's comments came just a few days after a phone conversation purportedly between state law minister J.C. Madhuswamy and a social worker named Bhaskar was leaked. The minister was reportedly heard saying, "Our government is not working. We are only managing because there are just eight months left [for the assembly elections]."
While the CM has attempted damage control, saying that Madhuswamy's comments were made in a "different context", several cabinet ministers have demanded the resignations of the two ministers for "embarrassing the government".
The Congress, which hopes to return to power in the state next year, is trying to capitalise on the infighting in the state BJP.
In a tweet Tuesday, Karnataka Congress in-charge Randeep Surjewala wrote: "A weak-kneed CM Bommai & apology of BJP govt in #Karnataka stands exposed for what it is — a sinking ship. Kannadigas are waiting to throw out the BJP govt on an SOS basis."
Speaking to ThePrint, a Karnataka BJP vice-president said, "Competing leaders in Karnataka know that Bommai is the only chief minister for the time being. He will be replaced before or after the election, so this confusion from the top leadership creates uncertainty in the state, which is leading to confusion among leaders and creating opportunities for aspiring leaders who want to become chief minister."
Despite the BJP denying that Bommai will be replaced, rumours of a leadership change in the state have persisted. In April, former Karnataka CM Jagadish Shettar had called on Amit Shah, giving rise to much speculation. On Wednesday, senior BJP MLA Basanagouda Patil Yatnal was quoted as saying that, "If I am the CM candidate, we will easily get 150 seats (in the 224-member assembly)".
Moreover, BJP Karnataka in-charge Arun Singh's ongoing visit to the state has spurred rumours about the party still assessing the impact of Bommai's leadership on the ground.
---
Also read: Why 'Santhosh man' Arun Kumar was removed from Karnataka in BJP shake-up ahead of polls
---
In-house fracas
Sriramulu's comments are significant due to his political clout in Ballari district, from where he has won four consecutive assembly elections. This is despite his alleged involvement in the Ballari mining scam. His sister, J. Shantha, is the MP for the Ballari Lok Sabha constituency.
Moreover, as a member and leader of the ST Valmiki community, Sriramulu also commands influence in the adjoining districts of Koppal, Raichur and Gadag, which have large Valmiki populations.
His comments come in the wake of his fellow minister Madhuswamy's remarks about the Bommai government, which have triggered a row.
At one point, Madhuswamy appeared poised to become Karnataka CM. In 2021, when the BJP was looking to replace B.S. Yediyurappa, a Lingayat strongman, four-term MLA Madhuswamy was reportedly high in the list of contenders drawn up by the party. But he was passed over for Bommai and given the law portfolio instead.
In the audio clip that went viral. Madhuswamy in a conversation with Bhaskar, who was seeking action against cooperative banks in the state for charging farmers Rs 1,300 to renew a loan of Rs 50,000, reportedly said: "I know these issues," Madhuswamy was heard saying. "I have brought this to the notice of Somashekhar. He is not taking action. What to do?"
S.T. Somashekar Gowda, minister of co-operation, hit out at his colleague's comment, saying, "Madhuswamy is under the illusion that he alone is intelligent and has a knowledge of the ministries. He should break out of this illusion. He has levelled the charge that the government is limping. Maybe it is just his department that is limping."
Karanataka's horticulture minister Munirathna, too, found Madhuswamy's comments "improper". "He is part of the state cabinet and it is improper to make such comments against the government that he is a part of. If the state government is not working, he is also responsible and he should quit before making such comments," he said.
The law minister has, however, retaliated: "Who are they to ask me to resign from the cabinet? Only the chief minister can ask me to resign. I have communicated my issue to him and he is convinced by my reasons. I was provoked by a caller and I responded only in that context," he said.
'Inaction', 'mishandling' situations
This is not the first time that Bommai's governance has come under scrutiny. Earlier this year, he faced one of his biggest tests as CM in the hijab row — which made headlines for months and resulted in large student protests — leading to the BJP being slammed heavily by the opposition.
In July, the killing of Praveen Nettaru, a member of the Bharatiya Janata Yuva Morcha (BJYM), the BJP's youth wing, led to party workers and Hindutva activists accusing the government of "inaction" and failing to protect them — resulting in questions being raised about Bommai's handling of a tense situation.
In addition, Bommai was also put on the defensive after his administration faced corruption charges in March.
Santosh Patil, a contractor from Belagavi, had written to Prime Minister Narendra Modi, alleging that then minister K.S. Eshwarappa and his associates were harassing him for a "commission" to clear some pending bills. This wasn't an isolated incident — the Karnataka State Contractors' Association had accused politicians and officials of demanding "commissions" of up to 40 per cent on government tenders.
Eshwarappa resigned from his post as the rural development and panchayat raj minister in April after Patil was found dead, allegedly by suicide, at a hotel in Udupi. In a purported suicide note in the form of a WhatsApp message, Patil had blamed Eshwarappa for his death.
(Edited by Zinnia Ray Chaudhuri)
---
Also read: Karnataka Congress is unearthing scams, checking BJP. The problem? Its own leaders
---