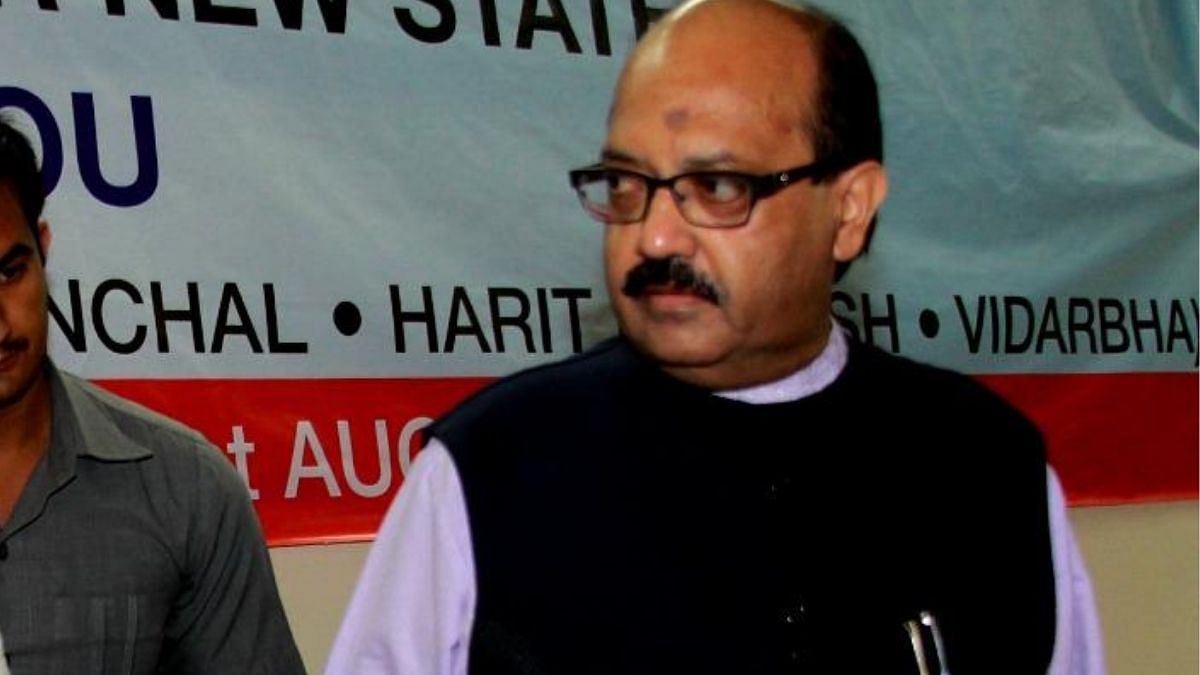 Amar Singh was a rare breed in politics, and yet, was every bit the quintessential politician. Rare, because he seamlessly straddled the worlds of politics, glamour and corporates. And quintessential, because he understood the nitty-gritty of politics as any politician worth his salt would and, more importantly, knew the art of give-and-take and bringing people together.
Deeply controversial, yet with links across party lines, Amar Singh perhaps made more foes than friends by the end of his roughly three decades in politics. The former Rajya Sabha MP, however, will always be remembered for his colourful yet tumultuous innings.
Singh, a former Samajwadi Party leader, died Saturday after battling a prolonged illness. He was 64, and is survived by his wife and two daughters. 
A key leader in the Samajwadi Party at one time, he parted ways because of his differences with former Uttar Pradesh chief minister Akhilesh Yadav and senior leader Ram Gopal Yadav.
---
Also Read: Amar Singh could connect Mulayam to Clinton. Now the famous middleman waits for Big B's call
---
The early years
Amar Singh was born in Aligarh district of Uttar Pradesh on 27 January 1956, but traced his roots to Azamgarh. When he was a child, his family moved to Kolkata, where he was raised in the city's Burrabazar area. He went on to study LLB at the University of Calcutta. 
While he remained a key political figure in his native UP through his life, he bore a deep sense of nostalgia for his days in the West Bengal capital, telling The Times of India in a 2011 interview that he was fluent in Bangla.
In 2009, he even worked in a Bengali movie called Sesh Sanghat, about Naxalites (he also bagged a role in the late Bollywood star Dev Anand's last movie Chargesheet).
He reportedly made his political start with the Youth Congress, after he was introduced to the outfit by the late MP Priya Ranjan Dasmunsi.
However, the course of his political career shifted in the 1990s when he was introduced to Samajwadi Party (SP) chief Mulayam Singh Party by Veer Bahadur Singh, an important figure in Purvanchali politics.
In 1996, four years after the SP was formed, Singh entered the Rajya Sabha as a nominee of the party. He was re-elected to the Rajya Sabha in 2002 and 2008. 
His equation with the SP went through several highs and lows. In February 2010, Amar Singh and his protege, actor-politician Jaya Prada, were expelled from the SP for "anti-party activities". 
In 2011, Singh launched his own political party, the Rashtriya Lok Manch. He fielded candidates for the 2012 assembly polls, but the party did not win a single seat. 
Amar Singh and Jaya Prada joined the Rashtriya Lok Dal of Ajit Singh in March 2014. Amar Singh contested the general elections that year from Fatehpur Sikri, but lost. A rapprochement in 2015 brought him close to Mulayam once again, when the SP was in office in Uttar Pradesh under his son Akhilesh Yadav. In his latest stint as Rajya Sabha MP, Singh contested and won as an Independent member with the SP's support in 2016.
However, Akhilesh, who once referred to Singh as "uncle", soon trained guns on him and blamed him for his differences with father Mulayam that threatened to split the SP in 2016. 
Among other things, Singh was known to often invoke Bollywood dialogues in his interviews and addresses.
A few months ago, he posted a video on Twitter titled 'Tiger Zinda hai', where he sought to take on rumours of his death and vowed to make a comeback. 
https://twitter.com/AmarSinghTweets/status/1234482756693975040?s=20
Journalist Rajdeep Sardesai cited another example in a condolence tweet Saturday.
My favourite Amar Singh quote: तुम करो तो रास लीला, हम करे तो character ढीला! May not have been everyone's cup of tea but the genius of Indian politics is that it had place for all: Had 'contacts' in every party, from politics to cinema to business! RIP

— Rajdeep Sardesai (@sardesairajdeep) August 1, 2020
---
Also Read: On his 'death bed', Amar Singh seeks forgiveness from Amitabh Bachchan and family
---
The key link
Amar Singh's contacts extended across different fields. He had friendships with industrialists and frequently rubbed shoulders with Bollywood stars. 
A deep friendship with Amitabh Bachchan — at one point, Singh was no less than family — soured when the star and his actor-politician wife Jaya Bachchan didn't come to meet him while he was in jail for allegedly bribing three BJP MPs to swing the 2008 trust vote in the Congress' favour. 
Singh was subsequently acquitted in the case for want of evidence.
The nuclear deal remains one of the prime testaments to Singh's influence. The deal, to be signed during the then US President George W. Bush's India visit, led the Left to withdraw its support from the Manmohan Singh government, leaving it struggling. However, Amar Singh is believed to have convinced Mulayam to offer outside support to the government. The deal went through and the government survived.
The deal also brought Singh under international scrutiny as American media sought to link a purported donation to the Clinton Foundation in his name to Hilary Clinton's vote of support for the nuclear deal in the US Congress.
Singh always denied the allegation, saying he never made the donation. The donation may have been made by a friend, he said, adding that he was grateful to whoever it was.
Singh, however, did admit that he was close to the Clintons.  
A 2006 controversy surrounding Singh's telephone conversations, after his phone was illegally tapped, snowballed into a major storm, especially with regard to a purported inappropriate conversation between him and Bollywood actor Bipasha Basu. Singh had denied the remark was made to Basu, saying it was from a conversation with a male friend.
In February this year, Amar Singh released a video expressing regret over his behaviour towards Amitabh Bachchan and his family, including calling them "indecent" and "hypocrites" over their cinematic roles. Hospitalised in Singapore, where he died Saturday, he released a Facebook video after receiving a message from Bachchan on the death anniversary of his father.
---
Also Read: How one big India-US deal gave us six big gains to cheer — including decimation of Left
---