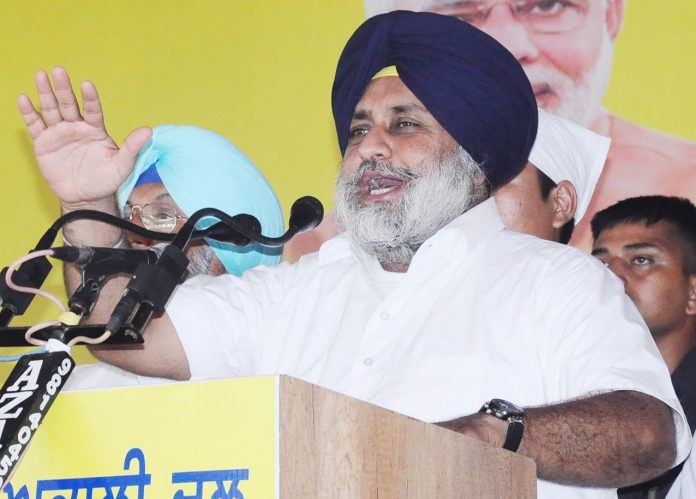 Text Size:
For the first time, party will go solo in Haryana after INLD snapped ties with SAD over Sutlej-Yamuna Link issue.
Chandigarh: The Shiromani Akali Dal (SAD) has announced its first parliamentary election rally in Haryana, which will take place in Pipli on 19 August, making it clear that the party will contest next year's Lok Sabha elections in the state on its own.
"The party will sound the poll bugle for Lok Sabha elections with its first rally at Pipli on 19 August. It was decided in a meeting held with the district party observers from Haryana," said SAD president Sukhbir Singh Badal.
This is the first time that the SAD is not tying up with its former ally — the Indian National Lok Dal (INLD) — after the latter snapped ties with SAD two years ago over the issue of sharing of river waters through the Sutlej-Yamuna Link (SYL) canal.
The electoral bond between the Badals and Chautalas has lasted decades.
Although SAD had no seat-sharing arrangement with INLD for parliamentary polls and only supported it through its party network, it got two out of total 90 seats to contest in the 2014 assembly elections. SAD used its influence on the Sikh Jat voters in Sirsa, Ambala, Panchkula, Kurukshetra, Karnal and Panipat to help INLD, a traditionally Jat-centric party.
The two seats contested by SAD in 2014 were Ambala and Kalanwali.
The INLD had earlier this year tied up with the BSP for the parliamentary polls and Haryana assembly elections, due next year, as part of a 'third front' minus the Congress.
Sukhbir said president of Haryana state unit Sharanjit Singh Sotha as well as president of women's wing Ravinder Kaur Ajrana had presented a report in the meeting in this regard which was unanimously approved by all observers.
He added that MP Balwinder Singh Bhundar has been appointed the chief organiser of the rally while other senior leaders will vigorously work to make this rally successful by holding meetings with people in all constituencies in the state.
Party general secretary Daljit Singh Cheema said the SAD has decided to "go big" in Haryana this time. "For the time being we are going solo. But the option of tying up with the BJP is open as also with other parties," he said.
"A lot will depend on how our state unit has worked over the years for 2019. We will know on 19 August at the rally where we stand," he added.
Apart from Haryana the SAD is also eyeing some seats in Rajasthan where assembly elections is due later this year. Sukhbir Badal said Sikandar Singh Maluka has already been appointed as observer for Rajasthan to accelerate the party activities in the state assisted by other leaders.
Get the PrintEssential to make sense of the day's key developments