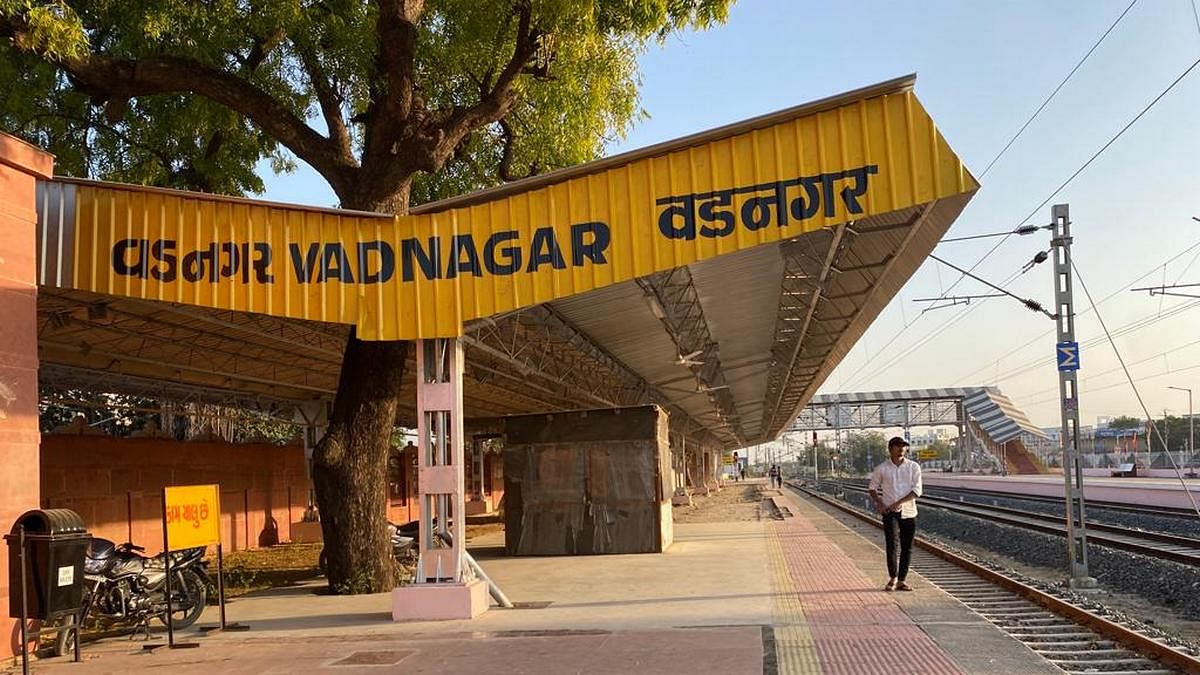 Vadnagar/Unjha, Gujarat: At exactly 1.30 pm, the shrill school bell rings, announcing a 45-minute recess at B.N. High School in Mehsana district's Vadnagar town. As students troop noisily out of their classrooms, principal B.V. Prajapati enters his small office, where one of the walls prominently features a framed picture of Prime Minister Narendra Modi, easily the school's most famous alumnus.
Beaming with pride, Prajapati said the picture was taken when Modi visited the school in 2017, during his first term as Prime Minister. "He left his security paraphernalia behind, entered the school compound, bent down, took some soil from the ground and rubbed it on his forehead," Prajapati recalled.
As a teenager, between 1962 and 1967, Modi had studied in the school from classes VIII to XI, which back then was the last year of schooling in Gujarat. The school, Prajapati claimed, has now become famous not only in India but internationally too. "We get visitors who come to see Modiji's school all the time. It's a huge inspiration for our students."
The same can be said about the rest of the town as well. The main attractions here are all connected to Modi — the house where he was born, the one he grew up in, the railway station stall where he sold tea, Sharmishtha Lake where it is said he once picked up a baby crocodile. In the town, just about anybody will give you directions and even accompany you to these sites of local pride, often offering running commentary on these places' importance.
That is why, it came as a shock to Modi's Bharatiya Janata Party (BJP) when it lost Mehsana district's Unjha assembly constituency, under which Vadnagar falls, to the Congress in 2017.
Back then, the Congress candidate Asha Patel won by a margin of over 19,000 votes against the BJP's Narayanbhai Patel, who had been the sitting MLA since 1995. It was a major embarrassment for the BJP even as it formed the government in Gujarat for its sixth consecutive term in 2017.
Five years on, with Unjha going to polls on 5 December, the BJP is trying a new strategy. The party, say BJP leaders, has reached out to its ideological mentor, the Rashtriya Swayamsevak Sangh (RSS), and fielded Kiritkumar Keshavlal Patel, 67.
While this is the first time that Kiritbhai, as he is commonly known, will fight elections, he has been associated with the RSS for the past 35 years and is said to be close to Mohan Bhagwat, the organisation's chief.
Fielding Kiritbhai has ensured that the RSS rank and file has put its might behind him to ensure that 2017 does not get repeated when he faces off against the Congress's Arvind Amratlal Patel and newcomer Aam Aadmi Party's Urvish Patel.
So, why did the BJP lose Unjha in 2017 despite Modi's popularity, what has changed in the constituency since then, and what is the party doing to ensure that it consolidates its hold in the region?
---
Also read: Modi man, 'lambi race ka ghoda' — why low-key Bhupendra Patel is BJP's Gujarat CM pick again
---
'Here we vote for Modi' — but not always
Until a month ago, the wall just outside principal Prajapati's office was adorned with a framed collage of three pictures of Modi. A group of students had put together this tribute, Prajapati said, but was taken down once the model code of conduct for elections came into force.
But Modi's presence, as it were, is still palpable and there is hardly any student who doesn't know about the school's most famous link. "Of course I know that Modiji studied here. It gives us hope that he will develop this place further," said Kartik Bharot, a class XI arts student.
Run by a trust called the Vadnagar Nagrik Mandal, B.N. High School is still a modest place. It has only arts and commerce streams with 17 teachers overseeing the education of 700 students.
Vadnagar town itself is small and provincial, but thanks to Modi's roots here, many locals feel they are part of a much grander story.
"PM Modi is the pride of our town. He is now known world over and we are proud that this is his hometown," said Nilesh Patel, who runs a provisions' store at Station Road in Vadnagar. He also credited Modi with all the "development" the town has seen over the years.
"Can't you see the amount of work Modiji has done for us? A new hospital has been constructed, the railway tracks have been improved, new trains have been inaugurated, a new tower has been set up, and Sharmistha Lake has been rejuvenated," he said.
This is true of several sites associated with Modi, which are now tourist attractions. For instance, Vadnagar railway station has been given a facelift and the tea stall where Modi worked has been restored. Similarly, the area around Sharmistha Lake has been redeveloped, with boating facilities and seating arrangements.
Another project that the locals take pride in talking about is the restoration of Vadnagar primary school, where Modi studied as a child. Built in 1882, the school has been given a heritage tag and the Archaeological Survey of India (ASI) is restoring it to its original glory.
"The name of the school has been changed to Prerna School. The restoration is in its final stages," said an ASI official working at the project site, asking not to be named.
"Here, we vote for Modi," said Rameshbhai, a 40-year-old landless farmer who lives with his family near Vadnagar railway station. He said he did not know who the BJP's Unjha candidate was, and it did not matter. "See how Modi has developed the area."
Yet, in 2017, the Modi factor wasn't enough for the BJP to win the Unjha seat.
Depending on who you ask in the party's local unit, the reasons for the loss range from the fallout of the Patidar agitation to anti-incumbency against the then sitting MLA to various conspiracy theories.
Just a bad year?
Unjha assembly constituency has 2.12 lakh voters, with a sizeable presence of the Patidar community. Of the total voters, Patidars comprise 77,000 and the Thakor community 50,000. The remaining votes belong to Scheduled Caste, Other Backward Class (OBC), Muslim, and other communities.
When asked about the BJP's poor show in Unjha during the last assembly election, the present party candidate Kiritbhai Patel blamed it on the Patidar quota agitation that started in 2015 and had rocked Gujarat.
The 2017 Congress candidate Asha Patel had been a known face in this agitation and was reportedly close to the movement's leader Hardik Patel.
As Kiritbhai pointed out, the unrest had affected the party's performance in other seats too.
In 2017, the BJP's overall tally in Gujarat came down to 99 — its lowest number of seats in the 182-member legislative assembly since 1995. Following defections from the Congress, the BJP's numbers eventually went up to 111. This number does not include Asha Patel, who defected to the BJP and won from Unjha on the party's ticket in a 2019 bypoll, since she passed away in December last year.
On the subject of the 2017 loss from Unjha, local BJP leader Neeraj Patel also pointed to anti-incumbency against the former five-time MLA Narayanbhai Patel.
"He was not allowing anyone else to come forward," Neeraj Patel claimed.
But 2022 is a season of fresh talent for the BJP, which has chosen to not give tickets to many heavyweights this election as part of its strategy that prioritises "winnability" over past wins. One such new face, in the electoral sense at least, is Unjha's Kiritbhai Patel.
'People have seen me do social work all my life'
When ThePrint visited Unjha Sunday, BJP candidate Kiritbhai Patel was on the campaign trail, riding pillion on an old Activa scooter driven by a family friend.
A civil engineer by training, he helmed a construction business and also runs a school and college for underprivileged girls in the district. He is a trustee of Gujarat's Vidya Bharati, the education wing of the RSS, and is also a member of Saraswati Shishu Mandir, the organisation's network of private schools.
"I have three daughters, all of whom are married. I am also not involved in my construction business anymore. I only do social work. So, when the party told me to contest, I agreed," Patel told ThePrint.
Despite his lack of electoral experience, he said he is confident he will win, partly because of the Modi effect.
"Modiji's hometown is part of this constituency. He has done so much development work here. I might be a first-timer as far as contesting elections goes but people here have known and seen me do social work all my life," Patel said.
His family members, too, have been involved in social work for a long time, he added. "It was my father who had set up the girl's school in 1955. Some 3,000 girls from economically weaker families study there. I prefer my work to do the talking."
The mood on the ground
Despite BJP's massive campaign machinery at work and behind-the-scenes help from the RSS, in Unjha constituency for many BJP still means Modi. Not all locals have heard of Kiritbhai Patel's name.
Rameshbhai, the farmer quoted earlier, said that people's faith in Modi would see the BJP through, irrespective of the specific candidate.
"It is true that there is inflation, but we believe in Narendra Modi, I am sure he has something planned for us. Something good will come out of this as well," he said.
But not all are convinced, like 22-year-old Rahul Senma, who works as a security guard near the Tana-Riri Memorial in south Vadnagar and lives in Navapura village with his family of 10.
Senma said he and his brother have combined earnings of about Rs 16,000 a month. "We are the only two earning members in the family and what we earn is not enough to run our family. Inflation has made life extremely difficult."
This is why, he added, he wanted to give the Aam Aadmi Party (AAP) a chance this time. "I want to see if their promises of free electricity and healthcare are true."
However, no one that ThePrint spoke to seemed to know the name of Urvish Patel, the AAP candidate from Unjha.
Even the Congress seems to have a thin presence on the ground. When ThePrint visited the Congress campaign office in Unjha main market Sunday evening, the party candidate Arvind Amratlal Patel was sitting with a motley crowd of 10-12 supporters.
A small-time farmer, Arvind Amratlal Patel said that they are currently in the process of activating the "sangathan" (organisation).
"It's true we do not have the money or manpower like the BJP. But I am a local and work on the ground. People in villages know me. The BJP candidate is not a local. He has lived in Ahmedabad for 30 years," he claimed.
(Edited by Asavari Singh)
---
Also read: Pier by pier, girder by girder, how bullet train project's 348-km Gujarat leg is gathering speed
---