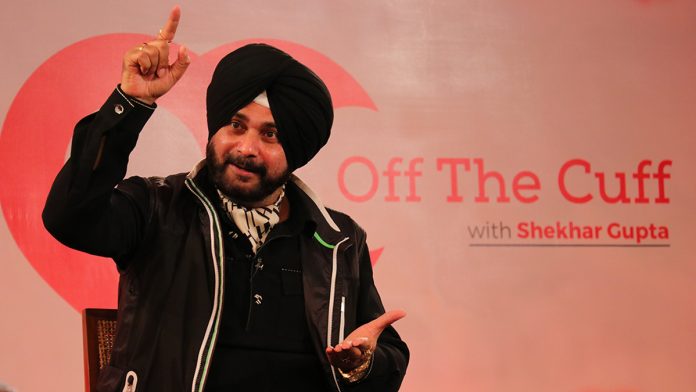 Text Size:
At Off The Cuff, Sidhu says Punjab Congress performance in 2019 polls will depend on implementation of the Ranjit Singh Commission report.
New Delhi: Punjab's local government minister Navjot Singh Sidhu Monday said his hug with Pakistan Army chief General Qamar Javed Bajwa at Prime Minister Imran Khan's swearing-in ceremony last month was not controversial.
Sidhu, who came under fire from Opposition and even some senior Congress members for his act in Pakistan, said the hug wasn't wrong or an "ISI-conspiracy".
"A jhappi (hug) is not a conspiracy, is not a Rafale deal," said Sidhu.
The cricketer-turned-politician made the statements in conversation with ThePrint Editor-In-Chief Shekhar Gupta and associate editor Chitleen K. Sethi at Off The Cuff in Chandigarh.
According to Sidhu, in 20 days he had managed to do something that hadn't happened in the last 40 years — rekindle the possibility of opening the Kartarpur-Sahib corridor between India and Pakistan.
---
Also read: What is the Kartarpur corridor issue that made Navjot Singh Sidhu hug Pakistan army chief?
---
"(Atal Bihari) Vajpayee ji went to Pakistan, Kargil happened. (Narendra) Modi ji went to Pakistan, Pathankot happened," Sidhu said. "So their hugs are okay, but mine is not?
"The Pakistan PM called me an 'ambassador of peace' in a tweet. When was the last time an individual was referred to as such," he asked.
Sidhu also claimed he was the first person Khan acknowledged when he arrived for the swearing-in. "Just because you didn't see it doesn't mean it is a lie."
Ranjit Singh Commission report
The minister said the performance of the Congress in Punjab in the 2019 Lok Sabha elections will depend on the implementation of the Ranjit Singh Commission report over the next six months.
The report, which looked into the incidents of desecration of the Guru Granth Sahib in 2015 and the deaths of two protesters in alleged police firing, indicted then chief minister Parkash Singh Badal and state DGP Sumedh Singh Saini.
Controversy erupted in Punjab on 14 August after the 192-page report was leaked.
"Generations will be affected if people who tried to destroy our sacred texts go unpunished. There is prima facie evidence to act against the perpetrators," Sidhu said. "The next six months will determine how our government will fare. Stringent action should be taken."
---
Also read: There's a cloud hanging over the Badals, and this report is the reason why
---
Badal, the Shiromani Akali Dal patriarch, denied allegations that he had ordered firing on protesters in Behbal Kalan and Kotapura.
"I challenge them (Parkash Singh Badal and Sukhbir Singh Badal) today. Agar apne ma-pyoh ka puttar hai toh aaja Sukhbir, (If Sukhbir Badal is the son of his parents, he will debate with me)," said Sidhu.
"If I lose, I will leave politics. Hai dum? (Do you have the guts?)," he said.
"They have no counterpoint, else they would have debated it in the Vidhan Sabha. Instead what did they do? Bhagode hai saare (They are cowards)," he added.
The purist Sikhs are the ones opposing the Akali Dal, said Sidhu, adding that he supported the new anti-sacrilege bill, but "laws need to be implemented on the ground level", else they are of no use.
On Modi, Rahul and Kejriwal
In September 2016, Sidhu resigned from the Bharatiya Janata Party (BJP), merely six months before the state assembly polls.
"For BJP, it was only about use and throw. When there was a crisis, they sent me into the fire head-first and during the good times, they paid me no heed," Sidhu said.
Sidhu claimed that he conveyed the same message to Prime Minister Modi.
"Then BJP did the unthinkable. They asked me to campaign for Sukhbir Badal. You think I would campaign for that thug, that dacoit," he asked.
According to Sidhu, Congress president Rahul Gandhi and leader Priyanka Gandhi are among the most accessible politicians, especially considering their rank. Rahul Gandhi is one of the few leaders who is speaking about the concerns of the youth, said the Punjab minister.
In a reference to characters from Ramayana, Sidhu said, "For me, it was a ghar wapsi. I left the step-mother Kakeiyi to come back to Kaushalya. If you remember my father was associated with the Congress for over 40 years."
Asked about Delhi Chief Minister Arvind Kejriwal and his Aam Aadmi Party, Sidhu said despite meeting him twice, he "was not fooled by the man".
Plans for Punjab
Sidhu maintained that Punjab has always been his first priority, so much so that he gave up his Rajya Sabha seat in 2016 because it distanced him "from his roots".
Job creation is foremost on the minister's agenda along with a major push for tourism. Creation of special economic zones, providing alternative sources of income to farmers by moving towards an agro-based industry and education remain points of focus for Sidhu in Punjab.
On being asked if he sees himself as the next potential chief minister of the state, Sidhu said, "I never imagined I needed to be CM to do good for Punjab. It was just a selfless thought that crossed my mind after I turned 50."

Check out My543, our comprehensive report card of all Lok Sabha MPs.