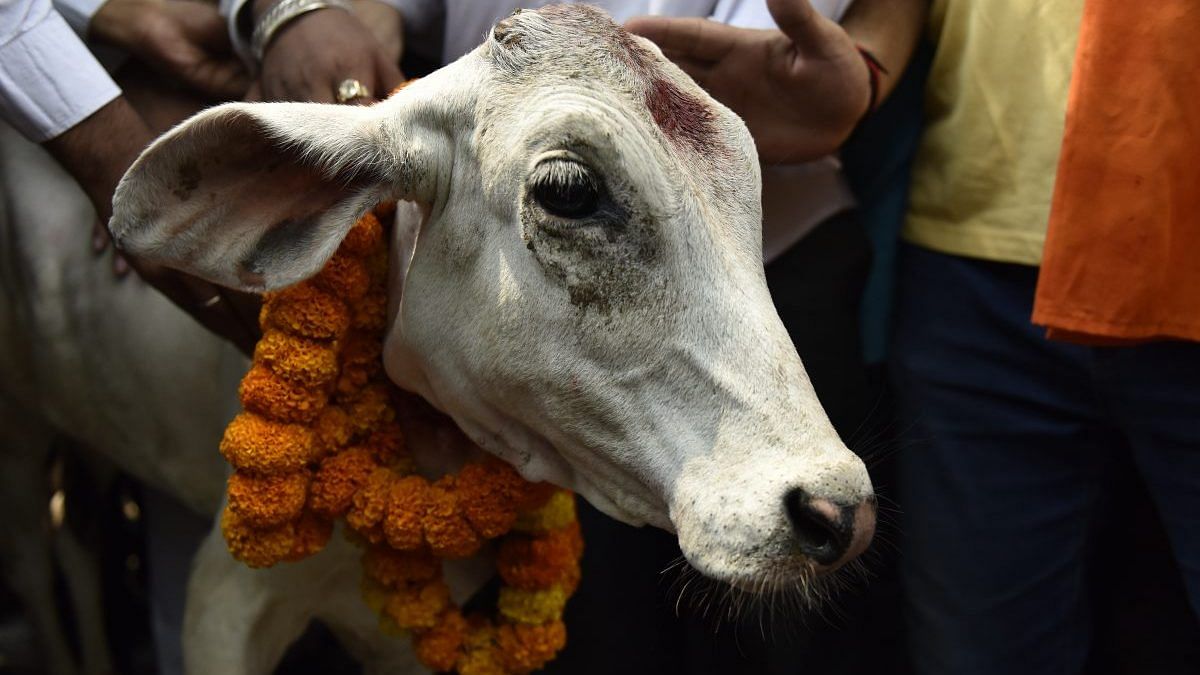 Victim and police reject reports that he was thrashed by cow vigilantes, say the attackers feared his cow would destroy their crops.
New Delhi: A 70-year-old man was allegedly beaten up by four men in Uttar Pradesh's Balrampur district last week, on the suspicion that he was trying to abandon his pregnant cow in their field and ruin their crops.
"They held me by my arms, blackened my face with dirt and charcoal, made me wear  broken specks, put chuna (lime powder) on my forehead and paraded me through the village," said Kailash Nath Shukla.
"When I resisted, they broke my arm," the 70-year-old added. He, however, rejected media reports saying that he was attacked by cow vigilantes.
---
Also read: Alwar lynching: Cow protection groups blame police for the murder of Muslim man
---
The police also clarified that a misunderstanding led to an argument following which Shukla was thrashed by the four men.
The police have arrested the four men — Dinesh Shukla (25), Umesh Tiwari (22), Jeevanlal (21) and Ram Badan (24), in connection with the case. While Tiwari is a driver, the other three are unemployed.
The incident
Shukla, a resident of Lakshmanpura village, was walking back home along with his cow after a visit to the veterinary doctor, when the animal broke loose and ran towards a field in a neighbouring village. Shukla also ran behind her.
Some villagers reportedly thought Shukla was trying to abandon the cow and was shooing the animal away. They cornered Shukla and allegedly thrashed him after a brief argument.
According to some media reports, some gau rakshaks had accused Shukla of giving away his cow to a butcher, something that was denied by the local police and Shukla himself.
"The men thought that I have come to abandon my cow to ruin their crops. I tried to explain to them that I was taking my cow back home after getting her impregnated through artificial insemination at the local veterinary hospital, but they did not listen to me," Shukla said.
"They kept saying that I was responsible for ruining their crops. They thrashed me mercilessly, called me names and broke my hand," Shukla alleged.
A police inspector investigating the case said owners abandoning their aged cattle, which then run loose and spoil crops, had become a menace in the area.
"It is not that the men were gau rakshaks and beat Shukla because they thought that he was going to give the cow to a butcher," said the police officer.
"They thought that he was abandoning the animal and was responsible for ruining their crops. The problem has been on in the village for a long time now," he said.
Shukla also alleged that after he was beaten up, he tried to report the matter to the police, but no one wrote his FIR.
"We informed the police, but nobody took any action against the people who attacked him," Shukla's nephew said.
---
Also read: Shashi Tharoor: It seems safer in many places to be a cow than a Muslim
---
The station house officer of Dehat area, however, said that Shukla was taken to the hospital by the police, where he was given first aid and his statement too was recorded.
Superintendent of police, Balrampur, Rajesh Kumar said that the police acted swiftly, nabbed the men who have now been sent to 14 days' judicial custody.
"A misunderstanding led to an argument and then a fight ensued. Shukla was beaten up by four men, who were immediately arrested," Kumar said.
"It was not an incident of a gau rakshak thrashing a man over a suspicion of cattle smuggling or slaughter," the SP clarified.