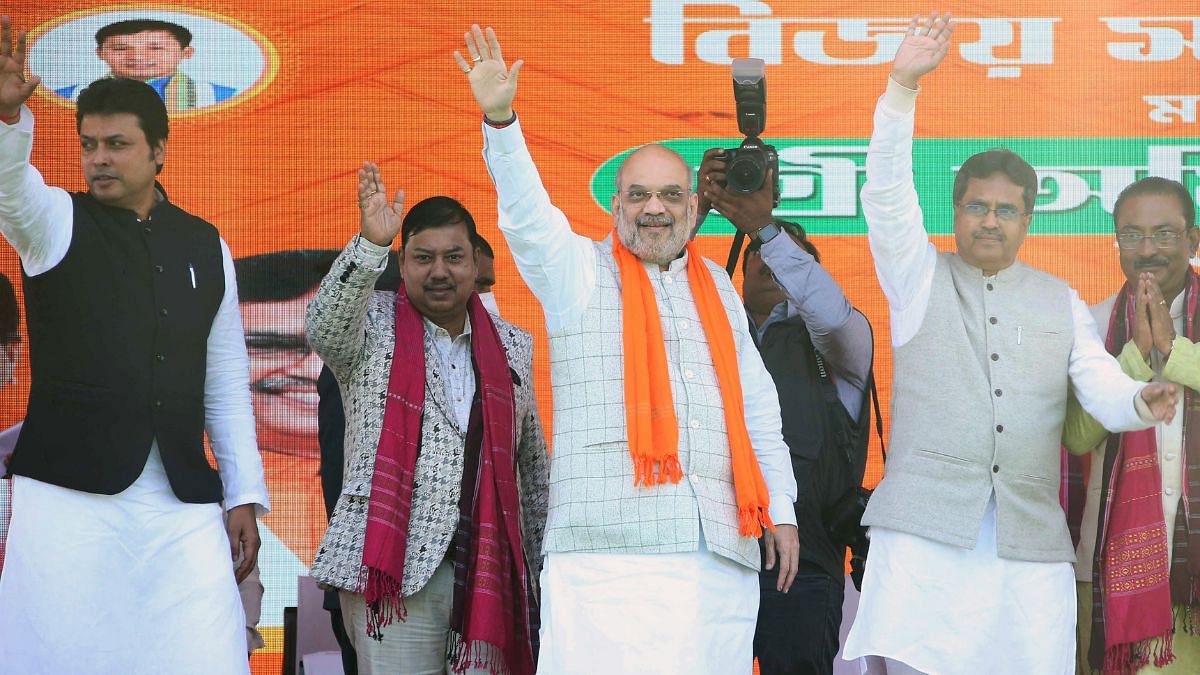 New Delhi: After the Tipraha Indigenous Progressive Regional Alliance (TIPRA) Motha announced Friday that it will go it alone in the Tripura assembly elections, the Bharatiya Janata Party (BJP) Saturday released its list of 48 candidates for 60 assembly seats in the state.
The last date of filing nomination for the election — scheduled to be held on 16 February — is 30 January.
Chief Minister Manik Saha will contest from his earlier seat, Town Bordowali, from where he had defeated Congress' Ashish Kumar Saha in last year's bypoll by a margin of 17,181 votes. Saha, before becoming CM, was the BJP president for the Tripura unit.
Meanwhile, BJP state president Rajib Bhattacharjee will contest from Banamalipur.
The party has fielded 11 women candidates. Among them, the most striking name is that of Pratima Bhoumik, Union minister of state, ministry of social justice and empowerment, who will fight from Dhanpur assembly segment.
Bhoumik, who won from West Tripura Lok Sabha seat in 2019, is the first-ever permanent resident of the state to join the Union cabinet. She had contested the assembly polls against former CM Manik Sarkar in 1998 and 2018, but lost both times. She has also served as the BJP's general secretary for state and vice-president in the past.
Apart from Bhoumik, the women candidates include many new faces. Suchitra Debbarma, who was panchayat samiti member, has been fielded from Ambassa seat reserved for ST category; Himani Debbarma from Golaghati reserved seat; Antara Deb Sarkar from Kamalasagar; and Swapna majumdar from Rajnagar reserved seat.
Speaking to ThePrint, Rebati Tripura, BJP MP from the state, said, "Women have a very strong presence in constituencies in Tripura and Northeastern states, so the party has given tickets to a number of women to beat anti-incumbency here. Many of them are grassroot workers who have risen within the ranks."
The party has fielded Muslim candidates on two seats — Mohd Moboshar Ali from Kailashahar and Taffajal Hossain from Boxanagar.
CPI(M) MLA Mohd Moboshar Ali switched sides and joined the BJP just a day before the list was released. Ali left the CPI(M) after his seat was given to the Congress as part of a seat-sharing arrangement and he was denied a ticket by his party.
The BJP did not give tickets to six sitting MLAs — Arun Chandra Bhaumik (Belonia), Biplab Ghosh (Matarbari), Subhash Das (Nalchar), Mimi Majumder (Badharghat), Birendra Kishore Debbarma (Golaghati), and Parimal Debbarma (Ambassa).
---
Also read: Ex-royal, 'impulsive, passionate' — all about Pradyot Debbarma, who wants to be Tripura's kingmaker
---
'No compromise on Tipraland'
The announcement of the candidates list came after talks between the BJP and TIPRA Motha chief Pradyot Debbarma for an alliance came to naught. Why? The home ministry did not give them a written commitment on their demand for 'Tipraland'.
In a message posted on social media, Pradyot said, "There will be no compromise on our demand. I can't betray our cause and our people. They did not give us anything in writing so let me state this, there will be no alliance in this election."
Debberma also said that the Tripura Tribal Areas Autonomous District Council (TTAADC) "receives only 2 per cent of the state's budget" while it has 40 per cent of the state population. "This is non-negotiable," he said.
In the video message, Pradyot added: "After 1947, every political party has gone to Delhi to seek something, but nothing happened. My heart does not agree and so I have made my decision that I can't accept Delhi's offer. Jitega toh jitega, harega toh harega, but one last fight toh karke rehega (if we win, we win. If we lose, we lose. But I will fight one last time)."
TIPRA Motha president Bjjoy Kumar Hrangkhawl told ThePrint, "Last date of nomination is 30 January and the Motha couldn't wait any longer since Delhi wasn't giving us written assurance. They kept talking about other things to stitch an alliance, but we have decided that our core demand will not change so the alliance did not happen."
'Left-Congress arithmetic won't work'
According to BJP sources, "despite anti-incumbency", the party is hopeful of forming government in the state since the "Left-Congress alliance in the state is not smooth"
"Their arithmetic will not translate into chemistry as Congress workers have fought against the Left for the past 25 years. Second, we are not weak in 20 tribal seats. We won 10 seats last time and we can win three more in the tribal belt. The real question is in five-six seats that are crucial for us," said a party source.
Another BJP leader, who spoke to ThePrint on condition of anonymity, said, "Fighting Motha alone will benefit the BJP, as votes will be divided. We have shown concern by engaging with the Motha and that will walk the extra mile. Now Pradyot is neither finding a place in the Left alliance due to his insistence on written commitment (on Tipraland), nor is he allying with us, although we seriously tried our best to accommodate him. It will not go against the BJP."
The Left front, too, has announced its candidates. Its efforts to join with TIPRA motha did not succeed as they did not give written confirmation on Tipraland either.
The CPI(M) will contest in 43 seats, leaving 13 seats for the Congress and one each for the CPI, the Revolutionary Socialist Party (RSP) and Forward Bloc.
Eight sitting CPI(M) MLAs are not in the fray and former CM Manik Sarkar chose to not fight in the election despite requests from the party.
Left front leader Jitendra Choudhary said, "We are in favour of a united opposition to fight the BJP, but we are against the idea of disintegrating Tripura's geography as demanded by Motha leaders."
(Edited by Zinnia Ray Chaudhuri)
---
Also read: Alliance of 'secular' parties to take on BJP in Tripura? Congress 'in talks with Left, TIPRA'
---