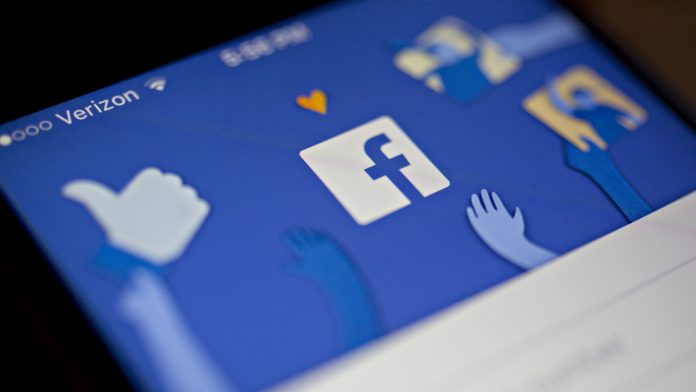 Text Size:
Front Page
How many pages with politically "coordinated inauthentic behavior" did Facebook remove and whose pages were they? Answers to these questions indicate that in this election season, politics is overtaking objectivity in reporting.
The Times of India's "Facebook takes down 687 a/cs 'linked to Cong''. Hindustan Times claims "FB deletes hundreds of accounts, pages linked to BJP, Congress". The Indian Express writes FB removes "over 700 accounts, pages linked to BJP & Congress", while Business Standard has FB deletes "over 1,100 pages and accounts, and groups", highlighting 103 pages, accounts from Pakistan.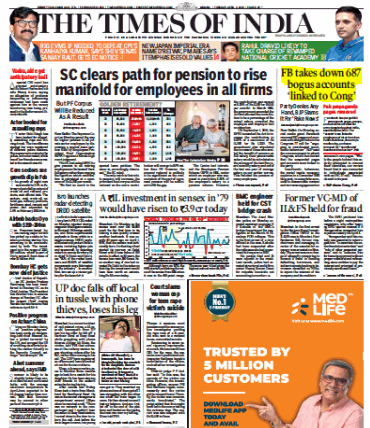 The Hindu banishes this news to Page 10, where it vaguely claims FB "purges pages".
TOI cites the removal of only Congress's 687 pages "with alleged links to the Congress IT cell" on page 1. It buries on page 9 the fact that "Facebook also removed 15 pages, groups and accounts linked to individuals associated with an Indian IT firm, Silver Touch, for similar behaviour", a company associated with the BJP.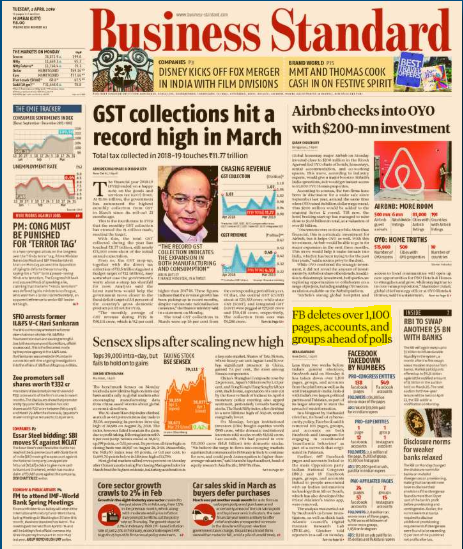 Express, HT and BS balance the blame between Congress and BJP, detailing both parties' infringements and the BJP link to Silver Touch. Express and BS highlight a crucial factor that others ignore: The 15 Silver Touch pages and accounts associated with the BJP had a following of 2.6 million as against Congress's 687 pages and accounts with 206,000 followers.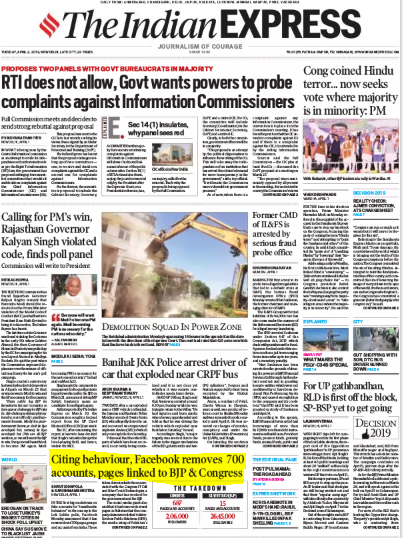 AltNews's Pratik Sinha shows how ANI in its Monday tweets, mentions only Congress linked pages removed by FB — and news channels like Times Now did the same.
ANI tweeted thrice about Congress, not a single tweet about Silver Touch (BJP Linked).

4/n pic.twitter.com/hJRySvTMEo

— Pratik Sinha (@free_thinker) April 1, 2019
Modi & Hindu terror
Common to the front pages are Prime Minister Narendra Modi's remarks claiming "History shows not a single Hindu involved in terror: PM" (Times of India). Other newspapers focus on this angle in their headlines.
TOI reports his Wardha rally in Maharashtra, saying it "witnessed a huge crowd despite the scorching heat,", and "Modi claimed no Hindu has indulged in terrorism".
Hindustan Times, The Hindu and The Indian Express link his remarks to the recent acquittals in the Samjautha blast case.
Hindu is straightforward: "Alluding to the Samjhauta Express blast case verdict, which acquitted Swami Aseemanand, without however specifically referring to the case, Mr. Modi said it had exposed the conspiracy hatched by the Congress".
Express is even more definitive: "For the time in his election speeches", the PM "referred to the acquittal of the accused in the Samjhauta Express blasts case…"
Hindu adds an almost menacing tone: "He added that the community would teach the Congress a fitting lesson for the slur".
HT's longwinded first sentence says, the PM "…said the Congress coined the term 'Hindu terror' despite there being no proof of any such incident in the history of the religion, without directly referring to the recent verdict in the Samjhauta Express blasts case that acquitted four people, including a prominent Hindtuva leader".
None mention that his comments may violate the model code of conduct.
Yogi Adityanath and other 'controversies'
Modi figures in Uttar Pradesh Chief Minister Yogi Adityanath's "controversial" statement calling the armed forces "Modi ji ki sena" (TOI). Newspapers report that it "caused a political uproar" (HT), and "drew condemnation from the Opposition parties" (Hindu).
More importantly, TOI headline states "EC seeks report" from the Ghaziabad DM" on the matter.
Express drops Yogi from page 1 to highlight: "Calling for PM's win, Rajasthan governor Kalyan Singh violated code, finds poll panel".
"The last time a state Governor was found violating the Code was in the early 90s", it notes.
Opinion
Opinion is divided on Congress president Rahul Gandhi's decision to fight from Wayanad seat in Kerala in the Lok Sabha elections.
TOI's "Safety First" says the move is not "borne out of confidence". Also, comparisons with Modi's 2014 Vadodara-Varanasi move "are misplaced": Modi was "eyeing the rich symbolism" of Varanasi; Rahul has chosen a safe seat of "little significance". TOI thinks he could be "spooked" by Congress's "tenuous" hold over the Hindi heartland. Modi, who is "not averse to playing the Hindu-Muslim card", claimed Rahul has chosen a "minority" seat where the "majority" is a minority. Rahul has also "irked" the Left Front, TOI observes.
Hindu's "Foggy in Wayanad" says it "could be a defining moment in this election". It is surprised by the choice as Congress and the Left are "natural partners at the Centre". Hindu find's the move "difficult to explain"— Congress believes that "consideration of alliances are now secondary to its push to maximize its individual tally", it concludes.
HT's "New front in the poll game" says Rahul's "motivations are clear": he knows the South is one region where Congress "will do better" than BJP and by "contesting from the South, Mr Gandhi is signaling that he respects the region". Congress's "friends" may decry his fighting the Left but a "strong Congress is essential to having a strong non-BJP coalition", it writes. HT says the BJP's minority-majority comments "to widen the communal divide is unacceptable".
Prime Time
Prime Minister Narendra Modi's election campaign has electrified news channels — his rallies are covered live across channels. The choicest nuggets from his speeches are then replayed throughout the day.
His 1 April speech in Wardha, Maharashtra on Congress targeting "peace-loving Hindus" became a prime topic of debate.
Also, Zee News and ET Now interviewed BJP President Amit Shah and Finance Minister Arun Jaitley, respectively. Shah had been interviewed by News 18's Rahul Joshi on Sunday,
Zee News anchor Sudhir Chaudhary asked him whether BJP was bothering to take the Congress seriously. "BJP does not take any election lightly," replied Shah, seriously. He then made a grandiose claim: "There is a Modi wave this time as well. The country is touching new heights under Narendra Modi's rule."
#AmitShahOnZee: Watch BJP President @AmitShah in conversation with @sudhirchaudhary at #IndiaKaDNA Conclave, live now on – https://t.co/dznYNHgjUN pic.twitter.com/4v3YeC1VoZ

— Zee News (@ZeeNews) April 1, 2019
On India's "success" in combating terrorism, Shah boasted, "India is the only country who can take revenge against terrorism after USA and Israel".
Did the Opposition mahagathbandhan stand any chance of success, Chaudhary asked. "Gatbandhan, based on selfishness, cannot not last long", Shah said.
On ET Now, Arun Jaitley was asked by anchor Nayantara Rai to comment on Rahul's Wayanad gamble.
Jaitley played the 'Hindu' card: "Rahul was looking for a constituency where the majority community is in a minority. Having manufactured this concept of Hindu terror he is trying to seek refuge where a majority community is in a minority," replied Jaitley.
"On a lighter note, I will also quote Rahul Gandhi's favourite character for him – Gabbar Singh. Singh always used to say, "Jo Dar Gaya So Mar Gaya".
India Today took up the PM's "Hindu Terror" remark.
Congress MP Amee Yajnik was scornful of the ruling party: "BJP was given the popular mandate to provide development. As of now, BJP does not talk about development but of communal politics."
"You are lying, you are misleading the people of India. No, no, no, I cannot allow this," interrupted BJP's spokesperson Narendra Taneja.
Aaj Tak's programme Dangal was from Muzaffarnagar where anchor Rohit Sardana asked local politicians if Muzaffarnagar had been turned into an experiment ground of Hindutva by the BJP.
BJP's Kapildev Agrawal disagreed: "BJP always wanted "sab ka saath, sab ka vikas". He claimed BJP leaders had done so much groundwork in this district that "they are certainly going to win".
Congress leader Tej Bahadur reminded the audience that PM Modi had made many lofty promises, the first one was "to put Rs 15 lakh in the bank account of each and every individual".
Kapildev interrupted him loudly: "Rashtra ki baat kariye, aatankwad ki baat kariye, bhakti ki baat kariye, ye saab nirarthak baat na kariye." (Discuss nationalism, terrorism and religion, don't talk about this nonsensical stuff'').
Tweet of the day
At @INCIndia's manifesto release, party officials exude confidence that the promise of a guaranteed min income, a separate farmers' budget n 10 lakh jobs for youth under gram panchayats will get them to a decent tally.
But they also reckon the message isn't reaching far n wide pic.twitter.com/Ped6oxNIrZ

— Rajesh Mahapatra (@rajeshmahapatra) April 2, 2019
With inputs from Shailaja Bajpai.
For ThePrint's smart analysis of how the rest of the media is doing its job, no holds barred, go to PluggedIn