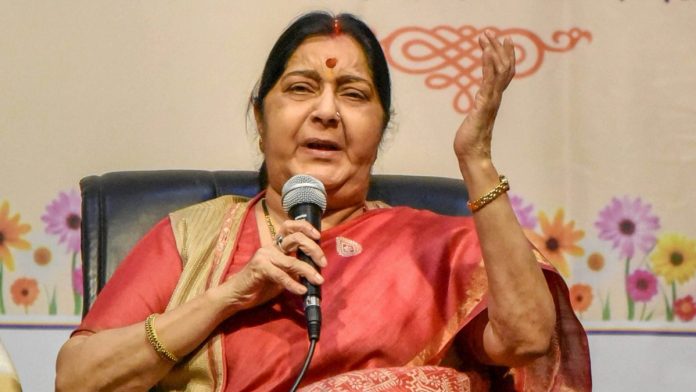 Text Size:
Front Page
Front pages chose different leads as the Lok Sabha election draws closer but the one common report was about the Twitter spat between two senior ministers of India and Pakistan over the alleged forced conversion of two Hindu girls in Pakistan to Islam and their marriage.
Times of India claims it broke the story in the self-congratulatory: "TOI report triggers Twitter spat between Sushma, Pak minister" in a March 23 report that was cited by foreign minister Sushma Swaraj in her Sunday morning tweet leading to a "heated exchange" with Pakistan I&B minister Fawad Chaudhry.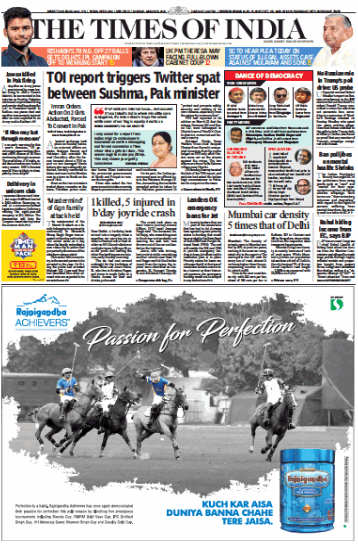 No other newspaper credits Times of India for the story, attributing it either to "reports" or videos on social media "showing the father of the girls protesting at a police station in Sindh." (The Hindu)
Hindustan Times reports the "row" while The Hindu and The Indian Express report a "note verbale" from India to Pakistan on the issue. The Indian Express also provides an hour-by-hour account of the exchange between Swaraj and Chaudhry.
Election news
Election news is in abundance except for TOI, which only has a single page on the Lok Sabha poll campaign.
Express and HT lead with the BJP on front page. In "BJP kicks off campaign blitz as poll heat picks up", HT reports on the "over 200 rallies across the country — many of which featured top leaders of the party — as part of a mega opening to the party's 2019 election campaign". The rallies, it adds, "appear to be focusing on a two-pronged offensive over the IAF's operation against a Jaish camp in Pakistan's Balakot, and the NDA's development agenda."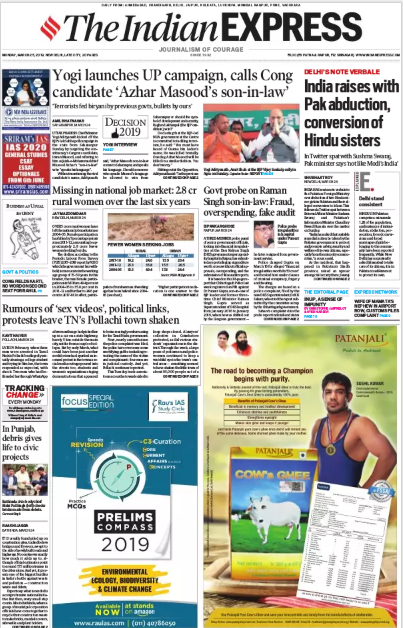 The Indian Express leads with a disturbing news report: "Yogi Adityanath launches UP campaign, calls Congress candidate 'Masood Azhar's son-in-law'". Adityanath attacked the Congress candidate — Imran Masood — without naming him. The report states: "In our government, terrorists are fed bullets and bombs", and follows up with "Azhar Masood's son-in-law comes to Saharanpur and speaks his language… Should (he) be allowed to win from Saharanpur?" The newspaper also carries a full page interview of Adityanath on an inside page.
The Hindu focuses on "Uproar in TN Congress over choice of Karti" for the Sivaganga seat, "triggering strong protests from former Union Minister EM Sudarshana Nachiappan, who was in the race for the seat." An "intense fight" between the two led to the delay in the announcement.
In TOI's full page 'Dance of Democracy', "Rahul hid income info from EC: New BJP salvo". The BJP "alleged that he (Gandhi) made huge profits through highly inflated rentals and properties purchased from suspect firms, a charge that was rejected by the Congress as a "desperate attempt by BJP to clutch at straws" and to "divert attention" from the issues that matter.
Others
The Pollachi sex abuse case finally makes it to a front page, but only of The Indian Express's, which reports, "Rumours of 'sex videos', political links, protests leave TN's Pollachi town shaken".
HT puts SP chief Akhilesh Yadav's decision to contest from the Azamgarh seat — previously occupied by his father Mulayam Singh Yadav — on page 1. TOI puts it on its 'Dance of Democracy' page.
Opinion
The Hindu and The Indian Express have opinion pieces by the same author based on the same study.
In Express, Director of Reuters Institute for the Study of Journalism and professor of political communication, University of Oxford, Rasmus Kleis Nielsen, says search engines and social media are the main sources of news for Indians, according to a new survey ("Algorithm as Editor").
Another key finding is that respondents trust news on search and social media at least as much if not more than "a third who say they trust news overall". This is "strikingly different", writes Nielsen, from other countries where people trust "news media more" than search engines like Google or social media like Facebook. "Worryingly", most respondents don't understand how the platforms they rely on for news "operate".
"Google and Facebook play an increasingly important role in the Indian media environment", writes Nielsen, adding that the challenge they face is of "misinformation" and "disinformation".
In The Hindu's "Disinformation is everywhere in India", Nielsen writes the majority of the same survey's respondents were "concerned with whether the news" they read online "is real or fake".
Citing the Pulwama attack when the social media and messaging apps "were flooded with false and misleading content," Nielsen thinks the two services are at the heart of all the "disinformation problems": 52 per cent respondents said they got their news from Facebook and messaging apps.
Nielsen expresses concern over disinformation that includes media organisations and politicians. Nielsen advises that all attempts to amplify and spread disinformation must be "continuously and critically covered" by independent journalists and media that "genuinely do standout as providers of credible information" must provide "news worthy of their (readers') trust".
Hindi Dailies
Today's newspapers do not lead with the same story.
Dainik Bhaskar has election on its mind, specifically, ticket distribution of Congress and BJP, "Bhajpa ne Raman Singh ke bete ka ticket kaata,, Congress ne Karti ko diya ticket." The newspaper refers to all sitting Chhattisgarh BJP MPs losing out on tickets, including the former chief minister's son.
Bhaskar reminds us that Karti is an accused in the INX Media money laundering case—despite that Congress is fielding the former finance minister's son from Sivaganga, Tamil Nadu despite him.
Dainik Jagran leads with Sushma Swaraj on the alleged forced conversion of two Hindu girls in Pakistan: "Hindu betiyon ki raksha me utri Sushma." She had asked the Indian High Commisisoner for a report on this matter.
Amar Ujala has BJP President Amit Shah accusing the opposition of insulting the army for vote bank politics. It adds that BJP has launched an election blitzkreig and there will be 250 rallies in Uttar Pradesh.
Tamil Dailies
It's all about filing of nomination papers, today.
Dinamani says "Lok Sabha and assembly bye-election, filing nominations: Final day tomorrow"– "254 nominations for assembly bye-elections so far".
It also has a report on Amit Shah's Odisha rally: "Why Mayawati isn't contesting? Amit Shah questions".
Daily thanthi says "Lok Sabha and bye-election polling in Tamil Nadu; Filing nomination ends tomorrow. DMK candidates to file nominations today".
Dinamalar shouts "TOMORROW! Last day file nominations in Tamilnadu. Scrutiny day after. Withdrawing by 29th". It also has a front page report on "670 booths identified sensitive (in Chennai) – district election officer confirms".
The Hindu Tamil's lead story is on Kamal Haasan not contesting the forthcoming elections. It says "Not to contest in Parliamentary elections. 50 lakh jobs in 5 years, Makkal Neethi Maiam (MNM) party promises in Coimbatore meeting.''
Prime Time
Day long speculation across news channels over singer and dancer Sapna Chowdhury joining the Congress was snuffed out when in an interview with the ANI, she denied it.
News 24, sounding almost disappointed, discussed how the popular Haryanvi artiste had snubbed the Congress. The channel said that even the local pop stars are now snubbing the Congress, signifying the party's dwindling fortunes.
Uttar Pradesh Chief Minister Yogi Adityanath was the other big newsmaker of the day. His speech in Saharanpur, calling the Congress candidate 'Azhar Masood's son in law' was telecast live in the afternoon on several news channels. Expect to hear even harsher rhetoric as the campaign heats up.
In the evening, Republic TV discussed whether Prime Minister Narendra Modi's BJP government has been successful in reducing corruption. NCP spokesperson Narendra Verma didn't think so. He cited the case of diamond merchant Nirav Modi. "Now, BJP is showing that Nirav Modi is coming back but who let him leave the country," he asked. General Secretary of BJP's youth wing in Karnataka Tejasvi Surya accused the previous governments of doing nothing to curb corruption: "Why did you not take the step to curb leakage in taxation? Why (has) all of this happened under the Modi government?" Surya said.
On Times Now, anchor Swati Joshi used the BJP slogan – 'Main Bhi Chowkidar' against Congress barb — 'Chowkidar Chor Hai' as the debate point between the BJP and the Congress.
Recently, Prime Minister Narendra Modi used the prefix 'chowkidar' on his Twitter handle and all the BJP leaders followed suit. On the other hand, several leaders of Congress are rallying behind Rahul's dig — 'Chowkidar Chor Hai'.
Tehseen Poonawalla, who is described now as a political trend-watcher, attacked the Congress, saying that it hit back at the BJP after accusations of corruption are being investigated against Congress president Rahul Gandhi and his brother-in-law Robert Vadra: "Jab jeeja-saale ki baat hoti hai tab dikkat hoti hai Congress ko."
JD(S) spokesperson Abdul Razzak Khan mentioned, "They (BJP) are trying to make their jhoot majboot" (The BJP is only trying to make their lies strong).
ET Now anchor Supriya Shrinate wondered whether there should be a separate green manifesto by every party in the upcoming Lok Sabha elections. Has the time come for a green party in India too, she asked.
CNN-News 18 anchor Marya Shakil interviewed Union Minister Nitin Gadkari. When asked about reports that he may be the BJP's prime ministerial candidate if the party's numbers come down to 220 seats, Gadkari said, "I have clarified this earlier that I am neither in the race for PM nor do we have a club of 220. I have full faith that under Modi's leadership, we will get full majority."
When Shakil asked about BJP president Amit Shah taking decisions on choosing candidates, he replied, "The president and our party examine all the seats. The party makes a decision after examining the choices of party workers, people and surveys."
#Rajneeti – Different campaigns come up during the elections. There are emotions behind this campaign and these emotions will succeed: @nitin_gadkari tells @maryashakil. | #NitinGadkariToNetwork18 pic.twitter.com/Fs16snG9VD

— News18 (@CNNnews18) March 24, 2019
Gadkari also said, "Every election is significant for the party. In the last election, I won by 3 lakh votes. In this election, I will win by 4 to 4.5 lakh votes."
Tweet of the day
A well known TV anchor from a popular TV channel is told to leave Yogi Adityanath rally by the cops because he is wearing a black kurta. He is frisked. He is told to leave or else be at the mercy of the mob. This is insane madness. He carries his press card, TV credentials. Yet?

— Sanjay Jha (@JhaSanjay) March 24, 2019
With inputs from Shailaja Bajpai, Renu Agal and Aananth Daksnamurthy.
For ThePrint's smart analysis of how the rest of the media is doing its job, no holds barred, go to PluggedIn