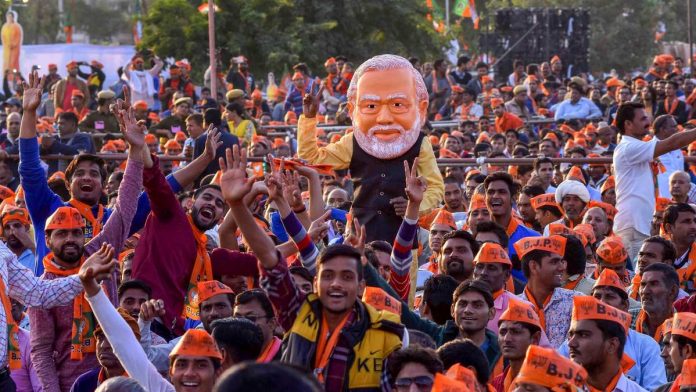 Text Size:
Front Page
Front pages today are bursting with reports about the government's decision to earmark a 10 per cent quota in jobs and education for the economically weaker sections of the general category.
Calling it a "pre-poll surgical strike", The Times of India writes, "This step, by rewriting the constitutional scheme for quotas, addresses an old upper caste angst, opens a new political front ahead of the Lok Sabha polls this year, and can force opposition parties to tweak their playbook."
But edit pages called the government's bluff. "Act of Populism With Likely Few Takers" is how The Economic Times titles its long-form editorial, writing that the quota is unlikely to be passed in this Lok Sabha's lifetime and must instead "be understood as political signalling".
The Indian Express concurs, saying that the government can be accused of using "what was meant to be an instrument of social justice" as an anti-poverty tool "like a safety net or a subsidy". The Express warns that such a "blurring of two sets of governing principles… will take a toll".
Hindustan Times is less harsh and more contemplative, "This is a political move which will give the BJP a major talking point in the Hindi heartland in particular…Can the party, as in 2014, keep both its upper caste vote and retain the newer voters from subaltern communities?"
Cricket victory
The victorious Indian cricket team graces front pages today after their historic Test series win Down Under. The headline for TOI's front-page flap points out that the win "break(s) 71-year-old-jinx".
"When Kohli's men set foot Down Under, there was the weight of past losses to contend with, besides a need to prove that their No. 1 Test ranking could stand scrutiny when they travelled beyond the subcontinent…The latest achievement in Australia has to be savoured. Now South Africa remains the 'final frontier', as it were — India is yet to win a Test series there," writes The Hindu in its editorial.
Another ally quits NDA
In some bad news for the Bharatiya Janata Party, ally Asom Gana Parishad (AGP) quit the National Democratic Alliance over the Cabinet's approval of the Citizenship bill, which seeks to legitimise illegal migrants from non-Muslim communities. According to the AGP, the Bill stands in opposition to the 1985 Assam Accord.
Prime Time
All the major English and Hindi channels Monday debated the 10 per cent quota for the upper-caste poor approved by the Modi government.
The bill for the quota is supposed to be presented in Parliament on 8 January, which is also the last working day of the Winter Session.
India Today
India Today anchor Rajdeep Sardesai asked if the quota was Modi's attempt to woo the upper castes.
BJP spokesperson Narendra Taneja said reservation for the upper castes should have been brought in 30-40 years ago.
When Rajdeep asked Taneja why the BJP had failed to bring in reservation in the last four and a half years, he responded, "We have to prioritise several issues."
AIMIM chief Asaduddin Owaisi commented, "It has been done in a haphazard way. This move will not pass the test of law."
#QuotaForPoor
Is giving reservation a Modi's way to woo poor people in upper caste?
Narendra Taneja responds.
Watch #NewsToday
LIVE at https://t.co/4fqxBVUizL pic.twitter.com/heXDCEMj1E

— India Today (@IndiaToday) January 7, 2019
Republic TV
Republic TV anchor Arnab Goswami said "reservations only on the basis of caste whether in jobs, college degrees is a terrible idea".
BJP spokesperson Sambit Patra said, "What the Modi government has done today is bring people on an equal platform. Shouldn't we stand with the poor of every caste?"
Political Analyst Ravi Srivastav commented, "Nobody is against reservation, but people are against this [the NDA government's] bill."
Aaj Tak
Aaj Tak anchor Anjana Om Kashyap discussed whether the quota was aimed at keeping the BJP's core voter base happy.
BJP spokesperson Sambit Patra said, "What wrong has a poor Brahmin or Baniya done that they cannot get reservation?"
BSP leader Sudhindra Bhadauria replied, "Sambit Patra knows only jumla and speaks only jumla. Why have they not brought reservation in the last four and a half years?"
Tweets of the day
Those who consider reservation for upper castes an election masterstroke by Modi pl remember that both Karpoori Thakur and VP Singh lost their election after a much bigger reservation move. Last moment gimmicks don't help.

— Yashwant Sinha (@YashwantSinha) January 7, 2019
So proud to be a part of this team, great feeling! ? This is not just a team this is a family. ? Onwards and upwards from here on. ?????? @BCCI pic.twitter.com/K0PKG8g3uK

— Virat Kohli (@imVkohli) January 7, 2019
Check out My543, our comprehensive report card of all Lok Sabha MPs.