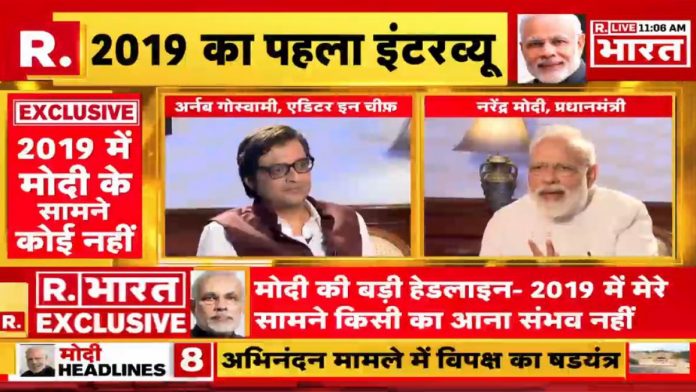 Text Size:
Prime Time
For the third day in row, Prime Minister Narendra Modi grabs the news space.
Today, it's with an exclusive interview to Republic Bharat's Arnab Goswami. This follows his Uttar Pradesh rallies on Wednesday and the A-SAT anti-missile success on Tuesday.
In Republic's 60-minute interview – the first of the election season – Goswami asked Modi about Pulwama, Pakistan, Rafale, Robert Vadra, Congress's 'Chowkidar Chor Hai' accusation, employment and of course the Opposition. The PM was forceful, direct in his responses and attacks on his detractors.
Goswami framed many questions by saying, "The Opposition says…" which allowed the PM to attack Congress and other parties.
Goswami welcomed Modi warmly: "I am very happy, delighted… thank you very, very much". He declared that the Lok Sabha is "all about Prime Minster Narendra Modi ji".
"How's the josh?'' was his first query.
Asked where he was during the Pulwama attack, the PM replied that he was in Uttarakhand for some environmental programmes and since it rained very hard he was unable to return to Delhi immediately. "If someone makes it a political issue, it is very foolish of them," he added.
On the Balakot strikes he attacked the Opposition: On the day of Abhinandan's release "the Opposition even planned to do a candlelight march and make Pulwama an election issue. They had to cancel that once Pakistan Prime Minister announced Abhinandan's release."
When Goswami asked him about people praising the Pakistani government after Imran Khan released Abhinandan, Modi replied, "They see statesmanship in Pakistan PM's statements and they doubt their own PM. The people should recognise these people."
Goswami added that "several opposition leaders'' alleged "match-fixing" between Imran Khan and Narendra Modi after Balakot strikes, to which Modi replied, "No one in this country can doubt Narendra Modi's patriotism. No one can question it."
When asked about accusations that the Rafale jet deal favoured the Ambanis, Modi's reply was roundabout: "During my tenure, two and a half lakhs houses were made, for whom? We provided electricity connection in one and a half lakh villages, for whom? For Adani or Ambani?''
On politics, Modi was asked if he would work alongside "neutral parties'' in case NDA does not win a majority.
Modi replied that NDA would gain a majority but he would work with not only neutral parties but "even Congress, even Mayawati ji, even Mamata ji'' even if they won just 2-3 seats.
Thursday, Modi's three campaign speeches dominated daytime telecasts and evening debates
On India Today's 'Nationalism versus NYAY' debate, journalist Sharat Pradhan observed the PM's narrative had a 'self-created' sense of insecurity. He suggested that a "terrible (sense) of insecurity is hovering over the country — not true".
"This is our narrative — love it, hate it, leave it", retorted BJP's Narendra Taneja.
"Your narrative is 'sarab', ours is Nyay", observed Congress spokesperson Gourav Vallabh.
India Today's Rahul Shrivastava summed up Modi and the Opposition: "It seemed like he (Modi) is in Opposition but the Opposition is not able to take him on (with a counter narrative)".
On Times Now, anchor Navika Kumar took BJP's Gaurav Bhatia to task: BJP doesn't give numbers on anything but it contests numbers given by others: "how will hisab be done? Your party demands accountability of others" — but what has happened on 2G, CWG, Robert Vadra cases, she asked.
Before Bhatia answered, Faisal Khan of Samajwadi Party pithily remarked, "His turn is over, his time is over".
Mirror Now asked if Modi's unprecedented live TV address to the nation during the poll campaign 'violated' the model code of conduct.
Lawyer Sanjay Hegde thought the entire event was "planned in advance" from the timing of the satellite launch in January to his "planned speech"— it was "fodder" for the election campaign.
Front Page
The big news in The Indian Express and Hindustan Times, Friday, is Prime Minister Narendra Modi's election campaign rallies. In "Modi opens campaign with 'strong India' pitch", Hindustan Times says a "combative" Modi framed the impending elections to be "a contest" between "a decisive government and an indecisive past". His Bharatiya Janata Party (BJP) is the only "entity capable of providing strong governance to an aspirational India."
Express highlights Modi's polarising rhetoric in "PM begins: Pak, terrorists want me to lose, Opp to win". It quotes him, "Opposition parties are competing to become 'heroes in Pakistan'" and went on to say those across the border were hoping "to somehow get rid of the chowkidar and mahamilawati (impure, referring to the opposition parties) come to power in Delhi."
The Times of India's headline reflects similar line of thought: "Land, air or space, we had courage to do surgical strikes: PM". It notes it his "first election address after the poll schedule was announced" but it gives the story second billing.
PM "launched a scathing attack on the opposition by saying, 'If Congress is removed, poverty will disappear'", it adds.
Masood Azhar
TOI's lead story is "US, China in bitter showdown at UN over sanctions on Azhar". It says "US and China are engaged in a bitter showdown at the UN over Jaish-e-Mohammed chief Masood Azhar" because China still maintains its 'technical hold' on Azhar. "Washington has sought to raise the heat by seeking a discussion in the council — inviting a sharp Chinese retort that it should act with caution", it writes.
Indian Express chooses to focus on a related news story: "Pak denies again: No terror camps at 22 sites, no Pulwama link of those held", noting that "this was the first time Pakistan has officially conveyed the outcome of its investigations".
Samjautha Express
Several newspapers give front page space to Panchkula's special court judge Jagdeep Singh who said he was "deeply pained and anguished" that the "dastardly act of violence remained unpunished for want of credible and admissible evidence" (TOI), referring to his acquittal of those accused in Samjautha Express blast case in 2007.
"The judge said the prosecution has failed to adduce evidence beyond reasonable doubt to make out culpability of the accused for the charged offences", writes Hindustan Times.
Express has more damning details in its self-explanatory headline: "Best evidence was withheld: Samjhauta judge slammed NIA". It quotes from his 160-page verdict where it states that the best evidence was "not brought on record" by the prosecution and some "independent witnesses…were never examined" – also "CCTV footage from Old Delhi Railway Station in 2007" was withheld.
Hindi dailies
The front pages are full of political coverage.
Amar Ujala leads with PM Modi's first day of campaigning in "PM Modi ne kaha- SP,RLD,BSP sharab jaise…yeh barbad kar denge, insey bache." This refers to the new acronym Modia coined in Meerut in his first campaign rally.
Dainik Bhaskar talks of PM's aggresive take down of Congress party's Nyay program. It quotes him saying poverty will be removed if Congress is removed–, "Congress hatao, garibi apne aap hat jayegi."
Dainik Jagran leads with the US in the UN to declare Jaish e Mohammed Chief, Hafiz Saeed as a global terrorist– "Atanki Masood ka bachna mushkil."
Opinion
In The Indian Express's "Our silence on poverty", Pratap Bhanu Mehta, Vice- Chancellor of Ashoka University, says responses to direct cash transfers to the poor, as envisaged in the Congress's Nyuntam Aay Yojna (NYAY) scheme, elicit two tactics in response: words like "dole" and "dependence" are bandied about, "as if money in the hands of the poor will somehow corrupt their moral fibre". The other is more practical: to question such a scheme's implementation.
"Guaranteeing a minimum sense of economic agency is not a dole", he writes, there should be no excuse, "practical or moral" not to do so. How to "get there"? "India needs to raise taxes", he says but realises this is "hard to state politically" and therefore there is a lot of "bad faith" in discussions on poverty and taxation with the "burden of the social contract" always on the poor.
He applauds the Congress' minimum guarantee scheme: its "normative motivations are laudable", Mehta writes, but unfortunately, the "political framing" was "botched up" the in confusion over whether it was a top up or a lump sum.
Mehta says that credibility is required in any such political discourse. With all parties promising cash transfers, "the Indian development model is up for radical political contestation…the intellectual challenge is to think of the overall framework within which such schemes make sense," he writes.
Tweets of the day
I have stepped down as Executive Editor at @ETNOWlive to pursue the next challenging phase of my life outside media I thank The Times group for the most exciting 10 yrs of my journalism Wish the channel, mgmt all my colleagues the very best @vineetjaintimes @Anandmk @nikunjdalmia

— Supriya Shrinate (@SupriyaShrinate) March 29, 2019
I will be taking an active plunge in politics, am grateful to @INCIndia @RahulGandhi @priyankagandhi @JM_Scindia for trusting me with Maharajganj. It will be an honour to keep my late father's legacy alive. I look forward to making a meaningful contribution

— Supriya Shrinate (@SupriyaShrinate) March 29, 2019
With inputs from Shailaja Bajpai and Renu Agal.
Get the PrintEssential to make sense of the day's key developments