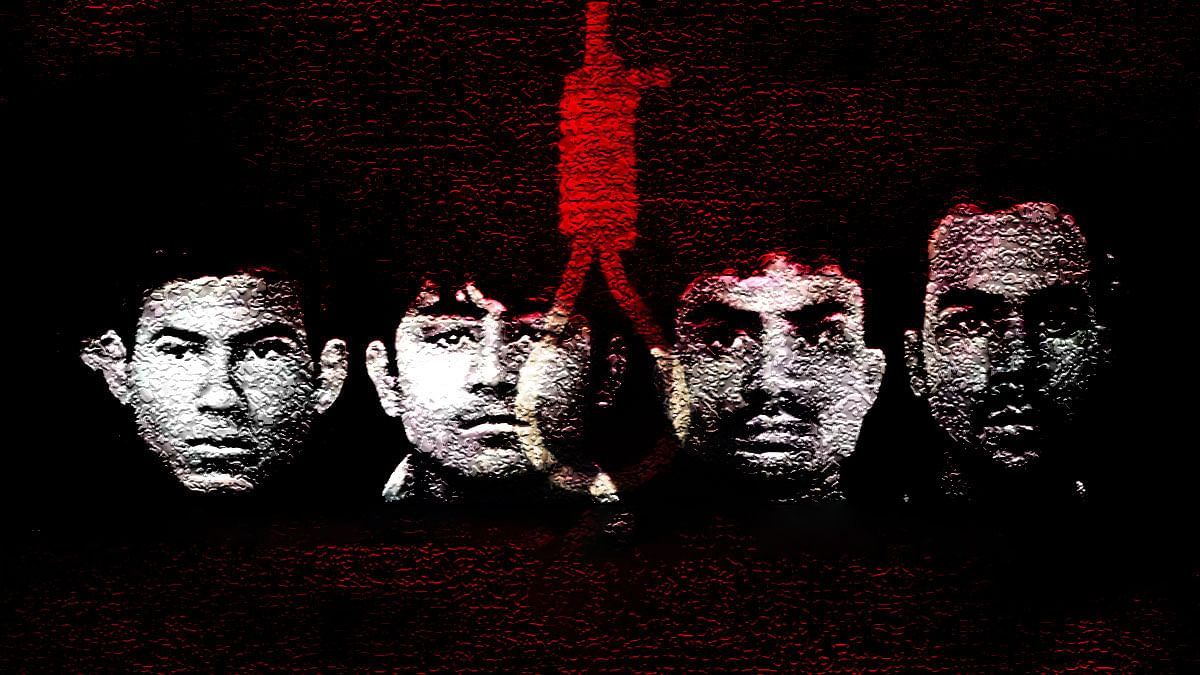 Front Page 
Over seven years after the 16 December gangrape-murder case, the convicts will finally be hanged in Tihar Jail at 7 am on 22 January. The death warrant issued by the court is the top headline of the day.
Newspapers also follow up on the violence in Jawaharlal Nehru University (JNU) from varying angles. The Indian Express reports on actor Deepika Padukone turning up at JNU Tuesday in solidarity with JNU Students Union (JNUSU) president Aishe Ghosh Express — "surprise guest" "Deepika stands in — and up". Hindustan Times, The Hindu and The Times of India report on the two FIRs filed against Ghosh, and the fact that the Delhi Police hasn't yet detained anyone.
The prediction of an 11-year low GDP also made it to the front page.
Nirbhaya convicts: TOI says "Nirbhaya's rapist-killers to hang at 7am on Jan 22: Court", adding that "enough time given to exhaust legal remedies". The report also features a "Countdown to the end", which lists the steps that will be followed till their hanging. HT chooses to be more dramatic: "Black warrant out to hang Dec 16 convicts". The report describes the case as a "sensational case that triggered nationwide protests and paved the way for stricter anti-rape laws in the country". Hindu sticks to its bland format, "4 Nirbhaya case convicts to be hanged on Jan. 22", adding in its report Delhi chief minister Arvind Kejriwal's tweet on how the "system will have to change".
JNU violence: TOI, Express and Hindu feature actor Deepika Padukone's photograph from JNU campus in their lead stories. However, TOI focuses on the inaction since Sunday, "Scant CCTV footage, no one detained and little headway". The report mentions "mobile clips and WhatsApp group exchanges that have thrown up the identities and affiliations of several people and point to a conspiracy" and raises pertinent questions about what happened Sunday in a box item.
HT covers the FIRs lodged against Ghosh and the number of people detained since Sunday. The report ("JNUSU president, assaulted by mob, booked in 2 FIRs") says "police at the Vasant Kunj North station were registering FIRs against JNU students" while violence was unleashed on campus. Taking a jibe at zero detainees, HT's headline says, "17 cops inside, 116 at gate; Held: 0". Hindu takes a similar route, "Charges against student leader, but none held for JNU attacks".  Express has an interesting story,  "23 PCR calls and hour later, police stepped in", that details the number of calls made to the police from JNU before it entered the university premises.
An exclusive report in The Economic Times, "JNU admin advised HRD min to shut campus, but government refused", elaborates on the "extreme measure" suggested by the university that included closing down the university for some time – a step the HRD ministry refused to take.
GDP slump: HT in its second lead writes, "GDP growth may slip to 11-yr-low of 5% in FY20", and carries a graph showing India's "sluggish economy". TOI writes, "Forecast puts GDP growth at 11-yr low of 5%", including reasons for this slump as being "dragged down by anaemic manufacturing, slowing services sector growth, as well as sluggish investment and consumption". Express notes "the GDP is seen slumping to 5 per cent, the lowest since the 2008 economic crisis", while Hindu adds that "this estimate is in line with the predictions made by the Reserve Bank of India".
Govt envoys to Kashmir: Five months after Article 370 in Jammu and Kashmir was scrapped, the Modi government invites foreign envoys based in India to assess the situation there. TOI writes this step is a part of "Centre's bid to engage with international opinion". Hindu notes that a response from the diplomats is awaited.
Opinion
The Times of India: In "Capital Choices", TOI states that Delhi is "poised for a head-on clash between chief minister Arvind Kejriwal and Prime Minister Narendra Modi". It writes that Delhi assembly elections are "unique" because the city is "almost entirely urban, presenting challenges of air quality, last-mile transportation, women's safety" etc. TOI argues that while BJP is looking for a comeback after two decades, it should "weigh carefully its utility of anchoring its campaign around nationalism", especially after the recent protests against Citizenship Amendment Act and the National Register of Citizens. It adds that Congress' improved performance raises the "prospect of anti-BJP splitting", an outcome that AAP will fear.
The Indian Express: In "Sobering Account", Express writes that India is expected "to grow this year at the slowest pace in more than a decade with both private consumption and investment faltering". It adds that the National Statistical Office (NSO) numbers imply that "economic activity is expected to pick up only marginally in the second half at around 5.2 per cent". This means "recovery will be a protracted process". Express notes that all growth estimates for this year fall remarkably short of the projections factored in the budget. Thus, it argues, "the finance minister must present an honest assessment of the economy as well as the state of government finances in the upcoming budget".
Prime Time
News channels continued with JNU violence Wednesday. And the star of the show was undoubtedly Deepika Padukone's visit to the campus which was covered by all news channels.
NDTV 24/7: On 'Left, Right and Centre', anchor Nidhi Razdan said Padukone's visit was a "powerful image", as she is a huge star. She added that by showing solidarity, Padukone had taken a risk on the eve of her new release, as she could be attacked by right-wing trolls.
"Is the tide turning? Is there a bigger message here?" she asked and noted that male actors like Aamir Khan and Shahrukh Khan are still silent on the issue.
Former IAS officer Kannan Gopinathan said that what happened in Jamia, JNU and AMU is something that has not been witnessed even during the Emergency, and even sportspersons should come forward and speak out.
BJP leader Mamta Kale, on the other hand, focused on how students of the Left "vandalised" JNU's server rooms Saturday. When asked about the Whatsapp messages of right-wing groups being circulated, she asked the camera to zoom into her phone screen, showing Left groups as well.
India Today: Anchor Rajdeep Sardesai discussed the violence in JNU and noted how the Vice Chancellor was absent while the goons were attacking students and teachers.
 BJP spokesperson Neha Joshi said that "cases cannot be tried on national TV and social media" and everyone should let the police do their job.
JNU Professor Nivedita Menon pointed out that there was a difference between guilt and responsibility, and while the Vice-Chancellor and the JNU administration may or may not be guilty, they have a responsibility towards what happened on campus.
Aaj Tak:In 'Halla Bol', anchor Anjana Om Kashyap questioned whether it is fair to compare Prime Minister Modi to founder of Pakistan Muhammad Ali Jinnah Assam's former Chied Minister Tarun Gogoi referred to Modi as the 'modern Jinnah of India'.
Kashyap also said that even after two days, there is still not clarity on the identity of the masked goons in JNU and asked whether they were from the Left or the Right.
She was visibly disturbed and asked a pointed question of BJP spokesperson, Sambit Patra, "Why is the Delhi Police not able to investigate the case?".
Patra, lamely said that the investigation was underway.
India TV:Anchor Rajat Sharma in 'Aaj Ki Baat' welcomed the Delhi court's decision to issue death warrants to the four convicts in the December 16 gangrape case.
 He added that the four convicts still have the option of filing either a curative petition or a mercy petition to appeal against the death warrant. He later argued that the option of a mercy petition must be revoked for convicts of such grave crimes.