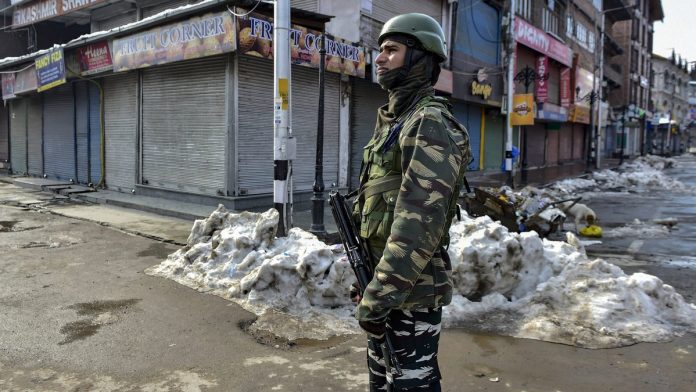 Text Size:
Prime Time
On Times Now, Navika Kumar was almost in tears. On Harvest TV, Barkha Dutt called it "a horrible day in India."
On CNN News18, Bhupendra Chaubey bemoaned the media's focus on people like "Vijay Mallya," while ABP News blackened the suicide bomber's face, and Aaj Tak called for "badla."
Other Hindi news channels hollered for "blood."
This heightened response to the Pulwama killings elicited an advisory from the Information and Broadcasting Ministry, Thursday evening. It asked TV news to be "particularly cautious" to not broadcast content that is "likely to encourage or incite violence…or which promotes anti-national attitudes."
NDTV India's Ravish Kumar also counselled against a "kneejerk reaction." He appealed to other news anchors not to be emotional and ask for "immediate retaliation." He reminded "loud" anchors that issues concerning the armed forces such as 'One Rank One Pension' were ignored by them.
However, news channel anchors were not listening: from RepublicTV's Arnab Goswami and Kumar (Times Now) to Chaubey (CNN News18), they threw caution to the wind, called for all-out war against Pakistan.
Pending that, they launched their own verbal attacks.
Goswami said that "apart from military, Pakistan should be taught a lesson in different areas including business and commerce as well." He wanted a 1:10 headcount vis a vis Indian and Pakistani soldiers killed.
Kumar tearfully said that she did not know how to convey the news of their deaths to the wives and mothers of the CRPF jawans. Her verdict? Time for India to retaliate against Pakistan.
#IndiaWantsRevenge | One surgical strike is not enough, Pakistan needs to be hammered from all directions. The security of this country is not just a soldier's job: Maj Gaurav Arya, Consulting Editor pic.twitter.com/trt6bESpDA

— Republic (@republic) February 14, 2019
India Today's Rahul Kanwal discussed the options before India to punish Pakistan: cutting off Indus River water supply to Pakistan, withdrawing the status of Most Favoured Nation (MFN) or designate Pakistan a terrorist state.
Aaj Tak's Sweta Singh said the Indian Army had the strength to enter Pakistan and eliminate Hafiz Saeed and Masood Azhar.
Zee News anchor Sudhir Chaudhary argued that since the terrorist strike was on a large scale, the response to it should commensurate.
CNN News 18's Chaubey said "go to war against Pakistan……Do we really have answers to these questions which are posed by terrorists."
Interestingly, some army generals like former Army chief V.P. Malik (Harvest TV), Retd Lt General Shankar Prasad (India Today), Lt Gen Kulkarni (India Ahead) gave calmer counsel — take "corrective measures," said Malik. They also blamed the "political class," as Prasad calls it, for playing politics: "forces first, no politics," said Kulkarni.
Front Page
The carnage in south Kashmir dominates the front pages, almost to the exclusion of all else, although Hindustan Times and The Times of India carry half page advertisements and The Hindu gives it just one lead report.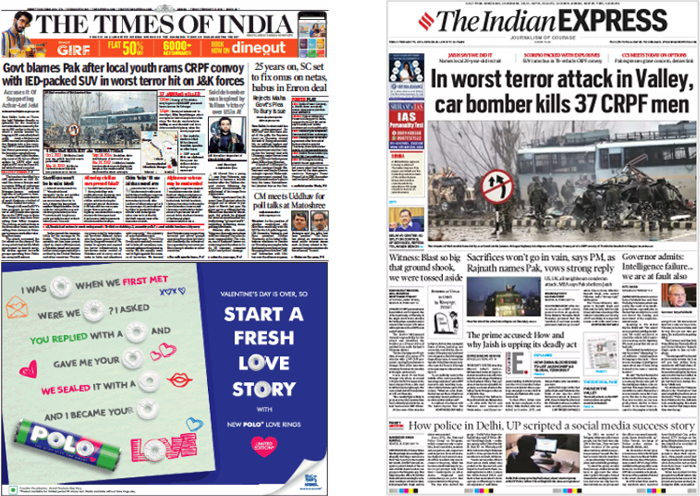 The enormity of the massacre reflects in the coverage: The Indian Express devotes page 1 to the Pulwama attack, barring its anchor story — HT, TOI and Express also have another full page of coverage inside.
So too the headlines: from Express' double decker headline "In Worst terror attack in Valley, car bomber kills 37 CRPF men" and HT's "Kashmir's Bloodiest Day," to "…J&K's Deadliest attack (The Economic Times).
TOI double-decker, too convoluted for quoting, says, "Govt blames Pakistan…" in "…worst terror hit on J&K forces."
The Hindu's opening paragraph is clear and succinct; "At least 37 CRPF personnel were killed on Thursday when a convoy in which they were travelling was attacked by a Jaish-e-Mohammed (JeM) suicide bomber."
There's confusion on the number of dead and injured going from an official CRPF figure of 37 dead to HT's "Forty-four men were feared killed," and "at least 20 more" injured to the Express's 37 killed but "10 injured…" and TOI's 42 casualty count.
This "surpassed the Uri attack on the camp of the Army, which had led the Modi government to launch surgical strikes against terrorist groups operating from Pakistan-occupied Kashmir," writes TOI.
JeM
From the incident, the papers shift focus to the perpetrator and the Jaish-e-Mohammed.
In "Pulwama Attack" (page 11), Express say 20-year old Adil Ahmad Dar, the suicide bomber, left home to join the JeM about a year ago. The Express appears alone in quoting his father: "It's bad that people from both sides are being killed…The politicians are playing politics. They should try and find out why the youth are picking up the gun…"
"Counter-terrorism operatives suspect the attack was payback for the killing of JeM chief Masood Azhar's nephew Usman Haider," writes HT. Other papers add his other nephew, Talha Rashid, as another reason.
TOI suggests that the incident happened as "contentious issues like Masood Azhar were not flagged by India at the UN." "India has been treading softly where China is concerned, going the extra distance to not disturb the fragile peace with Beijing," it writes — a reference to China's refusal to blacklist Azhar.
The Hindu notes, "The JeM has carried out around 10 grenade attacks, with four grenades triggered in capital Srinagar this year so far." Express says this number is 12.
Govt response
TOI's "Surgical strike 2.0? PM's tough talk sparks buzz" (page 14) vaguely states, "Many wondered whether the Modi government would once again follow up its denunciations with military retaliation."
ET in "Terror may dominate election discourse" writes the attack "may compel" the Centre "to take strong steps" but since this attack and the Uri attack occurred under president's rule "the Centre will not be able to shift the blame."
In an exclusive Express interview, J&K Governor Satya Pal Malik first admits to an intelligence failure, then adds "…I can tell you that within 3 months we will finish them off."
Opinion
Of the main papers, HT and Express respond to the Pulwama attack with editorials. Curiously, HT gives its comment second billing. "Kashmir: Centre must choose options carefully" argues that the Centre's "temptation" in an election year will be to opt for "a muscular response…but it must choose with care."
HT writes that the 2016 surgical strike "had little impact on the ground reality in the Valley." It realises "restraint is not easy" but calls for the Centre to draw "a fine line." Go after terrorists but remember politics "lies at the heart of insurgency," it writes, pointing to the "ominous reality" of "locals" turning their "bodies into missiles."
Express in "The Nation Mourns" also calls for "sobriety and wisdom" in the Centre's response. The country will be "better served" if the Centre and all political parties "pause and reflect on the grave juncture in Kashmir…"
Express traces the "draining of optimism" in J&K after the "hardening of the Centre's position," despite "initial hopes" raised by the Peoples Democratic Party-Bharatiya Janata Party government, and "the worsening relations with Pakistan."
"The moment calls, therefore, for a sober look back, and ahead," it writes.
Tweets of the day
Strongly condemn the terrorist attack in Pulwama, J&K. Thoughts and prayers with the families of martyrs and wishing an early recovery to those injured. The entire nation stands united in the fight against the forces of terror and evil #PresidentKovind

— President of India (@rashtrapatibhvn) February 14, 2019
The U.S. Mission in India strongly condemns today's terrorist attack in Jammu & Kashmir. We send our heartfelt condolences to the families of the victims. The United States stands alongside India in confronting terror and defeating it. #KashmirTerrorAttack

— Ken Juster (@USAmbIndia) February 14, 2019
For ThePrint's smart analysis of how the rest of the media is doing its job, no holds barred, go to PluggedIn