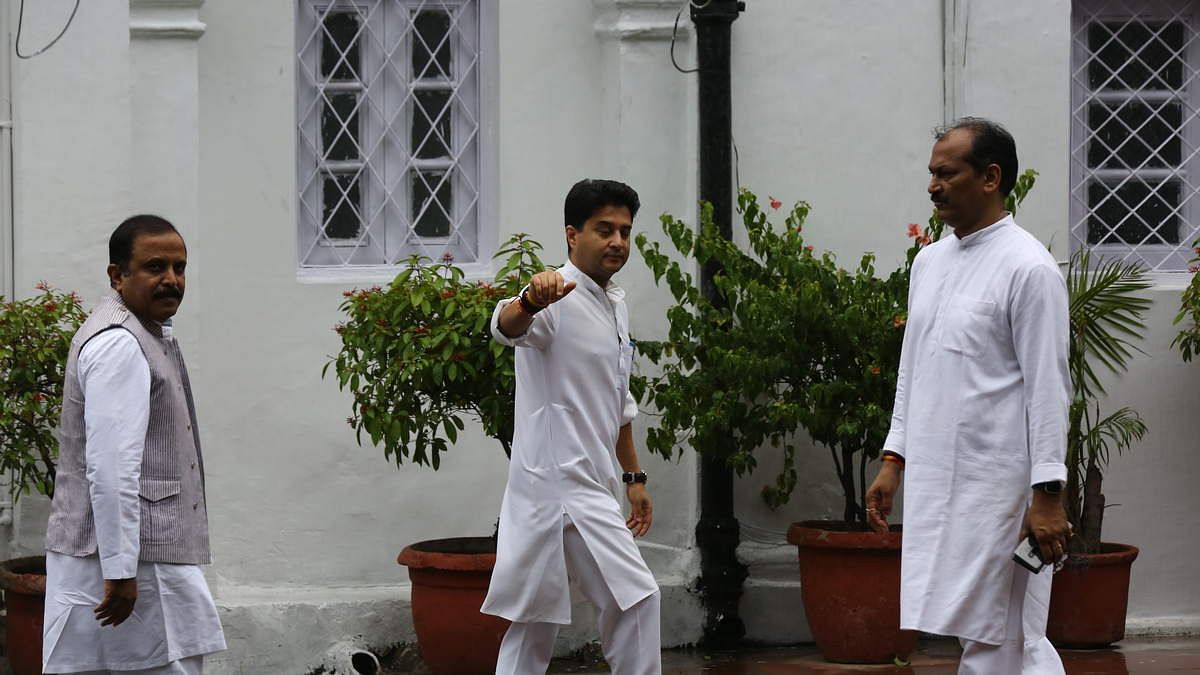 Prime Time
It was meant to be a colourful day and so it was but not only because of Holi.
All news channels added as much colour and drama to the saga in Madhya Pradesh after Jyotiraditya Scindia announced his exit from the Congress, along with 20 other MLAs. "Black Holi" for Congress was how BJP's G.V.L. Narasimha Rao described it on Times Now. "Scindia adds colour to the kamal", announced Zee News. "Congress ka rang udd gaya," said Shweta Singh on Aaj Tak.
The plot thickened as reports poured in the morning of him joining hands with arch rival BJP and the early afternoon saw images of Scindia arrive at the PM's residence and leave with Home Minister Amit Shah.
From Rahul Shivshankar (Times Now), Sudhir Chaudhary (Zee News), Rajat Sharma (India TV) to Arnab Goswami (Republic TV) and Marya Shakil (CNN News18), news anchors dwelt on what they saw as the end of the Congress.
Congress spokespersons and leaders were conspicuous by their absence in news studios, no doubt looking for ways to revive the party.
There was an almost festive feel to the prime time coverage as news anchors happily tore into the Congress.
ABP News spoke to Scindia's gleeful aunt, BJP member Yashodhara Raje Scindia, while India Today questioned top Congress leaders on why Scindia left in the first place. Zee News marvelled at how history repeats itself — 24 years ago Scindia's father Madhavrao Scindia too had abandoned the Congress after it refused him a ticket.
On Aaj Tak's 'Halla Bol', host Shweta Singh wished viewers a happy Holi and then provided other instances of unhappy Congressman — from former Congress leader and current Andhra Pradesh chief minister  Y.S.R. Jagan Mohan Reddy to Rajasthan deputy chief minister Sachin Pilot.
BJP leader Sudhanshu Trivedi explained the primary difference between BJP and Congress: BJP is an ideological driven, cadre-organised party, while Congress is a system inspired, leadership oriented party. He denied any BJP hand in Scindia's departure.
"If there was an internal issue with Jyotiraditya and Congress, what's BJP's fault?" he asked innocently.
On ABP News' "Seedha Sawal", the show opened to visuals of an ECG machine that according to anchor Rubika Liyaquat "said everything" about the BJP and Congress's positions in MP. The "machine" showed that the BJP required 12 more seats to push Congress into facing a no-confidence motion. "Chhoti bua" Yashodhara was here too and expressed her happiness, saying that the family was finally together after years of friction. "Hum sab ek saath hain or ek ghar mein khushi mana sakte hain," she declared, as graphics of the Scindia family tree flashed on the screen.
Making an appearance on NDTV 24×7 as well, Yashodhara adopted a very different tone when questioned by host Srinivasan Jain on whether Scindia's move could be attributed to "pure self interest". "How many people aren't working with even 1% self interest in any other party?" she countered, pointing out that politics today is not the politics from 50 years ago when "all was wonderful" and building the nation was primary goal.
Srinivasan asked if Jyotiraditya's father Madhavrao Scindia (whose birth anniversary fell Tuesday) would have approved of his son's decision? Yashodhara promptly said her brother, too, had left the Congress — she called Jyotiraditya's decision a "ghar wapsi" as his father had once been part of the Jana Sangh, BJP's precursor, just like his grandmother.
On India Today, Congress spokesperson Pawan Khera diplomatically wished Scindia luck, and said he would be a great asset for the BJP. But anchor Rajdeep Sardesai did not let him off the hook, wanting to know whether the Congress agreed that it had mishandled things with Scindia and neglected him by not appointing him Chief Minister in Madhya Pradesh.
Khera curtly pointed out that Scindia was given 8 promotions in 18 years — "Do you still think he got a raw deal?" he asked. Sardesai persisted: what caused Scindia's departure from Congress? "Boss, this question should be put to him," Khera responded with exasperation, adding that he did not become CM because of lack of support from MLAs. He also sarcastically added that he hoped Scindia was appreciated by the BJP, and Amit Shah could possibly make way and make him Home Minister.
On Republic TV, Arnab Goswami marvelled at the information he received which revealed that the average age of the Congress Working Committee was 70 years, while Scindia was only 49.
Goswami said sarcastically that 60 year-old Mukul Wasnik was now the youth leader of the Congress — one had to apparently be 60 years of age to be a youth representative for the Congress party, he added mockingly.
But senior journalist Neerja Chowdhury pointed out that the issue was not just about the departure of a popular hard-working youth leader, but it was a "seminal moment" that showed that younger people in the Congress who had over 20-25 years of public life ahead of them saw "shutters coming down" for them. "This must have been a very hard decision for him," she said sympathetically of Scindia.
Zee News' 'DNA' saw anchor Sudhir Chaudhary take a walk down memory lane. Boasting that Zee News is India's "first private news channel", he talked about how he discovered archival footage of an interview with Madhavrao Scindia from 1996. Chaudhary flashed clips of the footage in which he had interviewed Scindia, with a young 25-year old Jyotiraditya making a short appearance in the background. "This was the day Congress announced its Lok Sabha tickets, and didn't include Scindia and also snubbed many other important politicians," he explained.
How history repeats itself…