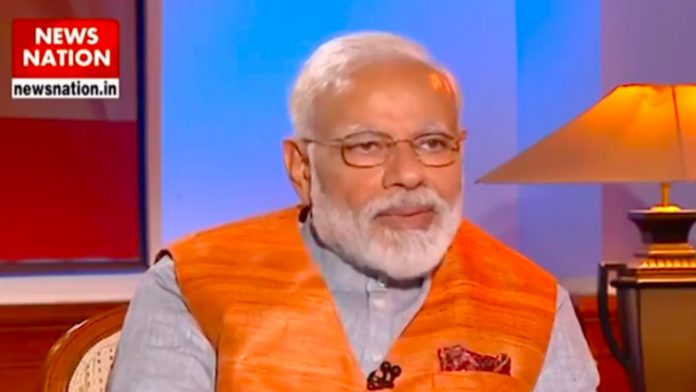 Text Size:
Prime Time
Phase six of Lok Sabha elections Sunday saw reporters across channels brave the heat and dust to cover polling in different parts of the country. Delhi voted, and since it is the headquarters of most news channels, the camera's eye was on the capital's constituencies' and high profile voters like Congress president Rahul Gandhi.
However, as is his wont, Prime Minister Narendra Modi stole a march on him in the debates.
Comments by him in two interviews over the weekend — Saturday to news channel News Nation and Sunday to The Indian Express — became topics of discussion.
On News Nation, the PM disclosed how he had okayed the Balakot air strikes despite a cloud cover: "We faced a problem on the night of the strikes. The weather suddenly turned bad. There was heavy rain. By and large the opinion of the experts was – what if we change the date. I had two issues in mind then. One was secrecy. We won't be able to do it if that was compromised. Second, I said that I am not a person who knows the science. But I said there is so much cloud and it is raining. There is a benefit. We could escape the radars. This is my raw wisdom, that clouds could benefit too. Ultimately, I said that there are clouds… let's go ahead".
In the Express, Modi had strongly criticised what he called the 'Khan Market gang' of Lutyens Delhi. He said, "Every pollster, media, Lutyens Club, the Khan Market gang, was eager to defeat us and predictions were being made that we will wind up with about 40 seats in all three states. (Rajasthan, Madhya Pradesh & Chhattisgarh)."
India Today: Anchor Gaurav Sawant asked Retired Air Marshal P.S. Ahluwalia whether cloud cover would have helped the Indian Air Force's Mirage jets dodge Pakistan radars.
Ahluwalia said, "I do not want to comment on what the Prime Minister had to say, but as a professional I can tell you that it is very important to understand what the weather will be like over the target area. Clouds can actually interfere with your vision."
Sawant wasn't satisfied with the reply: could a cloud cover have obscured the radars's vision as the PM had claimed, he asked.
This put Ahluwalia on the spot and he opted for diplomacy: "Radars are meant to see through clouds. Nevertheless, it is important to mention that Balakot attacks were successful."
Times Now: Anchor Navika Kumar quoted Modi from Express, then Priyanka Gandhi's reply and asked "Is the 'Lutyens Club' deliberately trying to target Modi?'' Bharatiya Janata Party (BJP) spokesperson Gaurav Bhatia backed his leader with an odd accusation: "They (Lutyens gang) are there with an agenda," he said, "under the guidance of outside people to tarnish Modi's image".
Journalist Saba Naqvi believed otherwise: "It would have been better that instead of making statements, Narendra Modi (had) given an open press conference to Delhi media."
CNN News 18: Anchor Pallavi Ghosh turned her attention to the Prime Minister's constant references to caste in his election speeches. At a rally in UP on Saturday, Modi had said, "I was born in a backward caste. I was born poor but worked relentlessly for removing poverty''. BJP spokesperson Neha Joshi used the Congress to shield the PM: "We have seen Congress in the past asking about caste status. Saying that my caste is poor is the best statesmanlike reply he can give."
Congress spokesperson Sanjay Jha commented, "In 2014, Modi made a big deal about his caste status. They (BJP) played the caste card very aggressively back then. This is the standard operating procedure of the BJP."
ET Now: Anchor Tamanna Inamdar pitted Narendra Modi's "strongman" image against Congress president Rahul Gandhi's "love will win" refrain.
Journalist Neerja Chowdhury tried to balance the two: "Narendra Modi has carefully planned the narrative for every single phase of election. Rahul Gandhi's style is very understated."
Front Page
The Monday page 1 leads reflect the waning of the campaign for the 2019 Lok Sabha polls. Other than reports on voter turnouts across the seven states and Delhi on Sunday, mainstream newspapers carry one other main election story and then switch their attention elsewhere. The IPL makes it to Page 1 of most dailies, in the form of photographs of the Mumbai Indians who beat Chennai Super Kings in Sunday's finals.
The Hindu's report "63.5% turnout in sixth phase", notes, "The highest participation of 80.35% again was reported from the eight seats in West Bengal, which however was lower than the 84.95% in the previous polls". The state also witnessed "several incidents of violence".
The Times of India, Hindustan Times, and The Indian Express focus on the capital's turnout, "with Delhi's chief electoral officer (CEO) Ranbir Singh saying it did not meet expectations", reports HT.
TOI plays on an educational metaphor—Class X and XII results were out last week—with "First division but no distinction: At 60.5%, Delhi turnout drops from '14". The turnout "was lower than the 65.1% registered in 2014, with poll officials attributing the drop to heat and the fact that voting took place on a weekend".
Still the turnout "was the third-highest since 1977, according to official data," explains HT. Photographs of political leaders like Rahul Gandhi, Sushma Swaraj and Arvind Kejriwal alongwith cricketer Virat Kohli accompany the report.
TOI confidently declares BJP the winner in the capital: `(it) seemed to have an edge. Any possible Congress recovery may not be good enough to comprehensively defeat BJP".
"BJP is likely to have taken a big chunk of middle-class votes due to the Modi factor overshadowing its candidates," it writes, adding, "A large number of Muslims, meanwhile, seemed to have voted strategically for Congress."
The other poll-related report in TOI is `Maya and Modi spar over Dalit woman's rape in Alwar. It reports that first Modi attacked Mayawati at a rally in Kushinagar, accusing her of "'shedding crocodile tears"', then Mayawati to resign for atrocities against Dalits "in his home state''.
Food and environment
In "Green nods eased in 5 yrs of NDA govt: Official data", HT writes "Environmental clearance processes across industrial sectors have eased since the National Democratic Alliance (NDA) assumed office", but vaguely cites "a compilation of official documents related to environment impact assessment (EIA) between December 2014 and January 2019" as evidence.
It adds, "industry executives accept that in the past five years the government has tried to standardise and simplify the process of granting environmental clearances".
Express's "First challenge for next govt: Food inflation set to return" writes that though the BJP's tenure has been "marked by benign food prices", "food inflation could very well be the next government's first challenge, regardless of who heads it", citing the rising prices of cereals, grains, fruits, and vegetables.
"This election, unlike previous ones, has not been fought on inflation, central government, if at all, has faced flak not for high, but low prices of farm produce…it makes the return of food inflation…that much trickier for the next government" it adds in 'Explained' saying while consumers will suffer, higher prices benefit farmers.
Irom twins
Express highlights activist Irom Sharmila's newborn twin girls on page 1. "My daughters have been born on Mother's Day and I am doubly happy because of that. I feel that is significant," the report quotes her saying.
Opinion
The Hindu's "Substantive equality" notes that the Supreme Court verdict upholding a Karnataka law to preserve "the consequential seniority" of SC/ST candidates promoted on the basis of reservation, is the first such instance of "quantifiable data" being used to justify reservation.
A "key principle" of the verdict is that says in cases of reservation for SC/ST candidates there is no need to "demonstrate backwardness". The verdict "upholds the historical and social justification for reservation, rejecting the argument that quotas, by themselves affect administrative efficiency". The verdict says merit lies not only in performance but also achieving of "substantive equality" as envisaged in the constitution.
Express's "After Fani" says while the Odisha government did a "creditable job" in minimising the immediate impact of Cyclone Fani by roping in civil society alongside the state's administration, "the challenge is not over" — 14 districts have seen widespread devastation impacting 50 per cent of their population. Besides practical steps of employment and reconstruction, the priority should also be "to ensure that social inequalities are not aggravated" as reports suggest "deepening of caste fault lines and conflict".
Express notes climate change is a factor in such cyclonic movements — coastal states need strategies to minimise suffering caused by the "vagaries of nature", it concludes.
Tweet of the day
A truly great season of @IPL comes to an end and #ViruGhareluAwards is here.

Silbitta – Rishabh Pant ( Peesing chutney of the best of bowlers)
Patkunna – Russell ( Dhunai of bowlers)
Dhoni – Torch ( Guiding light for CSK)
Tahir- Purani Jeans ( Purani hai par taaza) pic.twitter.com/2lDFFhCcXX

— Virender Sehwag (@virendersehwag) May 12, 2019
With inputs from Shailaja Bajpai.
Get the PrintEssential to make sense of the day's key developments