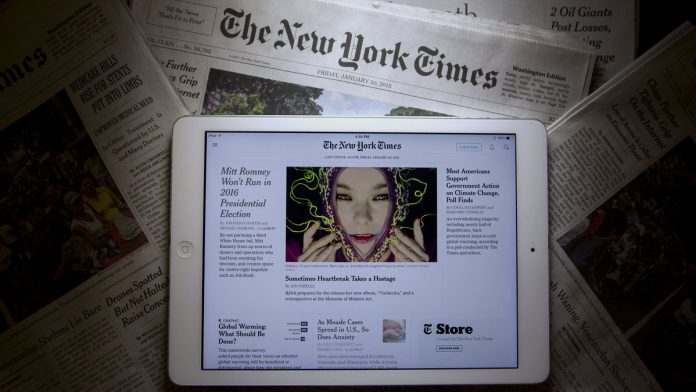 Text Size:
The foreign press' coverage of the fast-approaching elections takes peculiar angles today.
The New York Times in "In India's Election Season, an Explosion Interrupts Modi's Slump," gets one fact terribly wrong: it identified the Pulwama attack as an "explosion".
It later changed it to "In India's Election Season, a Bombing Interrupts Modi's Slump," presumably after it drew sharp criticism for not calling a spade a spade. The headline ignored that it was a terror attack, which led to widespread international condemnation — a fact the report overlooks.
The report is slanted, loaded. It suggested that implicating Pakistan in the attack was an arbitrary call by the Prime Minister, writing "Mr. Modi ordered airstrikes on Pakistan, which he blamed for the attack," — even though Pakistan's foreign minister Shah Mahmood Qureshi admitted on air that the Jaish-e-Mohammed's leader was residing in Pakistan, and that the government wouldn't act against him unless India furnished "proof" of the attack.
The article looks at Modi's prospects in the wake of Pulwama, which it says will rejuvenate his campaign ahead of the elections — it described Modi's waning support before Pulwama as a "slump".
The piece emphasised key areas where the Modi government has failed to deliver — namely job creation, the economy, and social justice for farmers and Dalits.
It suggested that this is why his party, the BJP, was "trounced" in the assembly elections last year — that is not true. In the three heartland states going to the polls last year — Rajasthan, Chhattisgarh, and Madhya Pradesh — the fight between the Congress and BJP was neck-to-neck in Rajasthan and MP.
Apart from Chandra Bhan Prasad, a Dalit political commentator who says, "He's totally lost the Dalit vote," and "Dalits will still vote for any party that can defeat the B.J.P.", no other person quoted in the piece indicated a slump in for Modi's support.
Bloomberg's "Why India's Election Is Among the World's Most Expensive" is almost belittling and stereotypical in approach as suggests expenditure on gifts might have something to do with it: "Blenders, television sets and occasionally even goats are handed out as gifts in some areas," it writes under a subhead titled, "Can Goats Help Win Votes?"
"India's budget has allocated 2.62 billion rupees to the Election Commission this fiscal year, a new high" it writes, but adds, in its concluding sentence, that "Some of that may be used for elephants to carry electronic voting machines to relatively inaccessible regions, and boats to ferry men and materials across the mighty Brahmaputra river in the northeast."
Front Page
With Pulwama-Balakot a major election issue, it dominates headlines this morning, after a day's hiatus. Election news now gets two+ dedicated pages in the papers.
The Hindu's simple headline, "Pulwama attack conspirator killed" is amplified by Times of India — "Pulwama terror attack plotter killed in pre-dawn operation" and the information sourced by The Indian Express ("Key conspirator of Pulwama attack killed in gun battle: Security Forces") and Hindustan Times ("Key Pulwama planner killed in gunfight: Army").
On the "plotter", the reports are similar across newspapers although each spell his name differently. TOI writes Mudassir Ahmed Khan "was killed by security forces in a joint operation" (TOI) in South Kashmir. He's Mudasir Ahmad in Express and Mudasir Ahmed in HT and Hindu.
Hindu gives top billing to "SC may send plea challenging quota Bill to Constitution Bench" — this get a single column in HT but no page 1 coverage in TOI or Express.
The Telegraph focusses on elections in "Air strike will bring Modi back: Yogi." It analyses the BJP's "testosterone driven four-pronged theme that will drive its election campaign".
HT provides more proof of the Balakot airstrike in "Indian report says bomb hit target, but silent on casualties." Its basis is an "Indian Air Force and intelligence agencies' 'assessment report'."
Samjautha blast
The deferred verdict in the Samjhauta Express is acknowledged in a tiny Page 1 box while Hindu doesn't carry it at all.
HT and Express differ in approach.
HT is vague: "A last-minute intervention by a Pakistani national through her lawyer' resulted in the deferment.
Express clearly states the woman, Rahila Wakil "filed an application before the special NIA courts claiming proper summons were not served to Pakistani witnesses." She is the daughter of a victim in the case.
Pawar exit
The NCP chief's decision not to stand for the Lok Sabha elections is front page news in all mainstream papers.
Again, the focus is different: Hindu and TOI emphasise that he "did a volte-face" when he made the announcement — "Pawar makes one more U-turn, says won't contest polls" (TOI) — a month after he said he would contest.
Express writes, "Pawar exits polls, Fadnavis says he senses the wind" — but Maharashtra CM's opinion appears only on page 2.
HT emphasises his achievements, introducing him as "eight-time parliamentarian, India's former defence minister, and head of the Nationalist Congress Party Sharad Pawar, 79, has said he will not be contesting the coming Lok Sabha polls".
Opinion
BJD's decision to offer 33 per cent seats to women candidates in the Lok Sabha elections, is today's talking point in TOI, HT and Express.
Express lead editorial, "A ticket to rise" calls it a "landmark move" that should be "heartily embraced by the political mainstream". Notwithstanding, 50 per cent women's representation in panchayats, it laments the absence of a roadmap from "panchayat assembly to Parliament" — and the failure of the women's reservation Bill 2008, to be realised.
HT's "BJD scores with 33 %…" recalls that Biju Patnaik, father of current chief minister Naveen Patnaik, first introduced 33 per cent reservation in panchayats too. It adds that BJD has not extended seat reservation to the assembly elections, though. HT says that Patnaik's move recognises that women "are casting their ballots more frequently and in greater numbers". It "must be emulated by other political parties".
TOI's Mission Shatki call is a "historic first". Like HT, it sees the move as "a canny sense of social change" — as women have been "key" to BJD's success. Also, in 2014, "women surpassed men's turnout" in 50 per cent of states and union territories, yet only 8 per cent candidates were women. It urges parties to "follow" BJD's example.
Hindi dailies
Dainik Bhaskar and Dainik Jagran lead with the objections of some opposition parties to elections being held during Ramzan.
Dainik Bhaskar's headline is "Congress, Trinamool, Sapa, AAp boli – Ramzan me voting ghalat; bhajpa ka faida hoga."
Bhaskar's figures say that during Ramzan there will be voting on 169 seats in UP, Bihar and Bengal but only 14 seats where Muslim voter influences the polls.
Dainik Jagran says, "Ramzan ke kaaran nahi talenge chunav." The Election Commision has clarified that the no election date has been fixed on any festival date or a Friday.
Amar Ujala leads with the Rahul calling Masood Azhar- `Azhar ji' which has led to a political slugfest. It says: "Zubani jung: 'Azharji' bolkar siyasi ghamasan me uljhe Rahul"
Tamil Dailies
Like the English media, Dinamani leads with Mudasir Khan's killing –'Pulwama: Mastermind killed in an encounter'.
The only front-page story of TheHindu Tamil is on PM Kisan Scheme with the headline "Rs 5215 crore transferred to 2.6 crore farmers. 14 lakh farmers benefited in Tamil Nadu"
Dinamalar's lead story finds fault with DMK, saying "Scuffle in DMK over announcing candidates".
Dinamani and Daily Thanthi carry a report on Kerela State Election commission's announcement that invoking Sabarimala in election campaigns is a violation of model code of conduct.
Daily Thanthi's editorial advises that "Since it is exam time of students, parties should not campaign loudly beyond the campaigning hours". It also expects the highest voter turn from Tamil Nadu since the election day in the state falls in a 5-day long weekend.
Prime Time
After a day's lull, TV news returned to Balakot.
The big, breaking report on full and final proof of the Balakot airstrike — provided last week in irrefutable satellite images — came on RepublicTV and India Today.
Republic TV's "super-exclusive voice clip" featured a Balakot resident who claimed the majority of those killed in the airstrikes were from JeM. The man also said the area, targeted by the IAF, has been surrounded by the Pakistan Army and the internet has been cut off.
India Today's "World Exclusive Balakot Tapes" saw anchor Rahul Kanwal vouch for the authenticity of the tapes. In one tape, a local — was it the same as RepublicTV's — claimed to "know almost all those" killed and they were JeM operatives. He recited a string of names. It also featured a "cleric" at Balakot, who heard "four blasts".
WORLD EXCLUSIVE#BalakotTapes have nailed the lies of Pakistan very-very effectively: Tilak Devasher (Former special secretary, Cabinet Secretariat)
Watch LIVE with @rahulkanwal – https://t.co/4fqxBVUizL pic.twitter.com/6r1Zst0LfU

— India Today (@IndiaToday) March 11, 2019
Not to be left out, Times Now announced "263" terrorists in crosshairs — Balakotkillcount revealed.
The prime time debates on Times Now and Republic TV turned the discussion the Balakot political with an all out attack on Congress President Rahul Gandhi for referring to the JeM chief as `Masood Azhar ji' in a speech.
A scowling anchor Arnab Goswami led the discussion on Congress `honours' terrorists (Republic) while Times Now called him `RahulMasoodJi'.
Elections
Other news channels were preoccupied with the forthcoming Lok Sabha elections.
ABP mistake? Was it a mistake, fake news, or wishful thinking? A screen shot of ABP's opinion poll, Sunday, flashed figures of 564 seats for NDA, 141 seats for UPA and 138 seats for Others which adds up to more than the 543 seats in the Lok Sabha.
Elsewhere, "expert" opinion was divided on Verdict May 2019.
On NDTV India's "Ranneeti", journalist Rahul Dev said the public's satisfaction with the Balakot strike, Modi's image as a strong, "decisive" leader and a feeling that his five year rule had been "theek-theek" gave him a big advantage.
On NDTV 24×7's "Reality Check", Ashok University's Gilles Villiers insisted that there would be "no repeat performance" of Modi's 2014 sweep of the north — "there are too many imponderables", he said.
Congress data analytics chief Praveen Chakravarty claimed that 2019 would see "543 independent elections" in each constituency.
India TV wondered if anyone could compete with Modi — 52 per cent of its survey respondents voted for him as PM.
"The next prime minister will be from another party," claimed Congress spokesperson Sanjay Nirupam on News Nation, which also had a poll.
According to News Nation polls, the Bharatiya Janata Party-led National Democratic Alliance is supposed to win on 270 seats while on the other hand Congress-led United Progressive Alliance government is expected to win 134 seats. 'Others' are expected to win on a total of 139 seats.
Tweet of the day
Dear friends! While we all have been raising issues with respect to hunger, unemployment, Agrarian crisis, social justice..A major section of the mainstream media is silencing such concerns dictated by the BJP headquarters. Let us decide to collectively boycott those channels… pic.twitter.com/S3cGlLv4pk

— Tejashwi Yadav (@yadavtejashwi) March 11, 2019
With inputs from Shailaja Bajpai, Renu Agal and Aananth Daksnamurthy
Check out My543, our comprehensive report card of all Lok Sabha MPs.