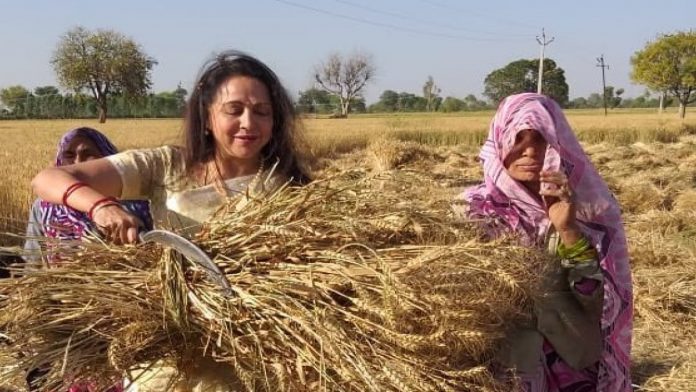 Text Size:
Prime Time
Prime Time TV offered a variety of subjects Wednesday, from an interview with Hema Malini (Times Now) to a discussion on NaMo TV (India Today). But first let's hear from the chief minister of Telangana.
Modi is "a flop" said K. Chandrasekhar Rao during an interview with NDTV's Prannoy Roy. The PM squandered a great opportunity after BJP's 2014 victory, he added.
KCR was milder on Congress president Rahul Gandhi — he had met him only once — saying that he was maturing as a politician. Sonia Gandhi was "quite reasonable", he added, she listened to leaders from other political party leaders.
He broke into Hindi several times and praised Samajwadi Party chief Akhilesh Yadav, whom he called "seasoned", "very bright" and "very educated".
He said there would be a "unification" of regional parties post elections — hinting at a third front government.
Times Now anchor Navika Kumar interviewed actor-turned-BJP politician, Hema Malini.
When asked about her contribution to her constituency, Mathura, Malini replied vaguely that much development work has been done but failed to give any details.
Kumar wondered why she was suddenly seen cutting crops in the fields of Mathura. "I am the elected MP from the constituency and I can go wherever I want. Also, I need to feed 'dhano' (horse), poor thing."
Began my Lok Sabha campaign today with the Govardhan Kshetra where I had the opportunity to interact with women working in the fields. A few fotos for u of my first day of campaign pic.twitter.com/EH7vYm8Peu

— Hema Malini (@dreamgirlhema) March 31, 2019
On Aaj Tak, anchor Nishant Chaturvedi pitted actor Vivek Oberoi against actor turned Congress leader Nagma in a debate about Oberoi's film PM Narendra Modi that's scheduled to release Friday.
Chaturvedi asked Oberoi, who plays Modi in the movie if the timing of the film's release wasn't controversial.
"As a citizen of this country, I believe that I have the right to release the film whenever I want," replied Oberoi.
He counter-attacked by saying since media anchors are influencers they should also be banned.
"Media is only the medium," asserted Chaturvedi.
Nagma said, "We are not against the release of the film but the timing of the release."
#ElectionsWithNews18 – The 'Swasthya Mitra Policy' of the West Bengal government came into being several years before the 'Ayushman Bharat', Ujjwal Chaudhary (Political Analyst), tells @AnchorAnandN on #TheNationAt5. pic.twitter.com/FXYxZ24SgH

— News18 (@CNNnews18) April 3, 2019
CNN News 18's Anand Narasimhan led a discussion on Prime Minister Narendra Modi and West Bengal chief minister Mamata Banerjee's rallies in Bengal. The Prime Minister called the CM a "speed breaker"; she countered calling him "expiry babu".
Political analyst Manojit Mandal, with leanings towards Trinamool Congress, was at his ironic best: he "thanked" Modi for avoiding a "Hindu-Muslim narrative" for the first time in Bengal and called him an "extremely articulate" actor.
Ujjwal Chaudhary, political analyst, claimed that central government data indicated Bengal had one of the highest state GDPs. You cannot call Banerjee a "speed breaker" on vikas, he added.
India Today's discussion on whether Election Commission was "neutral" in its decisions on Modi's biopic and the TV channel NaMo while banning 6 Congress advertisements on Rafale, former chief election commissioner S.Y. Quyraishi said there was "no problem" with a channel dedicated to Modi — other political parties owned channels too — but a "notional" fee had to be paid for the channel and there could be "trouble" for a candidate if the amount exceeded the Rs 70 lakh expenditure ceiling allowed to a candidate.
#ElectionHotSeat | WATCH Hema Malini (@dreamgirlhema) in conversation with @navikakumar.

Catch the best of @thenewshour at 9 with @NavikaKumar.

Watch @thenewshour with @navikakumar, weeknights at 9 PM, on TIMES NOW. pic.twitter.com/ehSniCJOKp

— TIMES NOW (@TimesNow) April 3, 2019
Front Page
Newspapers have different leads this morning. In the Hindustan Times, it's "Cong, BJP in 'cash for votes', manifesto war", where it writes, "Congress alleged on Wednesday that a "cash for vote scandal" in Arunachal Pradesh had revealed the "true face" of the Bharatiya Janata Party (BJP)".
The Hindu gives this second billing, but also gives it a more political angle, adding that Congress spokesperson Randeep Surjewala "said the money was recovered in the presence of administration officials, including the Deputy Commissioner of the Siang district and the EC observer".
The Indian Express deals with the facts of the case in "Poll officers seize Rs. 1.8 crore from two vehicles in Arunachal CM's convoy", adding that it was the EC which "seized Rs 1.8 crore from two vehicles parked at the Pasighat government guest house Tuesday night where Arunachal Pradesh Chief Minister Pema Khandu, Deputy CM Chowna Mein and state BJP president Tapir Gao spent the night".
The Telegraph drags Prime Minister Narendra Modi into the report as he is expected in Arunachal today: "Modi flies into cash storm". Vehicles "have been linked to the son of a BJP candidate in the assembly polls and a senior official in the state transport department", it writes.
However, it adds that one of the cars "was apparently being used by a former Congress MLA. It is not clear why the politician was using a government car".
Curiously, Times of India ignores this and instead leads with "SC: Contracts skewed against homebuyers are not binding", which other papers reserve for their inside pages.
In fact, TOI has no election-related news on page 1 today — not even the war of words between Mamata Banerjee and PM Modi, where she called him "expiry babu".
RTI
For The Hindu, the biggest news Thursday is "RTI scrutiny will ruin judicial independence", quoting attorney general K.K. Venugopal in its headline.
He reportedly told a Constitutional Bench led by Chief Justice Ranjan Gogoi that allowing RTI requests to the collegium would mean "its member judges would not be able to sit back and have a free and frank discussion for fear that their confidential views may later come into the public domain".
In "Info on Judges' elevation not apt for RTI Act, A-G tells SC", HT adds, "He (Venugopal), however, favoured disclosure of information about the assets of judges."
Exclusive
The Express breaks news with its report "88 lakh taxpayers didn't file returns in year of note ban, 10-fold jump in previous year".
"…the government said it added 1.06 crore new taxpayers in the financial year 2016-17, almost 25 per cent more than the previous year…Records accessed by The Indian Express reveal a massive spike in the number of "stop filers" in the same year, reversing a four-year trend," it writes. Stop filers are individuals filed returns in earlier years but not in the current one.
"The spike in stop filers, according to officials, could be due to loss of jobs or drop in income due to fall in economic activity following demonetization," it writes.
Opinion
The Congress manifesto is up for scrutiny this morning.
Hindu's "Words and Deeds" finds "eye-catching" its approach to several critical issues of "public policy". It tries to "address many current questions that impact Indian democracy — defamation, sedition, AFSPA".
However, it says manifestos "overpromise" and Congress must explain how it funds its social welfare schemes. It has "triggered a national debate on several issues close to people's lives" and while "details are inadequate", the direction envisioned is "encouraging", it concludes.
In "Between the lines", Express is more critical. It says the manifesto is "significant", as it signals the party's willingness to "stake out its own positions" that counter the opponent and "break from its own". However, there are questions of "direction and judgement, workability and credibility". It says human rights concerns articulated in its AFSPA review are "burdened with suspicions of bad faith" due to Congress governments' past behavior. As is the idea to enforce a "code of conduct" on the media.
Congress seeks to "stake out softer, more liberal positions on issues of individual liberty and national security…(It) has made an interesting new beginning. Where it goes from here will be watched", Express concludes.
For ThePrint's smart analysis of how the rest of the media is doing its job, no holds barred, go to PluggedIn