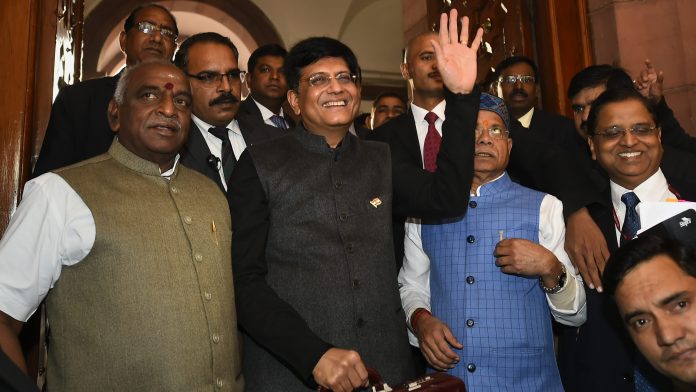 Text Size:
The day after the budget, what kind of a budget is it, for the media?
For Hindustan Times, it is NDA's "final budget"; The Indian Express can't decide between the "last budget," Goyal's "debut budget" and "interim budget 2019-20," while The Times of India says a "budget that was interim only in name."
The Hindu, The Economic Times and Business Standard, however, don't depart from convention: "interim budget" they insist, although ET, like TOI, clarifies that there was "nothing interim about it" with a central income transfer scheme and "tax cuts."
So much for the niceties over definitions.
What did the media make of the Modi government's 2019-20 budget?
The newspapers all agree with Swaminathan S. Anklesaria Aiyar: "This is the mother of all election budgets", (ET page 1).
The headlines reflect this conclusion in different ways. For once, The Hindu let's its hair down to imitate The Telegraph with its two word headline: "Sop Opera."
Express puns on one of the budget's major offerings: "Directed Benefit Transfer" — a support scheme for farmers.
The pink papers combine economics with politics: "Budgeting for votes" (BS) and "Modi begins vote count" (ET). HT prefers "Interim Budget, Final Pitch."
"20,19…Modi goes full steam" is TOI's headline with "tea" in bold red. It can be understood only by reading the opening sentence of its report: "Finance Minister Piyush Goyal…served out sops …with a sense of purpose you normally witness at railway tea stalls."
Newspapers highlight three key elements of the poll budget. Here's The Hindu: "With a keen eye on the election, the interim Budget 2019-20 contained elements…aimed at benefiting three major segments…farmers, informal sector workers and salaried tax payers."
HT sums it up as, "Combining a report card of its past performance and a political economy manifesto for future…" while BS writes, the FM "made a strong pitch for the re-election of the National Democratic Alliance government."
To "crunch" and "tease out the Budget details and their implications," ET boasts a 16-page "Power Packed Special Budget Edition" — the longest for any newspaper. BS devotes 11+ pages while the mainstream papers keep it shorter between 5 to 6 pages.
Express and ET analyse the budget's politics on page 1. "After tri-state loss BJP get new talking points for election campaign." IE considers the budget in the context of BJP's recent electoral setbacks and "PM treads middle path on populism" looks at his balancing politics with fiscal prudence (ET).
IE has a provocative take on the direct cash transfer to farmers. In the report "Rs 6000 farmer payout: won't cost much but won't mean much either," Harish Damodaran asks, "Work out the basic arithmetic of farm's expense…" — "….the annual Rs, 6,000 payout, an average of Rs 16.40 a day, doesn't add up to much."
In a similar vein, Hindu's "Not really bullish on native cow breaks" says Goyal's Rs 750 crore allotment for cow development is less than it first appears to be: "the (budget) outlay was… the revised estimate for 2018-19…" When it came to funds for 2019-20, it was "only Rs 302 crore, nearly the same as the original allocation of Rs 301.5 crore in last year's budget."
"The fiscal deficit missed again" bother BS and ET which think that what the FM called a "glide" was a "slip" (BS).
Opinion
However, opinion on the budget is largely favorable — at least in the newspapers' own editorials, barring The Hindu.
ET doesn't have an opinion today: it leaves that to economic experts like C. Rangarajan, Bibek Debroy and Jahangir Aziz.
In "Shopping for votes," The Hindu writes Goyal's budget "must rank as one of the most politically expedient… the country has seen." However, almost in spite of itself, it adds, "there is no denying that a lot of thought has gone into identifying and targeting the sections… that are in distress." Its worry: whether it is "correct…so soon before elections, to write into the statute books proposals that are permanent."
HT's "Interim Budget: a statement of BJP's intent" says that the budget works and wins on two important counts: its direct tax provisions "because most commentators analyzing the budget are salary-men" (men?) and, two, "the first 48 hours matter. This budget has managed to create a good first impression… the markets are happy."
TOI agrees with HT. In "Smart Populism," it writes, "This budget evokes a positive mood as it boosts sentiments." On a cautionary note, it adds: "it's troubling when an interim budget commits to a large expenditure thereby squeezing fiscal space for the next government."
In "For the campaign," Express believes that the budget tries to "wrest back the political initiative" with its "targeted interventions…. aimed at three key constituencies which have been visibly unhappy…" — farmers, the unorganised sector and the middle class.
Last word to BS: "Controlled hand-outs" says, "As pre election budgets go, Goyal's 'isn't too bad'… A pause in fiscal correction is tolerable…"
However, while it recognises that it is "hard to argue against hand outs to distressed or generally disadvantaged sections…" it highlights that these are at the cost of other existing welfare measure: MGNREGS "gets less next year…" so do Ujjwala (LPG connections for the poor), Swachh Bharat, etc.
An interesting sidelight: Hero Homes and Magic Bricks have front page advertisements in TOI: clearly the real estate sector, said to be one of the beneficiaries of the Union Budget, is already happy.
Check out My543, our comprehensive report card of all Lok Sabha MPs.