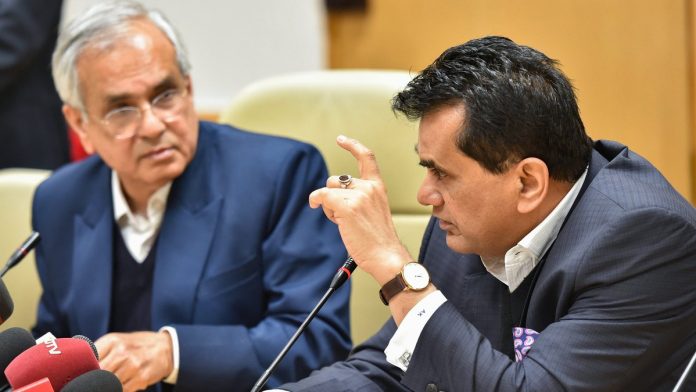 Text Size:
Front Page
The newspapers, this morning, do a deft balancing act between the NSSO unemployment data, reported Thursday by Business Standard, and the government's revised GDP rates that show high growth in the demonetisation period.
"Govt in eye of job data storm on Budget eve," notes Hindustan Times. But, "Jobs data not final," says The Economic Times.
"Govt disputes report pegging jobless rate at 45-yr high, calls it 'premature'" is Times of India's headline which focuses on the Centre's response to the report's findings, which claimed unemployment was at 6.1 per cent in 2017-18.
Neither TOI nor ET, its business counterpart, credit Business Standard for its findings, instead calling it "a business newspaper."
ET writes that the government "brushed aside" the matter in order to, quite ironically, "quell speculation that the information had been suppressed ahead of general elections." Too late for that now.
The Indian Express goes bold: "Niti calls adverse job report a draft, ex-stat head says no, it's final." It quotes former National Statistical Commission acting chairman P.C. Mohanan who resigned Monday, that "this was the 'final report' and needed no further approval."
"As with GDP data, the controversy around the job survey, the protest resignations of two top members of the statistics commission, dents the credibility of the government and data institutions," it writes in its 'Explained' box.
TOI, HT, and ET temper the jobs report with another find: "Growth fastest in demo year," reads HT's front page headline.
TOI goes with "Revised GDP data shows yr of DeMo was best for Modi govt."
ET's headlines, read together, present an anomalous situation, confusing for the reader: "Jobs Data Not Finalised: Govt After NSSO 'Report'" is followed by "Revised Numbers for FY17, FY18 Show Economy Grew Much Faster."
"India's economy expanded at a much faster rate than initially estimated in the last two fiscal years," reports ET, citing the Central Statistics Office's newest data on growth rates, reported Thursday.
It maintains that "growth remained high" despite demonetisation – among the biggest causes for unemployment in Business Standard's report – and the rollout of GST.
All newspapers cast a doubting eye on the GDP figures.
"Experts say the revised data should be interpreted with caution because the new numbers do not seem to reconcile with the ground realities," writes BS.
Opinion
While Express, TOI and Hindu choose not to comment on the NSSO data, BS, ET and HT do.
BS writes in "Real crisis," that the NSSO data "negates the demographic dividend." It finds unemployment figures for youth, rural and urban, male and female alarming: "the sharp drop in the employment rate, one of the lowest in the world shows a real crisis," it writes. NSSO's "findings are significant because they confirm anecdotal evidence that economic activity took a big hit" post demonetisation.
ET's "New data points to employment worries" does not credit the "data" to Thursday's BS exclusive but writes, "Indisputably the data bears the imprint of the economic disruption wrought by demonetisation."
It calls the "dip in job opportunities, politically inconvenient for a government that promised to create two crore jobs a year."
In "Acknowledge the jobs problem," HT writes, "The failure to generate enough jobs, despite high growth has been the hardest economic challenge post reform India."
Citing the BS report on unemployment, it asks for the NSSO report to be released "transparently." "Had it released the report on time, it (the Centre) would have fared badly on performance… now even its intent will be viewed with serious doubt," it concludes.
Prime time
Television prime time Thursday reflected the all-out war over the data on jobs in India, a day after the NSSO survey on unemployment appeared in Business Standard.
In a departure from their usual "a media report" description of exclusive reports by rival media organisations, English TV news acknowledged Business Standard as the source of the NSSO findings – a reflection, perhaps, of the respect it commands in the industry.
The NSSO data was mined by TV news channels all Thursday, until Niti Aayog vice chairman Rajiv Kumar's evening press conference declared the NSSO report, "a draft."
At prime time on ET Now, BJP spokesperson G.V.L. Narasimha Rao claimed that "a certain political class" was trying to project "a gloomy scenario… Jobs data is just a media leak and not yet official."
Economic commentator and Congress spokesperson Salman Anees Soz disputed this: "Jobs crisis is a serious matter; India should be careful of the damage that Modi government is doing to the country."
He then added a prediction: "BJP is going to lose the 2019 elections."
ET consulting editor Swaminathan Aiyar disagreed, "The election outcomes are showing a different picture. The vote share of the BJP remains intact."
Added BJP's Rao, "People are still in support of BJP."
On India Today, anchor Rajdeep Sardesai stated that there is a huge gap between the number of jobs guaranteed by the Modi government and the number of jobs actually delivered.
Was job delivery the major unfulfilled promise of the Modi government, he asked his panelists.
Senior Fellow of Observer Research Foundation Mihir Sharma argued, "Modi had failed to fulfil his promises to the youth, especially those youth in north and western regions of India who voted him in to power for these very reasons."
Jawaharlal Nehru University (JNU) professor Santosh Mehrotra said, "There has been very slow growth in jobs generally as shown by the 2015-16 annual survey of the Labour Bureau. Manufacturing sector jobs have actually declined."
"The real problem is not the lack of job growth but job losses which took place," observed former chief economic advisor Nitin Desai.
Republic TV anchor Arnab Goswami looked elsewhere for dissatisfaction. They found it in Rahul Gandhi and Shashi Tharoor – their targets on Wednesday, too.
On Thursday, Goswami wanted to debate whether Rahul had made Tharoor the Congress party's "anti Hindu mascot" after Tharoor tweeted "Hindi, Hindu, Hindutva" ideology is "dividing" the country.
Political analyst Syed Asad Abbas supported Tharoor on unusual grounds: "I don't blame Shashi Tharoor. He has written 17 best-selling books."
To which BJP spokesperson Sambit Patra retorted, "He is the same man who said 'Hindu Taliban'. He is the same man who said 'Good Hindus don't want temple'."
Tweets of the day
शशि थरूर के बयान पे "छाती" पीट पीट कर रोने वालों, "नंगे" को "नंगा" कहना गुनाह है क्या..?

— Acharya Pramod (@AcharyaPramodk) January 31, 2019
(In a reference to a comment by Congress leader Shashi Tharoor, spiritual guru Acharya Pramod asks if it's a crime to call a "naked" person "naked".)
— Donald J. Trump (@realDonaldTrump) January 31, 2019
Check out My543, our comprehensive report card of all Lok Sabha MPs.