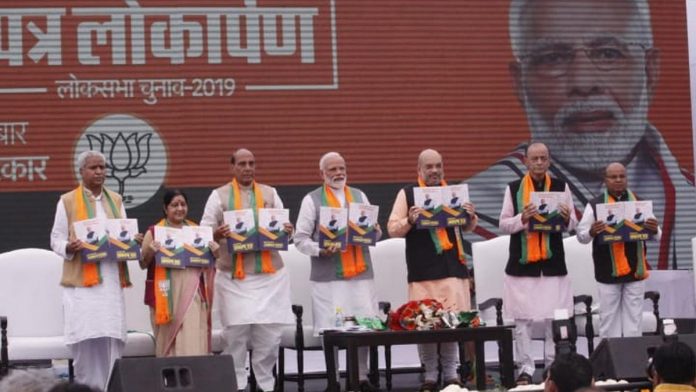 Text Size:
Front Page
The BJP's manifesto launch for the Lok Sabha elections is the common thread in all newspapers.
The Times of India and Hindustan Times lead with the manifesto news, but The Hindu goes with its exclusive on Rafale jet deal ('Rafale: Modi govt gave unprecedented waivers in offset agreements') while The Indian Express focuses on two other reports – IAF's proof of 'how it downed Pak F-16', and (Vijay) 'Mallya loses, moves closer to extradition'.
An unwitting assessment of BJP's 'Sankalp Patra' is that it receives less importance and column space in comparison to Congress' manifesto news coverage. TOI had the Congress manifesto launch news on its page 1 and it also devoted nearly two inside pages to the manifesto's details.
This time, TOI tries to encapsulate all 75 manifesto promises in 'BJP vows tax cuts, kisan sops hard line on culture, nationalism and security'.
However, HT, Hindu and Express 'focus' on national security in 'BJP manifesto focuses on security, Article 370' (HT), 'BJP manifesto keeps focus on national security, farm support' (Hindu), 'PM underlines nationalism, BJP promises to scrap Art 35 A in J&K' (Express).
TOI's opening sentence covers everything too: "A strong focus on national security and an ambitious expansion of income support for farmers, pension for small and marginal farmers and traders…," accident insurance for traders, infrastructure expansion find mention.
HT also distills the manifesto in its first paragraph: it finds a 'muscular approach to national security', 'huge investments in rural areas', infrastructure, and a 'slew of welfare schemes'.
Hindu says BJP keeps 'national security and its core issues of Uniform Civil Code, Ram temple 'front and centre' but 'welded' to welfare schemes.
Express sticks to security and nationalism: "With Prime Minister Narendra Modi declaring 'nationalism is our inspiration'", BJP "promised" to remove Article 35A – for the "first time'' and "oust illegal immigrants" with the National Register of Citizens (NRC).
TOI and HT give opposition reactions on Page 1 but not Express and Hindu.
Business Standard's Radhika Ramaseshan pointed out, "Let us not forget that BJP did not repeal Article 370…in their previous manifestos as well."
The Telegraph, meanwhile, takes a sarcastic dig at the manifesto with its headline: 'Achchhe din, Death of BJP's slogan of 2014, and fall back on muscular nationalism'.
IAF & F-16
Monday's IAF's press briefing on downing Pakistan's F-16 jet gets subtly different treatment: 'Irrefutable evidence', writes TOI, 'Air Force gives proof' says HT more mildly, IAF "presents 'proof' to show F-16 was shot down" says Hindu while Express's headline is careful: "IAF puts out radar images to show how it downed" the plane.
Exclusive
Hindu's Rafale report cites details from the final report of Indian Negotiating Team (INT), which revealed Prime Minister Narendra Modi's government 'gave exceptional and unprecedented waivers' to the French firms Dassault Aviation and MBDA 'in the offset contracts' that amounted to 'exemptions…from having to comply with provisions of the Standard Contract Document of the Defense Procurement Procedure, DPP-203'. Page 13 provides chapter and verse on these claims.
Other news
Income tax raids on Congress associates make it to Page 1 on TOI, HT, Express and Economic Times — Express and HT openly name Madhya Pradesh Chief Minister in their headlines: 'I-T raids continue for second day on Nath's associates' (HT), Express adds a political twist: 'I-T claims Rs 281-crore racket after Kamal Nath kin raids, BJP has advance estimate'.
ET adds an interesting development to the issue: 'EC to meet CBDT chief, revenue Secretary on I-T' even as the 'chief accountant' of the Congress was summoned to the I-T on Monday.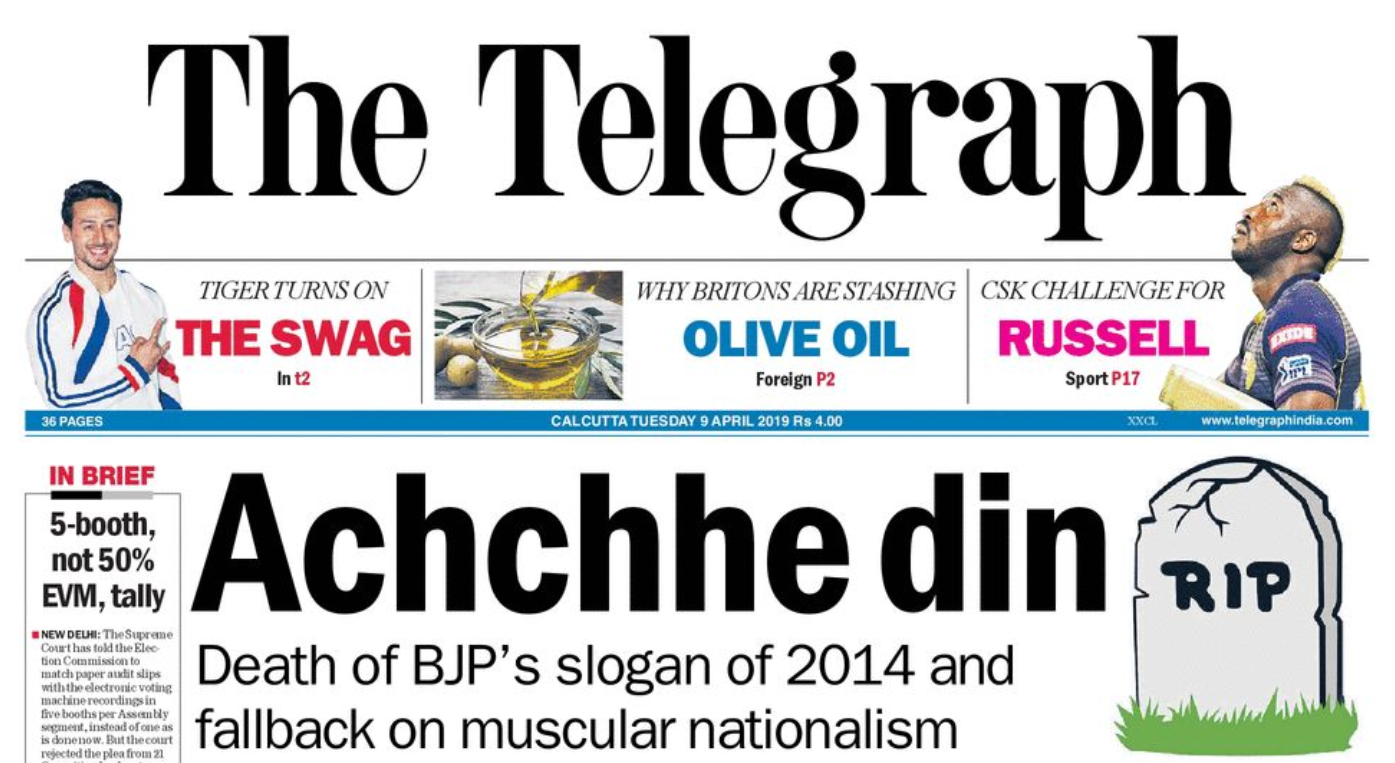 Prime Time
News channels spent most of Monday at the BJP's Delhi headquarters for its manifesto release – the PM's speech was repeatedly broadcast through the afternoon.
At prime time, Times Now, News X and Tiranga TV carried opinion polls on the Lok Sabha elections, showing an NDA win but with varying margins.
Late night, Zee News and Republic TV went live on an income tax raid in Delhi reportedly linked to senior Congress leaders.
Republic had footage of their reporters being heckled. 'Sonia's aide Ahmed Patel rushes to raid site', added an irate but triumphant Republic. It went ballistic amid allegations that Rs 281 crore cash was allegedly moved from Tughlaq Road in Delhi to a 'major party's' headquarters. Anchor Arnab Goswami shouted, "Who are these people who are attacking our reporters…these are the goons of the Congress party." The mob seemed to be shouting in the background – remove the camera.
#BREAKING on #ElectionDirtyCash | Republic Media Network's crew heckled at I-T raids site. Tune in to watch the breaking updates LIVE here- https://t.co/LGCyJUEBn5 pic.twitter.com/t0tLGVFAKN

— Republic (@republic) April 8, 2019
TIMES NOW-VMR's opinion poll had BJP-led NDA comfortably winning 279 seats, Congress led-UPA managing 149 seats and others securing 115 seats.
Highlights of the poll: Trinamool Congress to win 31 seats, NDA 9 seats in Bengal, Left Front to score 0. In Uttar Pradesh, NDA has shot up to 50 seats while 'Mahagatbandhan' may wrest 27 seats.
Different results on Tiranga TV. Here, a survey by CSDS-Lokniti-Tiranga TV lowered BJP's expectations – down to 222-232 from 283 seats in 2014 elections, Congress up to 74-84 seats — an increase of 30-40 seats while in Uttar Pradesh BSP-SP 'Mahagatbandhan' is expected to win 37-47 seats.
As per the poll survey conducted by News X, the NDA will garner 271 seats while UPA is supposed to grab a total of 142 seats. The tally of other parties will be of 130 seats.
Aaj Tak's Rohit Sardana travelled to Bijnor for 'Dangal' where he compared Congress and BJP manifestos: BJP has "nationalism as its top agenda once again" Sardana observed. Uttar Pradesh Deputy Chief Minister Dinesh Sharma claimed the Congress manifesto was "false" – Congress leaders cannot fulfill their promises.
Who is the bigger challenge for the BJP in UP — the SP-BSP 'mahagathbandhan' or Congress? "We do not see any of them as challenge, they are just challenging one another," retorted Sharma.
"The only party which can defeat BJP…is Congress. We will defeat the communal forces in this country…," claimed Manish Verma of Congress.
BSP's Anil Kumar also attacked the BJP: "BJP want votes only on the basis of dividing the country between Hindus and Muslims — 70 per cent of the Indian economy is based on agriculture, BJP is destroying the agriculture sector."
CNN-News 18 anchor Marya Shakil discussed BJP's 'Rashtravaad' manifesto pitch and Congress' 'Nyay' on 'Election Epicentre'. BJP spokesperson Narendra Taneja said, "Congress is trying to dilute AFSPA, they want Jaish-e-Mohammad to come — they can even vacate 24 Akbar Road (Congress HQ) for them".
Congress spokesperson Muhammad Khan opened another flank: "When BJP was in power in Kashmir alongside PDP, they have said on record that they will not touch Article 370." Taneja interrupted and called Khan an "uncivilised spokesperson".
Tweet of the day
230. @INCIndia's Indira Gandhi got @swamy39 SACKED from his job just because she didn't like his books, theories, and ideas. Dr Swamy went to court and won. It took him 22 years. https://t.co/AH8mXFaXQE pic.twitter.com/7pIA1sfNnz

— Anand Ranganathan (@ARanganathan72) August 8, 2018
(With inputs from Shailaja Bajpai)
For ThePrint's smart analysis of how the rest of the media is doing its job, no holds barred, go to PluggedIn