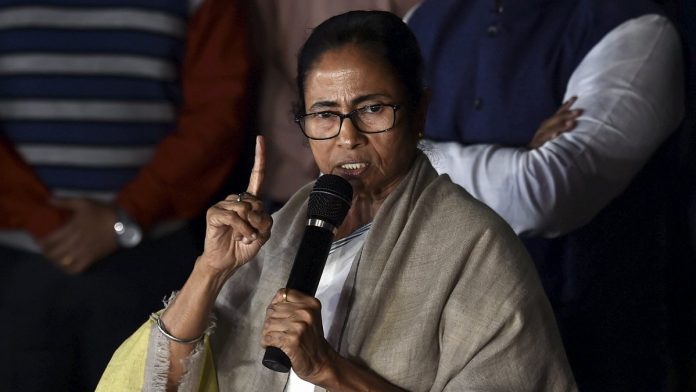 Text Size:
Front Page
Newspapers compete for the most dramatic headlines Monday amid the mess in Kolkata while a tragic railway accident is sidelined by politics during election season.
The Times of India writes, "In massive showdown, Kol cops drag CBI men to thana," on its front page flap; "Mamata goes on stir after CBI tries to quiz Kolkata police boss," writes The Hindu. The Kolkata-based The Telegraph goes with a crisp "Standoff: Modi vs Didi."
The Indian Express's headline is bold in the middle of page 1, similar to Hindustan Times that oddly gives 'Didi' second pegging — "Battlelines: Mamata vs. Centre, Police vs CBI" (IE) and "Mamata vs Centre, police vs CBI: Probe officers detained in Bengal" (HT).
News of a Delhi-bound train derailing en route is the HT lead. By the way, what is the number of coaches that derailed? Express says nine, the other newspapers claim 11.
Chief minister Mamata Banerjee sat on a dharna last night (her first in 13 years, TOI writes, page 10) after the Central Bureau of Investigation (CBI) tried to enter Kolkata police commissioner Rajeev Kumar's bungalow to question him on the Saradha and Rose Valley chit fund scams. City police retaliated by "forcibly" taking them to a police station nearby, writes TOI.
Express, HT, and The Hindu prefer saying the officers were "detained".
The newspapers agree, however, that this clash between Centre and state is "unprecedented."
In its box, the Express explains why: "The unprecedented show of solidarity by a Chief Minister for a police officer wanted by the CBI is set to become a Lok Sabha election issue. While the TMC and Mamata Banerjee will present this as a violation of federalism, the BJP gets to underline how the coalition against it is 'shielding the corrupt'."
Politics comes first before the nitty-gritty of the law and protocol. "Rahul, Kejriwal, TDP, DMK: Entire Opp backs Mamata," reads another Express headline.
But who is in the right, considering the CBI says they acted on a Supreme Court order, while West Bengal "withdrew its general consent granted to the central investigating agency to conduct raids and probe cases in the state" (HT)?
No one really knows. The top court has agreed to hear CBI plea Tuesday.
Citizenship Bill
On the heels of the CBI and Mamata drama is the Bharatiya Janata Party (BJP)'s push for the Citizenship Bill, another bone of contention between the BJP and Trinamool Congress.
The picture is confused.
TOI's headline claims BJP has softened its stance, "We will go by consensus on Citizenship Bill, says Shah," but The Hindu writes, "Citizenship Bill necessary, says Shah" — both allude to the BJP president's views on the bill.
Modi, meanwhile, does a hard sell: "Stand by Citizenship Bill, tortured children of Maa Bharati: PM Modi" reads a page 1 Express headline. At a rally in Jammu, Prime Minister Narendra Modi said he would "stand with the children of Maa Bharati who have faced persecution in Pakistan, Afghanistan, and Bangladesh."
"Sources in the BJP confirmed that the party was "buying time" over the issue," writes Hindu in its report, but the pitch hasn't lost its appeal for the BJP yet.
Opinion
Opinion is divided, this Monday morning, on the editorial pages.
By a strange coincidence, Express comments on the CBI, not the drama in Kolkata, but the appointment of a new director. "Stand your Ground," it advises Rishi Kumar Shukla, the new incumbent, for this is a "delicate moment" for the investigative agency which never looked more "shaken" and "vulnerable."
To restore the CBI's "image" and "credibility" "won't be easy", it writes. "A course correction will … depend upon the restraint and respect the government shows for due process." However, "an institution's autonomy and independence… is also a function of its own willingness and ability to stand its ground."
TOI and Hindu criticise the Centre for the economic data controversy of last week.
"In Don't Dodge Data", TOI refers to "leaked" NSSO data that showed unemployment at "a 45 year high" and the government's move to revise GDP growth estimates "sharply upwards" for the demonetisation period.
"This exacerbates the doubts that have been brewing" about the Centre's intentions. "A post truth approach to data has no upside, only downsides… The government must stop this dangerous slide in credibility now, before it's too late", it warns.
In "Standard Deviations," Hindu supports the TOI view and adds an interesting sidelight: "The UPA didn't dither from releasing the data, took criticism on its chin, explained it was an exceptional situation and commissioned another set of survey in 2011-12 to correct for the timing. The Modi government should have tread the same path without upending India's statistical integrity."
Prime time
Unusual times bring unusual responses.
Sunday evening's "extraordinary" showdown, as several news anchors termed it, between the Bengal Police and the CBI, and chief minister Mamata Banerjee, swept aside all prime time debates as Hindi and English channels stayed with the CM till closing hours of the day and into Monday morning.
The lasting image, across news channels, was that of Banerjee, bundled in a shawl seated on makeshift platform with the Indian tricolour behind her.
The made-for-TV-moment had begun with Banerjee's press conference shortly after 7 pm Sunday outside Kolkata police commissioner's residence. The drama heightened as she accused the prime minister and BJP president Amit Shah of trying to organise "a constitutional coup."
Her subsequent "dharna" outside Metro channel, accompanied by a phalanx of TMC leaders, and Bengal officials was the backdrop for all TV studio discussions after Kolkata Police had "forcibly" removed CBI officers in police jeeps from outside the commissioner's home (CNN News 18).
"Unprecedented" was the way most channels described the situation and since nobody knew the rights and wrongs of it, some TV anchors warned of dire consequences.
The evening News X anchor made a "public appeal" and asked security personnel to exercise "due caution" — "we all live in the same country, we are all Indians," he waxed eloquent.
Republic Bharat, launched Saturday, in Hindi by Arnab Goswami, swarmed all over the standoff in Kolkata with four to five highly excitable reporters along with Goswami reporting on "DidiBlocksCBI."
In Hindi, Goswami said Mamata was "doing drama" — "complete hype." He alleged that she was hiding something related to the chit fund scam.
On India Today, 'political analyst' Monojit Mondal wanted to know why CBI was starting "investigations just two months prior to the elections? How can the CBI team suddenly question Kolkata Police chief Rajeev Kumar?"
BJP leader Tuhin Sinha had her own objections: "CBI officers should not have been stopped from meeting Rajeev Kumar just because elections are approaching."
Former CBI director A.P. Singh tried to clear the air, saying "normal procedure" would have been for the CBI to first to speak with Bengal Chief Secretary and inform him of its intentions.
On Times Now, political analyst Garga Chatterjee said, "If there is no warrant'' then CBI's action was `prima facie'…(an) illegal act."
BJP's Sinha was also on Times Now and said Banerjee "has become delusional. I don't think she realises Bengal is a part of India."
Tweets of the day
Prime minister is determined to destroy all the institutions of democracy. Now he destroying the federal structure of our country. Wake up and stop it before it is too late.

— Yashwant Sinha (@YashwantSinha) February 3, 2019
The highest levels of the BJP leadership are doing the worst kind of political vendetta. Not only are political parties their targets, they are misusing power
to take control of the police and destroy all institutions. We condemn this 1/2

— Mamata Banerjee (@MamataOfficial) February 3, 2019
Check out My543, our comprehensive report card of all Lok Sabha MPs.