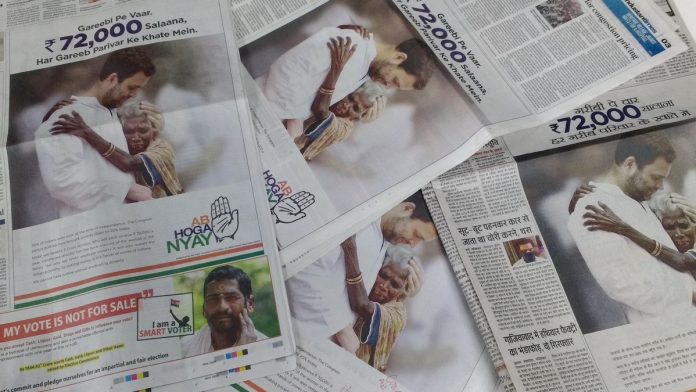 Text Size:
Front Page
Even as the BJP releases its Lok Sabha election manifesto, Congress launched its first print media advertisements, declaring Nyuntam Aay Yojana (NYAY) as its main poll plank.
Newspapers lead with various issues, offering different viewpoints, this morning: There's I-T raids, the 'Mahagathbandan' rally in Uttar Pradesh, and the political themes of the BJP and Congress.
The first Congress poll advertisement like its theme song, focusses on the party's minimum income guarantee scheme– "AB Hoga NYAY"- "Gareebi par vaar, Rs 72,000 salaan Har Gareeb Parivar ke Khate Mein". This accompanies a photograph of Congress president Rahul Gandhi being clutched by an elderly and presumably "gareeb" woman while he puts a paternalistic hand on her head: as a blessing?
The Hindu and Hindustan Times lead with BJP and Congress poll themes: "2019's battle of the campaigns will be between the Bharatiya Janata Party's (BJP) "Phir Ek Baar, Modi Sarkar"…versus Congress's "Ab Hoga NYAY", writes HT.
Hindu notes the announcements come "Four days before the first phase of voting for the 2019 Lok Sabha election…" It adds: "(So far) the BJP's top leadership has been focussing on issues such as national security and the Modi government's record in tackling terrorism, in an oblique reference to the Balakot air strikes."
"The Congress's creative campaign places party president Rahul Gandhi at the core of the theme", observes HT.
In The Times of India's "Political row erupts over I-T raids on two aides of Cong CM in MP", it says the Income Tax department "raided the homes and offices of close aides of Madhya Pradesh Chief Minister Kamal Nath…Ahead of the LS elections, the pre-dawn crackdown triggered a political storm in MP even as tax officials said the searches were conducted based on information of large cash movement".
The Indian Express's single column report, "Cong, BJP spar as I-T raids Kamal Nath aides" claims I-T raided those "allegedly" linked to Nath, "sparking a political war of words between Congress and BJP".
Hindustan Times says "The ostensible reason for the searches was tax evasion" in "I-T raids on Nath associates", adding that Rs 9 crore was allegedly found.
Express says "over 9 crores", and TOI inflates it to "close to Rs 11 crore was unearthed… so far".
HT also gives prominence to the Election Commission reaction with "Enforcement agencies must act neutrally, be impartial: EC".
Maya-Akhilesh rally
Coverage of the Deoband rally in Uttar Pradesh throws up interesting differences.
Express's headline says, "Maya and Akhilesh warn: Don't let votes get split, will help BJP" — omitting that her appeal was to Muslims.
TOI hits the bull's eye with "Maya asks Muslims not to split votes, EC takes note" – it's the only paper to do so. The speech "prompted" EC "to seek a report from the Saharanpur district administration on whether her speech violated the model code of conduct."
The Hindu's focus is elsewhere: "UP alliance says it will provide a PM" reads its headline. It writes the rally was "massive", and speeches by Bahujan Samaj Party (BSP) chief Mayawati, Samajwadi Party (SP) chief Akhilesh Yadav and Rashtriya Lok Dal (RLD) chief Ajit Singh reflected a "display of unity and strength" — "their alliance would put forward a Prime Minister", it adds.
Kashmir
Express looks north, this morning, with a report that gets less than a single column space in TOI, Hindu and a mere photograph in HT. In "Day 1 of J&K highway ban: parties protest, Mehbooba threatens to take govt to court", Express writes that "political parties took to the roads defying official orders, and calling for the revocation of the ban".
TOI and Express carry "exclusive" interviews too — Express with Finance Minister Arun Jaitley ("Take Modi away, 90% of speeches of Oppn will be over") and TOI with Congress's Jyotiraditya Scindia ("Open to post-poll pact with SP-BSP: Scindia").
Opinion
Economic Times is critical of Sunday's I-T raids. In "Chasing governance or the Opposition?" it says, unequivocally, "Income tax raids on the eve of elections should be stopped" – "one peculiar feature of the recent rash" of I-T raids is they have been "almost exclusively on those close to political leaders of the Opposition".
It also questions leaks regarding the AgustaWestland VVIP chopper case where the main accused Christian Michel is allegedly "warbling the names of senior UPA politicians" but in court, says "he had named no names". To keep up the "media narrative of Opposition leaders taking kickbacks is unethical", ET writes.
The paper suggests the I-T department and Enforcement Directorate should be placed under EC's scrutiny during elections.
Prime Time
Sunday belonged to the "Mahagathbandhan". It was the first big joint rally in Uttar Pradesh, addressed by Mayawati, Akhilesh Yadav and RLD's Ajit Singh. News channels covered the rally before and after, besides live broadcasting the speeches.
However, I-T raids on aides of MP CM Kamal Nath managed to draw the spotlight away from the rally.
On India Today, Mayawati openly courting the Muslim vote was the main contentious topic.BJP leader Anila Singh said, "This is the true colour of Mayawati — she wants votes on the basis of caste and religion…Prime Minister Narendra Modi seeks vote only for development."
"This is a complete lie. BJP wants to divide the Hindu-Muslim community," retorted SP spokesperson Ghanshyam Tiwari.
Thereupon, they yelled at each other.
India Today's Rahul Srivastava made a 'very unusual' discovery: on the ground in Muslim 'mohallas' in UP, 50 per cent of the women praised Modi for giving them gas connections and social benefits.
India Today's @Rahulshrivstv decodes BSP chief Mayawati's comment where she urged the Muslim community to vote for the grand alliance.#LokSabhaElections2019
Watch live with @PoojaShali: https://t.co/4fqxBVUizL pic.twitter.com/MikaoFgzHQ

— India Today (@IndiaToday) April 7, 2019
On Times Now, Athar Khan wondered why just four days before polling, there was an I-T crackdown on Kamal Nath's aides.
BJP spokesperson Hitesh Jain said, "Congress has been exposed. Congress also has to explain the source of the cash."
Political analyst Abdul Razzak Khan blamed the BJP: "Now, BJP is nervous and jittery and that is why this is all being done. This is a do or die situation for Modi government."
ABP News took on BJP MP and candidate from Pilibhit, Varun Gandhi, in a hard-hitting interview. However, the soft spoken Gandhi refused to be drawn into any controversy. He was soft on PM Modi, calling him a "gentle person …like a father…(We) live in his (Modi's) name".
Asked if the BJP's top leadership had ignored him, he said his mother (Maneka Gandhi) and he had been respected, always. Two members of one family should not get importance, he added.
On rumours that he may join the Congress, he was vehement: "Wrong…when I leave BJP, I will retire from politics".
He referred to his relations with his cousins, Rahul and Priyanka, Varun as "aupchaarik" (formal)".
CNN-News 18 anchor Zakka Jacob interviewed actor-turned politician Kamal Hassan.
Asked about Congress' NYAY scheme, Hassan said, "I think it is like giving doles to people which in turn will make them laidback. The public should be the partner of the government in carrying out the development work." He was also against candidates, like Rahul Gandhi, contesting from two constituencies — Wayanad in Kerala and Amethi in Uttar Pradesh.
#KamalHaasanToNews18 | The poor need water, they can do without a refrigerator: @ikamalhaasan tells @Zakka_Jacob pic.twitter.com/kiuscOgl97

— News18 (@CNNnews18) April 7, 2019
Lastly, ET NOW anchor Jayesh Khilnani interviewed former England captain David Gower on the show 'By the way'. Is Test cricket better than T-20 cricket? "Test match format is the best but the shorter format produces more entertainment", thought Gower.
On the recent 'Mankading' controversy involving R. Ashwin and Jos Butler, Gower said, "I think Ashwin was out of order, he should have been given a warning before. I don't think Butler was trying to gain any kind of unfair advantage."
Watch David Gower in a candid chat with @jayeshkhilnani about IPL, how Shah Rukh Khan became his new best friend, the business of cricket, the #mankading controversy and his view on the future of cricket.@IPL @ICC @BCCI @iamsrk #Bollywood pic.twitter.com/5sG6RrU1hz

— ET NOW (@ETNOWlive) April 6, 2019
Tweet of the day
You can run Mr Modi but you can't hide.

Your karma is about to catch up with you. The country can hear it in your voice.

Truth is a powerful thing. I challenge you to a debate on corruption. pic.twitter.com/cHhRa0mMeH

— Rahul Gandhi (@RahulGandhi) April 7, 2019
With inputs from Shailaja Bajpai.
For ThePrint's smart analysis of how the rest of the media is doing its job, no holds barred, go to PluggedIn