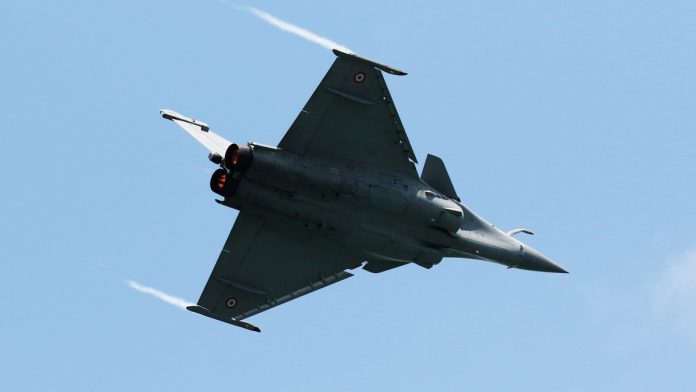 Text Size:
Front Page
Newspapers, this morning, had a lead choice between the Prime Minister's Lok Sabha speech or the Reserve Bank of India (RBI)'s monetary policy review. While The Times of India, Hindustan Times and The Economic Times have page 1 flaps to accommodate both, The Indian Express chose RBI and a "Hail Noida" storm in the capital above the PM's speech.
However, today's biggest story is in The Hindu that made the unusual decision to carry the PM's speech on page 10 and lead instead with its exclusive investigation into the Rafale deal.
The Hindu chairman N. Ram reports that the PMO held 'parallel discussions' with the French government on the Rafale deal. This report comes a day after the prime minister and Congress President Rahul Gandhi traded charges on the deal.
In "Defence Ministry protested against PMO undermining Rafale negotiations," Ram states the ministry "strongly objected" to the parallel negotiations held by the PMO because it "weakened the negotiating position of MoD and Indian Negotiating Team," quoting a note dated 24 November 2015 — there's a photocopy of the note, too.
The report says that in the government's submission in the Supreme Court, October 2018, "There was no mention of any role for the PMO in these negotiations." Documents accessed by The Hindu suggest otherwise: the PMO did intervene, taking a position "contradictory to the stand taken by MoD and the negotiating team." That resulted, in a deal "which bore little resemblance to the original," writes Ram.
RBI repo rate
HT and TOI are surprised by RBI chief Shaktikanta Das's inaugural policy decision: "RBI guv surprises Street with rate cut in 1st policy" (HT). "Das debuts as RBI guv with surprise rate cut" (TOI). "…RBI governor Shaktikanta Das announced a quarter percentage point (25 basis points) rate cut, citing lower than-expected inflation," writes TOI.
Express in "RBI cuts rate, signals further softening to focus on growth" is more matter-of-fact. The rate cut is "signalling its intention to focus on growth…" it writes in its 'Explained' box.
The RBI's changed policy stance from 'calibrated tightening' to 'neutral' "indicates that the central bank remains ready to move in either direction based on incoming data," writes The Hindu.
Modi's speech
"Modi defends govt on jobs, farms in LS pitch" is HT's other lead. Newspapers describe his speech as "combative" (TOI), and "PM tears into Congress" (IE) and "aggressive" (HT).
HT says that it "should be his penultimate speech in the 16th Lok Sabha." Express writes it "could be his last."
Triple talaq
Newspapers give space to the Mahila Congress chief Sushmita Dev, who promises to scrap the triple talaq law if Congress comes to power. Express puts it on page 1, TOI squeezes it into a box on the page's margin.
Opinion
Editorial comment has welcomed the RBI's monetary policy review announcements, almost "without reservation" (Economic Times).
HT's "Rate cut: RBI's growth gamble," calls the cut and move from 'calibrated tightening' to 'neutral' "a radical step for an institution that rarely takes chances." However, it is "a gamble of sorts. Or actually three gambles," thinks HT.
The first gamble is that core inflation will "remain under control," the second that "food inflation which has consistently been low, continues to be so… And its third gamble is on growth."
In "A realignment," Business Standard thinks "RBI gives primacy to growth concerns." It feels the review "would please almost everyone — from the average home loan borrower to the government."
The RBI "appears to signal a closer alignment between the RBI's mandate for price stability and the government's concerns for higher growth. This is a heartening development," it concludes.
ET issues a more "Cautious Welcome for Repo Rate Cut." "Without reservation we welcome the policy stance shifting from calibrated tightening to neutral". However there are two reasons to "step gingerly."
The fiscal deficit for one. ET questions the government's fiscal deficit projection at 3.4 per cent which ignores extra budgetary borrowings "entirely out of the government's resources." Also, state governments have "embarked on a spree of sops."
The second reason is "political economy." "Farm distress cannot be resolved without ending farm price repression," it writes.
Prime Time
Parliament was the newsmaker of the day with Prime Minister Narendra Modi and Congress leader Mallikarjan Kharge leading the charge during the motion of thanks in the lower House Wednesday.
Most of the prime time TV was devoted to Modi's speech.
On India Today, BJP spokesperson Nalin Kohli hailed the PM's speech: "Now, with the election coming up, government will talk about the achievements it has done (sic)."
Congress spokesperson Pawan Khera felt, "Nothing has changed since 2013-14 BJP's campaign, they are just manipulating the data. The only relieving feature of the speech was that it was his last speech as the Prime Minister of India."
Anchor Rajdeeep Sardesai then brought up the PM's speech where he dealt with corruption, idiomatically: "Ulta chor Kotwal ko daate." A major Congress theme is to allege that Modi is a thief, in its slogan , "Chowkidar chor hai."
Coincidentally, the PM spoke on a day when the ED had questioned Robert Vadra on corruption charges for the second successive day.
In defense of the move that was called "political" by the Opposition, Kohli said, "It was the job of the Enforcement Directorate to quiz people, including Robert Vadra."
Times Now anchor Navika Kumar's 'Newshour' debate on Prime Minister Narendra Modi's speech heated up when political analyst Nishant Verma began to speak.
He attacked BJP spokesperson Gaurav Bhatia: "You are… a product of parivarvaad, Mr Gaurav Bhatia…BJP even does nautanki in the name of (the) army… arre besharam, janta party tumko ukhaar ke phek degi (people's party will throw your government)."
A much meeker Bhatia reminded him that the Army's surgical strike took place under the BJP government.
Republic TV anchor Arnab Goswami took his cue from PM Modi's "Mahamilavat Gatbandhan" comment.
BJP spokesperson Shazia Ilmi, evidently inspired by Modi's turn of phrase, said, "PM pulled no punches at all. This super milavat gathabandhan is a 'mahabhrasht gathbandhan.'"
Advocate Mehmood Pracha was more prosaic when he referred the Rafale deal: "The point is, he is trying to help Anil Ambani – the issue is not Rafale."
Tweets of the day
Exclusive: The Defence Ministry had protested against PMO undermining #Rafale negotiations, reports @nramind #RafaleDeal https://t.co/xtLyJejr6p pic.twitter.com/aMpzMbICLs

— The Hindu (@the_hindu) February 7, 2019
PRESIDENTIAL HARASSMENT! It should never be allowed to happen again!

— Donald J. Trump (@realDonaldTrump) February 7, 2019
The precious ladies of my family Khatija ,Raheema and Sairaa with NitaAmbaniji #freedomtochoose pic.twitter.com/H2DZePYOtA

— A.R.Rahman (@arrahman) February 6, 2019
Check out My543, our comprehensive report card of all Lok Sabha MPs.