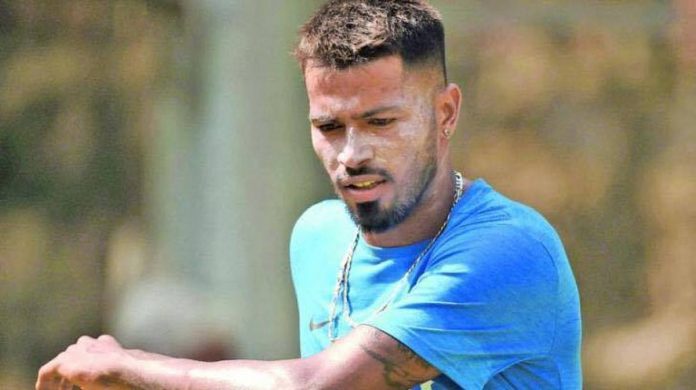 Text Size:
Front Page
Before we get to the front page, a look at the back page of The Economic Times: 'Kaught & Bowled' deals with cricketers Hardik Pandya and K.L. Rahul who were given a show cause notice by the Board of Control for Cricket in India (BCCI) for their alleged misogynistic and sexist comments on filmmaker Karan Johar's TV show Koffee with Karan.
The BCCI wants an explanation on how they pick up women in bars, among other things. The Sports pages of all mainstream papers report on BCCI, Pandya's comments and subsequent apology. But why isn't anyone asking if Johar isn't to blame too for his line of questioning and if this is a matter for BCCI, at all?
Page 1
If the Supreme Court swept the front pages yesterday, today it's Parliament's turn: "10% quota for general category poor clears House, set to be law", reads The Indian Express's lead. Yet today's headlines lack the kind of pomp that would normally accompany a constitutional amendment.
The bill went from being a "pre poll surgical strike" jumla to law, nearly. No wonder Hindustan Times echoes a widespread feeling: "RS passes quota bill but Oppn asks why the haste".
"From its introduction in the Lok Sabha to the final approval in Rajya Sabha, the 124th amendment to the Constitution was cleared in two days," the paper reminds us. The unusual bipartisan support and in particular the Opposition's Catch-22 situation doesn't find space in newspaper editorials.
In an edit, 'Placebo Politics', The Times of India writes on the need to shift focus from quotas to better governance and education: "This looks like a version of the great Indian rope trick, a feel-good placebo of the sort our political class habitually doles out. Except that this placebo causes actual harm, sacrificing the principles of equality as well as merit in higher education and governance. Failures on the jobs and education front are sought to be masked by expanding the reservations empire."
In its Explained column, the Express writes that the bill might have "sailed through Parliament", "but the government is aware of the legal minefield ahead. It remains to be seen how quickly it makes the law operational before polls."
The Office
In other big news, Alok Verma resumed office as Central Bureau of Investigation (CBI) director Wednesday. His first move? To cancel the mass transfer of "loyalists" after he was sent on leave.
"Verma's decisions suggest he is readying to confront the government, and is willing to argue that the transfers do not violate the "cease and desist" order of the SC that asked him not to take any policy decision," writes TOI.
The news of the selection committee — comprising Prime Minister Narendra Modi, Justice A.K. Sikri (who is replacing Chief Justice of India Ranjan Gogoi), and Mallikarjun Kharge — who are to decide Verma's fate as per the SC ruling, met and failed Wednseday to arrive at a decision — newspapers take note and move on.
Largely absent across front pages is the Supreme Court's decision to share with petitioners a confidential report regarding a case of encounter killings in Gujarat during Modi's chief ministership. The report by Justice H.S. Bedi (retired) Monitoring Committee on 21 encounter killings in Gujarat is to be shared with petitioners, ruled the bench headed by CJI Gogoi. The Hindu gives this page one billing, calling it "a setback for the Gujarat government, which urged the court to keep the final report filed by the Supreme Court-appointed committee under wraps."
IAS topper turns politician
An IAS topper from Kashmir, Shah Faesal, has resigned "in protest against what he called "unabated killings" in Kashmir besides the lack of New Delhi's efforts to reach out to Kashmiri people," reads a report in TOI's front page flap. He also finds space on the front page of all the major papers.
Hard times for Hardik
Cricketers Hardik Pandya and K.L. Rahul have been given a show cause notice by the Board of Control for Cricket in India (BCCI) for their misogynistic and sexist comments on Karan Johar's talk show. The BCCI wants an explanation for their conduct when explaining how they pick up women in bars, among other things. The Sports pages of all mainstream papers report on Pandya's apology and what may now happen to him.
Prime Time
TV news channels debated the 10 per cent reservation bill for the general category even as it was being debated in the Rajya Sabha, Wednesday. The bill was passed 165 to 7. As seen in Parliament, the debates reflected the "sense of the House" in favour of reservations but the Opposition gamely try to explain its support for the bill while criticizing it.
The more contentious Citizenship Bill also got a look in on channels like Mirror Now.
On CNN News 18, anchor Zakka Jacob accused the Bharatiya Janata Party (BJP) on his show 'Face Off' of making a mockery of the Constitution and the original philosophy behind reservations. He asked BJP's Narendra Taneja how the party arrived at Rs 2.5 – 8 lakh annual income slab as the eligibility criteria for 10 per cent reservation. "Government has done the numbers on statistics available," he replied, vaguely.
On Republic TV, All India Majlis-e-Ittehad-ul Muslimeen (AIMIM) leader Waris Pathan told Arnab Goswami. "This bill is brought without any research, there is no empirical data supporting it," he said, calling the bill a "jumla".
BJP's Sambit Patra replied, "Is thinking about the poor of this country a jumla? To think about the education of poor children is a jumla?"  

Goswami wanted to know who had "the guts", or courage, to oppose the 10 per cent bill. "I say that 10 per cent reservation should be there."
#10PercentDebate | This is a political jumla, it's a complete fraud: Waris Pathan- MLA, AIMIM & Advocate pic.twitter.com/HD80dubS0m

— Republic (@republic) January 9, 2019
On India Today, anchor Rajdeep Sardesai interviewed Lok Janshakti Party leader Chirag Paswan. Is the bill designed to do away with reservation of SC, ST and OBCs eventually, he asked.
Paswan replied, "Not at all Rajdeep ji, the existing structure of the reservation, remains the same. It is an additional 10 per cent reservation that has been given to the rest of the people."
Now that the "Pandora's box" of over 50 per cent reservation has been opened, can reservation reach up to 100 per cent in the coming days?
Paswan evaded the question: "Poverty does not see which caste or religion you come from," he said.
Aaj Tak anchor Anjana Om Kashyap asked why there was such a hurry to pass the bill in both the houses of the parliament within two days. To which BJP spokesperson Sudhanshu Trivedi said that his party is fulfilling its promises. Congress spokesperson Ragini Nayak challenged this: "What about reservation for the women — why it has not been passed in the Parliament…"
On Mirror Now, lawyer Prashant Bhushan attacked the government on the Citizenship Bill: "À communal government wants to discriminate on religion and reduce (Muslims) to second class citizens," he observed in a scathing comment.
Quotes of the day
BBC World's reporter at Parliament after Theresa May lost another vote concerning Brexit said: "She had lost control of the parliamentary process… her party MPs are utterly fed up of May."
CNN International headline: "Britain obsessing over itself, but what about EU side?"
Check out My543, our comprehensive report card of all Lok Sabha MPs.