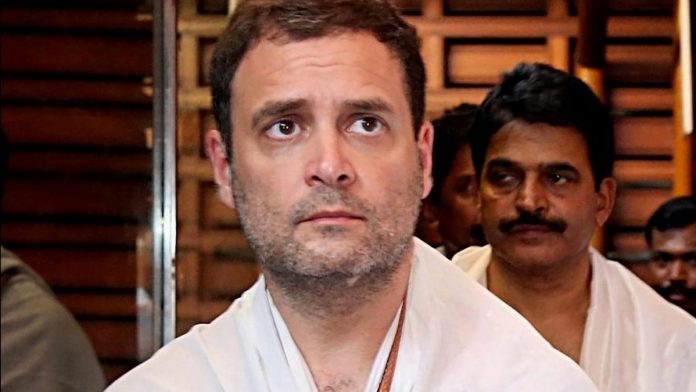 Text Size:
A weekend round-up of comment in Hindi and Tamil newspapers for a north-south perspective on topical issues.
Hindi
13 March 2019: Dainik Jagran's editorial relates to Congress president Rahul Gandhi's accusation that Bharatiya Janata Party (BJP) released terrorist Masood Azhar. It asks Congress if it has decided to use Azhar to target the Modi government. "One should not forget that 160 passengers lives were at stake at that time. If Congress would have been in power, it would have risked the lives of those passengers and not released Azhar?" it asks.
A Dainik Bhaskar editorial on the political controversy regarding voting on Ramzan in the Lok Sabha elections, urges parties to keep the Election Commission (EC) out of politics. In "Chunav hai to siyasat kijiye aayog ko kaam karne dijiye", it says political parties are painting EC in religious colour by this. "In a land of 90 crore people, it is not easy to hold elections. Let the Election Commission be," it concludes.
14 March: A Bhaskar editorial focuses on the falling standards of political discourse during elections. It says political leaders say whatever comes to them, now. Priyanka Gandhi Vadra's debut rally speech at Ahmedabad was well balanced but Rahul Gandhi's repeated his "chowkidar" refrain, it writes.
15 March: Editorials comment on China's veto on declaring Masood Azhar a designated terrorist at the United Nations Security Council (UNSC). Amar Ujala feels India should try to win China over diplomatically but also increase efforts to reform the veto structure of UNSC.
Dainik Jagran's editorial says, "Cheen ka haath aatank ke saath". China can go to any lengths against India, even siding with terrorism, it writes. China wants India to be careful of Chinese interest when it doesn't care of Indian interests.
Tamil
13 March: Dinamalar comments on the Ramzan controversy: "In our diverse nation, people should stop citing… festivals to change polling dates. Instead…on the scheduled dates (they should) go to polling booths and vote in spite of all odds."
Daily Thanthi comments on by-elections withheld in three of 21 state assembly seats where polling is scheduled along with the Lok Sabha elections. It says, pending "election cases in courts" should not justify withholding by-elections — EC should reconsider the decision.
The Hindu Tamil observes that "parties politicising the popular demand for the early release of Rajiv Gandhi assassins for elections and votes is the worst poll strategy."
14 March: Daily Thanthi welcomes the transfer of the Pollachi sexual harassment case to the Central Bureau of Investigation (CBI): "There is a widespread opinion that police should reopen/ re-investigate all the suicide cases of young women in the locality in the last 2 years… CBI should now expand its horizon and delve deep into the case. This case has the involvement of many people." It says CBI should also investigate if this racket is specific to Pollachi or "is prevalent across the state."
The Hindu Tamil's editorial is also related to Pollachi: "Every one of us in the society should hang our heads in shame" as there is no enabling environment for women to "tell their parents/family about the sexual abuses and injustices done to them… Unless we stop seeing a woman as just an object or justify the misdeed of men, our society would not be free from such horrendous acts," it writes.
March 15: The Hindu Tamil editorial has an unusual take on the elections: EC's direction to political parties to not litter/pollute the environment during campaigning. "EC has come up with significant orders to ensure a clean environment at least. It has directed political parties to avoid non-biodegradable or one-time use plastic articles in their election rallies. It has also asked the parties to adhere to the guidelines on sound pollution. Amidst the usual negative news on the environment, this one comforts us," it writes.
With inputs from Shailaja Bajpai.
Check out My543, our comprehensive report card of all Lok Sabha MPs.