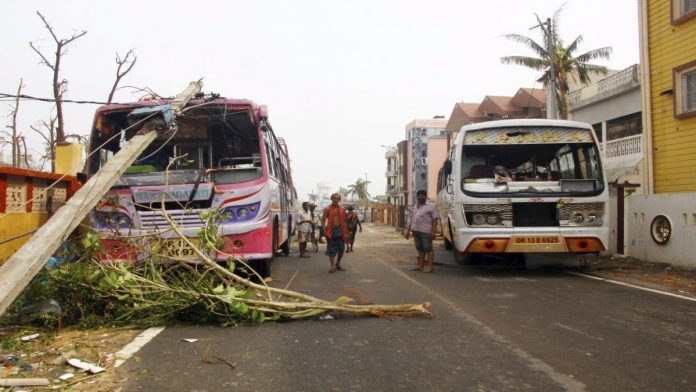 Text Size:
6 May 2019: Dainik Jagran comments on Congress president Rahul Gandhi's citizenship row. The paper says no one has been able to answer why Rahul took the UK citizenship for his business interests — Rahul should come clean on the issue. Isn't it strange, Jagran asks, that Rahul Gandhi questions Rafale deal but refuses to answer questions on deals done during the Manmohan Singh regime?
7 May: 'Toofan par rajneeti' is how Amar Ujala describes the charges exchanged between Prime Minister Narendra Modi and West Bengal Chief Minister Mamata Banerjee on cyclone Fani. There are political reasons behind Mamata Banerjee not responding to PM Modi's phone call on cyclone relief.
Modi and Odisha Chief Minister Naveen Patnaik not only reviewed the cyclone-affected areas together, but the Centre also announced Rs 1,000 crore relief — PM praised Patnaik for his good work. However, elections in Odisha are over, while two rounds of voting remain in Bengal so Mamata doesn't want to share the dais with the PM.
8 May: Dainik Bhaskar says India needs to show the same determination in the field of education the way it did while tackling cyclone Fani. India has come a long way since a super cyclone named Phailin claimed 10,000 lives two decades ago. Fani saw minimal loss of life because of a quick weather alert and preemptive rescue measures.
Commenting on the CBSE and ICSE results, the paper says the result of the board exams indicated that both high marks and high cut-offs in colleges have increased. And, reports say, students do not even have the basic skills to get jobs. So, India needs to look at its education sector in the same way it has addressed the natural disaster challenge and made it world-class, Bhaskar writes.
Amar Ujala also comments on the high marks obtained by the CBSE students in Class XII, but also draws attention to over 20 children who committed suicide after failing in exams in Telangana. The paper says children are striving to get high marks because they know there aren't enough good institutes of higher education and the competition is overwhelming. The government needs to look at education reforms and it should become part of the political discourse.
9 May: Amar Ujala focuses on the ongoing controversy concerning VVPATs and EVMs in the elections. The Opposition has demanded that 50 per cent EVMs be matched with VVPAT slips for transparency. Though this demand seems to be impractical — the court has overruled it — the Opposition has made it a prestige issue. Ujala says the Election Commission can consider matching at least 10 per cent EVMs to assuage the Opposition.
May 10: Amar Ujala comments on US President Donald Trump's trade war with China. Trump had tweeted that from Friday, $200 billion worth Chinese imports will face an increase in duty from 10 per cent to 25 per cent. China has said it would reply in kind.
Ujala says this trade war will have far-reaching consequences for world trade. India needs to be alert as the share market is already feeling the pinch of the embargo on importing Iran oil.
Dainik Jagran focuses on the appointment of judges – it is not fair, it says, that judges appoint judges with no transparency in the process. The judiciary should be independent, but can it follow a process of appointments that finds no mention in the Constitution? It is due to the collegium system that accusations of nepotism are often made. The Supreme Court needs to do a lot to clean up the judicial process, Jagran says.
Get the PrintEssential to make sense of the day's key developments