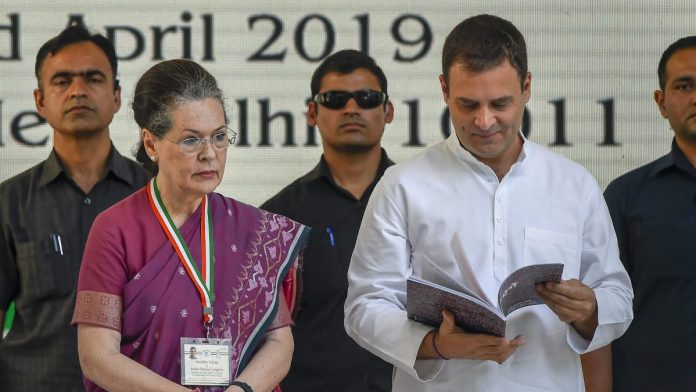 Text Size:
Front Page
Rahul Gandhi finds his photograph splashed across the front pages, Wednesday, as the release of the Congress election manifesto makes headlines.
And Hindustan Times finds itself on US President Donald Trump's twitter account: Trump retweeted HT's, "World Autism Awareness Day 2019: Significance, history and theme". A rare distinction for an Indian media outlet.
World Autism Awareness Day 2019: Significance, history and theme via @htTweets https://t.co/kRLZoYEIJS

— Donald J. Trump (@realDonaldTrump) April 2, 2019
The newspapers offer a sharp contrast in approach: Hindustan Times and The Hindu highlight the welfare aspects of the manifesto in "Jobs, welfare, harmony top Cong's poll promises" (HT) and "Congress promises to create wealth, ensure welfare for all" (Hindu).
The Times of India combines welfare with a reference to a muscular Bharatiya Janata Party (BJP), in "Cong pitches 'wealth with welfare, to counter pseudo nationalism'".
The Indian Express adds the national security angle: "Congress vote pitch: Bigger safety net, less of hard state."
Barring the Express, mainstream newspapers make only passing mention of two promises that directly impact the media: repealing the sedition law and making defamation a civil rather than criminal offense. Express carries "Party changes own tune: No sedition law, diluted AFSPA" on page 1.
The Hindu and HT reports focus on welfare, farmers, health, education and social themes. TOI and Express highlight the controversial move to review AFSPA and initiate what Hindu calls, the "process of dialogue to win the hearts and minds of the people of Jammu and Kashmir".
Hindu, surprisingly, makes no mention of AFSPA at all.
Express quotes, liberally, the Congress president's remarks at the release of the manifesto; TOI avoids any mention of him in its lead.
Rather, TOI analyses, more than reports, the manifesto on page 1— but it devotes nearly two inside pages to the manifesto's details. It sees the manifesto as "framing the contest between two ideologies" with a "political vision that breaches previous restraint" on national security and "socially contentious issues" — for example, AFSPA and sedition.
Express's report balances the "welfare vision" with Congress's "shift" on "national security and individual freedom". It, alone, quotes P. Chidambaram's explanations on AFSPA.
Ironically, on page 10 it reports, "AFSPA partially withdrawn from Arunachal Pradesh".
All newspapers give prominence to finance minister Arun Jaitley's scathing attack on the manifesto: he called it, "Tukde gang drafted…"(Express), "Dangerous and irresponsible…" (TOI), on internal security and "unimplementable" (HT).
HT also quotes external affairs minister Sushma Swaraj's comment in Nagpur: "Congress manifesto has made deshdrohi (traitors) andalgavadi (separatist) people happy."
A-SAT
"Terrible, terrible thing: Nasa on A-SAT debris" is HT's alarming second lead.
HT says the head of American space agency Nasa said A-SAT "had created 400 pieces of orbital debris and led to new dangers for astronauts aboard the International Space Station", in its opening paragraph.
Times of India sides with India, saying in its headline, "A-Sat debris threat to ISS, says Nasa chief; experts rubbish claim".
It gets a comment from the former DRDO director: "…this was a typical American response to India's progress."
""Such comments by the Nasa head are discriminatory and irresponsible. It's more of propaganda,' former DRDO scientist Ravi Gupta told TOI," says the report.
SC on RBI
The other big news is "RBI circular to banks on loan defaulters quashed" (The Hindu). TOI calls it "a big setback to efforts for recovery of bad debts of companies owing Rs 2,000 crore or more to banks"
Economic Times's lead says, "The court's decision restored the discretion of banks on debt resolution".
Express in 'Explained'  writes, "A case by case resolution may delay debt resolution process and set off more wrangling between banks and borrowers. The government had problems with the circular so the ruling has a bearing on RBI's credibility", it writes.
Prime Time
Congress's launch of its manifesto "Congress will deliver" stole the shows and TV coverage from all comers including Prime Minister Narendra Modi, Tuesday.
Prime time debates saw Times Now focus on how "Cong betrayed" 'surgical strike hero' General D.S. Hooda, whose recommendations on national security — accessed by Times Now — were missing from the Congress manifesto, claimed the channel.
Republic TV's Arnab Goswami hectored Congress on betraying the army with its proposals on AFSPA and "unconditional talks" with "terrorists".
Zee News anchor Sudhir Chaudhary said the "Tukde Tukde Gang" will be given complete freedom with the Congress promise to repeal the sedition law.
ABP News's breakdown of the manifesto revealed that education, unemployment, agriculture, health and "garibi" were mentionedfrequently while Rafale got just one reference and 'chowkidar' none.
Meanwhile, TV9BharatVarsh's opinion poll gave NDA 261 seats, UPA 143 and Others 139 with NDA winning only 28 in Uttar Pradesh.
NDA is projected to get 28 seats in UP @cvoter @TV9Bharatvarsh

This is loss of 45 seats versus 2014.

Is this data post Balakot ?@YRDeshmukh https://t.co/DbtTYCD1o8

— Milind Khandekar (@milindkhandekar) April 2, 2019
CNN News 18's manifesto discussion centred on Congress's welfare promises. Public commentator Gurcharan Das said Congress's NYAY scheme is the "most irresponsible scheme I have seen".
Economist Surjit Bhalla agreed with anchor Zakka Jacob that new taxes on the middle class would be needed to fund it.
However, journalist Vir Sanghvi took a contrarian view: in the last 15 years all political parties had agreed that "cash transfers" were needed for the poor.
Away from the Congress manifesto, India Today's Rajdeep Sardesai interviewed actor Vivek Oberoi on his upcoming Narendra Modi biopic.
"It is the story of a 'chaiwala' who became the Prime Minister of India. It is an inspiring story that needs to be told. I did the film because PM Narendra Modi inspires me."
Was it a propaganda film, conveniently scheduled for release just before the Lok Sabha elections, asked Sardesai.
"It is just a coincidence that the film is releasing ahead of the election. It is not a propaganda film. I am an individual who has a credible body of work over the last 18 years, more than 45 films and more than 26-27 awards… I don't need to make him appear as a hero. He is a hero to billions of people across the world," said Oberoi.
CNN News 18 anchor Rahul Joshi interviewed Bihar chief minister Nitish Kumar.
On suggestions that Prashant Kishore, poll strategist credited with BJP's 2014 LS victory, had been sidelined in the Janata Dal (United), Kumar said, "No, he has not been sidelined… But if Prashant Kishore had any misconceptions then it is a different matter."
Aaj Tak's Rohit Sardana was in Meerut where the crowd saluted him — "Thank you Rohit Sardana ji, pehli baar 10 saal main aapne MPsaheb ke darshan kara diye." (Thank you Rohit sir, thanks to you we were able to see our MP for the first time in a decade). BJP's Rajendra Agarwal is a three time MP from Meerut.
In the debate, Congress leader Rajiv Mehta boasted, "This is the best manifesto which has been released by any political party since independence."
Rajendra Agarwal said, "We have worked hard and we will ask for votes on that basis only. Congress still wants to take money from the common people."
Tweet of the day
Country fed up with "Pathological Liar", Bihar will chase him out.

— Lalu Prasad Yadav (@laluprasadrjd) April 2, 2019
With inputs from Shailaja Bajpai.
Get the PrintEssential to make sense of the day's key developments