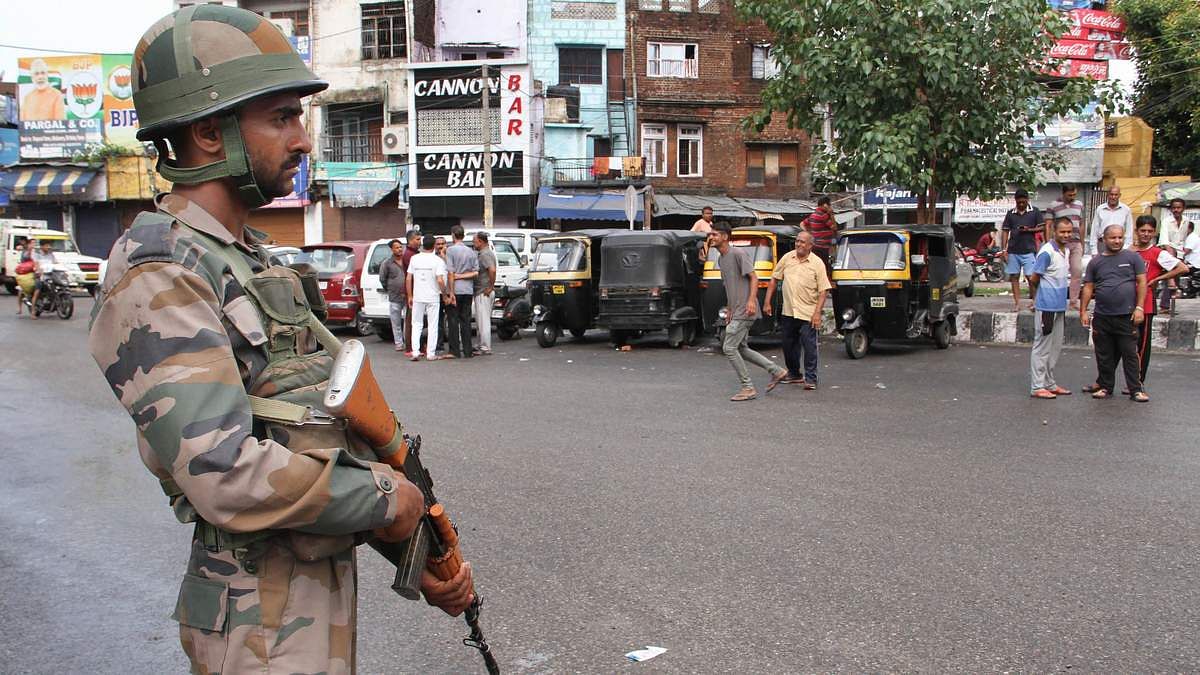 Front Page
Kashmir
All newspapers lead with 'Kashmir Clampdown', setting the stage for the revocation of Article 370 today by the Centre.
"Srinagar hears midnight knock: Omar, Mufti under arrest, Internet snapped," writes The Indian Express. "Omar, Mehbooba, Sajad placed under house arrest at midnight," headlinesThe Times of India, while The Hindu keeps it simple with "J&K leaders placed under house arrest." Hindustan Times goes in a completely different direction: in "Govt to bolster security in J&K over new threat",  writes that the scale up is `to prepare for a possible threat arising from increased influence of Pakistan-backed Taliban once Us troops withdraw from Afghanistan…''
The "heightened uncertainty" in the Valley "took a turn for the worse" as the govt "late on Sunday night" imposed "restrictions under Section 144 of the CrPC in Srinagar district" and "placed the top leadership of the state – NC leaders Omar and Farooq Abdullah, and PDP chief Mehboob Mufti, among others – under house arrest," adds Express.
CWC meeting
Also making the headlines today is the Congress Working Committee (CWC) meeting on 10 August in all mainstream newspapers, to "do the groundwork to elect a new president of the party," as Hindu puts it. It also puts into perspective that "this meeting comes more than two months after Rahul Gandhi quit the post." Shashi Tharoor said that the "CWC should appoint an interim president immediately and then hold an election to the party president's post as a leader elected by workers would be empowered and have more credibility."
Express mentions former Union minister Milind Deora's statement: "He was of the view that young leaders like Sachin Pilot and Jyotiraditya Scindia can lead and invigorate the party."
Re-verification notices in Assam
In other news is "Assam minorities bombarded with re-verification notices", report Hindu and Express. Several people received notices from the Local Registrar of Citizen Registration (LRCR), giving them "less than 48 hours to appear" for "re-verification of their citizenship documents."
Express says, "the notices started arriving Saturday night. With the short deadline adding to the panic and the government tight-lipped, villagers across two districts hired vehicles to make the long travel, many of them for the first time in their lives."
Ayodhya mediation
Express runs this story as its second lead today. "Attempts to find a settlement" in the Ayodhya dispute "by the SC-appointed mediation committee" continued "till the last minute of the deadline," with "intense talks toward the end of July holding out a tantalising hope that a breakthrough could be achieved," writes Express.
The committee "tried to get a consensus on what it called the four elements (freeze status of all places of worship as per 1991 Act, or as on August 15, 1947; Ask ASI to streamline process of declaring mosques as monuments; in lieu of Babri Masjid give alternative land and funds for a mosque elsewhere; repair refurbish, restore "about 20 mosques" in Ayodhya) for arriving at a deal," details Express. However, some contesting parties did not agree to these proposals so, the "committee had to report to the SC that the proceedings had failed," tells Express.
CBI conducted raids across "four districts" in UP on Sunday "as it tried to connect the dots in a fatal incident involving" a gang rape in Unnao. Officials searched the residence of key accused and expelled BJP MLA Kuldeep Singh Sengar, tells HT. It also includes a comment from Sengar claiming that the allegations against him are 'politically motivated'.
Amid outlining the tensions in Kashmir, the newspapers also feature the first set of pictures of the Earth captured by the Chandrayaan-2, as released by ISRO.
In other disturbing news of the day, are the two mass shootings in US, one at Walmart in El Paso and another outside a bar in Dayton. HT carries this story as a lead on one of its flaps, while TOI reserves lower page billing for the same. "Twenty nine people died and dozens were wounded in two mass shootings within just 13 hours of each other in the US," tells TOI.
Opinion
Express: In 'New Delhi, Old Line', Express criticises the Centre's "U-turn" in its approach to Kashmir. After a window of calm, the NDA-led government has abruptly withdrawn pilgrims and tourists from the Amarnath Yatra two weeks ahead of schedule and evacuated non-Kashmiri students from Srinagar's NIT citing a terror threat from Pakistan. This comes amid assumptions that the situation near the Line of Control had "improved", explains Express. By disrupting the Amarnath Yatra, the Indian government not only admitted that it "cannot prevent terrorist attacks" but failed to reassure the people of Kashmir during a time of crisis or offer an alternate approach of "dialogue and good governance."
TOI: In 'Tense Kashmir', TOI discusses whether it was "really necessary" for the Centre to abruptly call off the annual Amarnath Yatra amid security concerns issued by the Jammu & Kashmir government. It's not the first time that the pilgrimage has been under attack by terrorists but the recent cancellation invited " uncertainty and fear in the state". The Kashmir issue has been further complicated by the Indian Army's claims to have foiled an alleged infiltration attempt by Pakistani forces, flare-ups at the Line of Control and fears that the Modi administration is planning to abrogate Article 35(A) and Article 370, which allows special autonomy to the state. TOI also predicts that President Donald Trump's offers to "mediate" on Kashmir can further strain Indo-Pak relations.
Prime Time
Kashmir was in focus across channels as tensions rise after suspected LeT terrorists breach the Line of Control, security is beefed up and state political leaders from NCP's Omar and Farooq Abdullah to PDP's Mehbooba Mufti demand answers.
Prime time discussions on these issues occurred before state leaders were placed under house arrest and Section 144 of the CrPC was imposed in Srinagar district.
NDTV India:  On Hum Log, anchor Nagma Sahar led the discussion on J&K.
J&K People's Movement Party's Shah Faisal, said, "We have seen war, curfews, elections– everything. But what is happening now is completely unprecedented. In the last 30 years, this kind of secrecy and mysterious environment has never been created."
He added, "There is fear because there will be an assault on Kashmir's unique identity."
Lt. General (retd.) Rameshwar Rao said, "Whatever is happening in Kashmir right now will have a greater effect on our neighbouring country. This is why there is more panic on their side than ours."
 "I have no idea what will happen tomorrow. No one in Kashmir does. But according to the troop movements, it feels like something big will happen. It could be related to Article 35A or 370," observed Khalid Shah, associate fellow at ORF.
Aaj Tak: On Dangal, anchor Chitra Tripathi wondered state leaders were still so afraid even though the Governor told them "there is nothing to panic about?"
PDP's Mohit  Bhan was unimpressed: "The Governor  is a hypocrite. He always makes contradictory statements. We have seen very different kinds of orders. Schools are being used as detention centres, PCRs are being made into war room. There is a sense of fear."
BJP's Zafar Islam said, "The reality is that the regional parties like PDP and NC are spreading rumours. They are being told over and over again that there is no need to panic. I want to say that the people of Kashmir consider themselves safe under this government."
Republic: On #IndiaForKashmir, Ratan Sharda, author and political analyst said, "Ethnic cleansing is the basis of the problem we face today".
Lt Gen Gurmit Singh (Retd) referred to terrorist infiltrations across the border:  "The ceasefire violations and infiltration attempts are on, we've got to collectively look for a solution. We must take action against Pakistan army, it is for the safety of Kashmiris."
Political analyst Inam-un-Nabi insisted that the government had to "respect Kashmiri's aspirations'', and uphold the rights conferred on Kashmiris by the Constitution
"Nothing is permanent in the Constitution, everything evolves with time and for the benefit of the people," retorted Sushil Pandit, Kashmiri activist.
Times Now: Here, Sushil Pandit said that if the government had called off the Amarnath Yatra, curtailed the tourists season "then there must be a good reason."
" The biggest irony is that people who are in opposition… cannot even ask a question," said political analyst Chetan Singh.
Defence expert Col.(retd.) Rohit Dev said, "The security of Kashmiris is the concern for Government of India."
Col. Rohit Dev changed focus: "The Government of India,  through decades, has pumped in so much of money for the welfare of Kashmiri people,which has not reached the Kashmiris. Our PM will make sure that even one rupee reaches the Kashmiri common man."