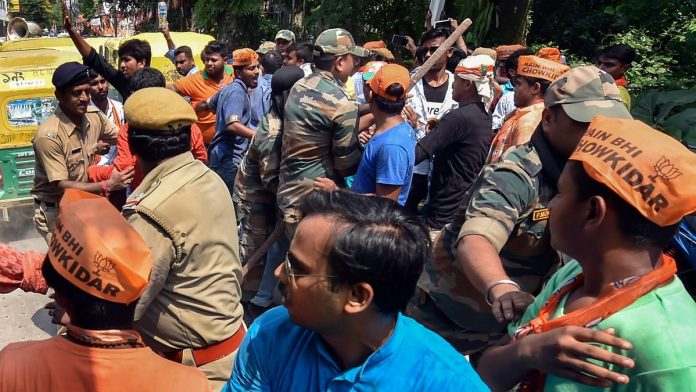 Text Size:
Front Page
Violent clashes in West Bengal make the lead in The Times of India and The Indian Express—and dominated TV news coverage Tuesday evening onward.
In "Bengal simmers after BJP and TMC clash during Shah's Kolkata road show", Express reports that "bottles, bricks, and stones flew freely, and a bust of Ishwar Chandra Vidyasagar was destroyed in pitched battles" between the parties' student wings as they "clashed" over BJP President Amit Shah's roadshow.
"The two sides accused each other of starting the violence", it adds but doesn't offer its own findings.
Strangely, Express, alone, puts Bengal violence on Page 1, even though "more than 1,000 people" were detained. Other newspapers highlight the Supreme Court's bail to BJP's Priyanka Sharma who made and shared a meme of West Bengal Chief Minister Mamata Banerjee.
TOI leads with "Didi meme: SC frees BJP youth neta, directs her to apologise".
"Four days after her arrest…the Supreme Court ordered the immediate release of 26-year-old BJP youth wing leader …but directed her to tender an apology for hurting the sentiments of her political rivals", it writes.
This SC directive perturbs TOI enough for it to express its disapproval in a 'Times View' alongside the report – as well as editorial comment (See Opinion): "The SC has, in this case, not done enough to ensure freedom of expression is protected in India. By asking Priyanka Sharma to apologise to Mamata Banerjee, it has done us a disservice", it declares.
Express, Hindustan Times, and The Hindu give this news only a single column space.
Iran oil
The Hindu gives diplomatic ties the lead for a second day in a row: "India will take a call on the purchase of Iranian energy after the general elections", it reports on the meeting between the foreign ministers of the two countries in New Delhi, yesterday.
"The discussions come in the backdrop of escalating tensions in the Gulf after the US waivers for supply of Iranian energy ended on May 2, prompting Tehran to declare that it would no longer be bound by the 2015 nuclear deal."
In its 'Explained' box, Express says the Iranian foreign minister's "sudden" visit was to "secure support for Tehran in its tussle with Washington. While Delhi has left the decision on oil imports to the next government, it will have to secure alternate supply sources to mitigate the adverse economic fallout due to the disruption".
TOI doesn't find the meeting deserving of more than column space on Page 1.
Other reports
HT's first lead is on the weather: "Private weather forecaster Skymet Weather has reiterated its prediction of a below normal monsoon this year", it writes.
Its second lead reports that the "RSS tweaks outreach plan to boost polling on May 19". Amid allegations that the RSS is doing nothing to support the BJP, "it emerges that the BJP's ideological parent is actually going all out to ensure a higher turnout for the last phase of polling on Sunday — because it hopes this will help the party's fortunes", finds HT. "…the Sangh's focus is primarily on West Bengal, Uttar Pradesh, MP and Punjab", it adds.
Hapur rape case
Reports of the alleged Hapur gang rape involving 16 men remains absent across front pages this morning.
Opinion
TOI in "Allergic to Dissent" welcomes the Supreme Court's order to release BJYM leader Priyanka Sharma but "its insistence that she tender an apology…can set an unhealthy precedent". It is alarmed by the prospect that anyone who "gives offense" to vengeful politicians or officials can be punished and arrested like Sharma. An apology from Sharma to Mamata Banerjee gives "an overbearing state a moral victory". "Merely because a meme or a work of art or literature causes offence to the beholder, it cannot be criminalised," writes TOI. "We may disagree but let's keep talking — that's how a vibrant democracy works".
HT looks at "How representatives are our representatives?" following an report that 19 per cent or nearly 8,000 Lok Sabha candidates have criminal cases pending against them and 29 per cent have assets worth more than Rs 1 crore.
The Association for Democratic Reforms (ADR) says candidates with criminal cases have increased from 15 per cent to 19 per cent while the crorepati candidates have risen from 16 per cent to 29 per cent.
Both instances reveal a growing chasm between candidates and the electorate they represent. "Many of India's political candidates could not be more different from the voters they represent" is HT's grim conclusion.
Prime Time
West Bengal was in the news for mostly the wrong reasons –the violence in Kolkata but also for the Supreme Court's granting bail to Priyanka Sharma.
Meanwhile, Congress leader Mani Shankar Aiyar was the cynosure of all eyes for his "neech" comments, once again, on Prime Minister Narendra Modi.
The violence in Bengal continued into the evening and the prime time was flooded with coverage of clashes in Kolkata, across English and Hindi news channels.
India Today: Anchor Rahul Kanwal pointed to the removal of Modi's posters in the city.
TMC supporter Garga Chatterjee was querulous: "The posters were taken down by the police under the supervision of Election Commission. Why is this even making headlines?"
BJP spokesperson Amit Malviya parried with his own accusation: "Mamata Banerjee is nervous of losing her turf. She is rattled and therefore, she is doing everything possible to intimidate the people of West Bengal, so that they don't come out to support the BJP."
Times Now: Following the violence in Kolkata, Defence Minister Nirmala Sitharaman rushed to the spot to check on the law and order situation.
Times Now reporter Muhammad Wajihulla asked her for an assessment of the situation.
Sitharaman said, "In BJP President Amit Shah's roadshow, lakhs of people participated. However, TMC goons mixed with the roadshow in order to create trouble. We have mentioned the incident to the Election Commission so that no major violence takes place during the polling day."
CNN-News 18: Anchor Anand Narasimhan preferred to discuss Priyanka Sharma and whether everyone should be free to share memes on Facebook.
Political Analyst Syed Abbas said, "I feel sorry for Priyanka Sharma, but there's a reason why she's being targeted – because she's from BJP."
When BJP leader Neha Joshi said that Mamata Banerjee is being dictatorial, TMC supporter Manojit Mandal replied, "Please do not teach me language, why are you disrespecting the Chief Minister who has been elected by the people of Bengal?"
India TV: Anchor Rajat Sharma reflected on the violence in Kolkata. He said that despite BJP not being all that popular in Bengal, the streets were filled with BJP supporters. The channel ran a ticker, which almost welcomed the violence: "Historic roadshow in Kolkata-BJP in high spirits in West Bengal".
Zee News: Anchor Sudhir Chaudhary said the highest number of violent incidents during the 2019 elections has taken took place in West Bengal. "Supporters of TMC and BJP started throwing stones at each other and BJP karyakartas were injured.''
"Democracy is being murdered for which Mamata Banerjee is responsible," he concluded.
DNA : पश्चिम बंगाल में अमित शाह के रोड शो पर हुई पत्थरबाज़ी और आगज़नी @sudhirchaudhary pic.twitter.com/wJBqlLgxjx

— Zee News Hindi (@ZeeNewsHindi) May 14, 2019
Tweet of the day
Always a step ahead, ladies! pic.twitter.com/RcyCn0bhj2

— Apurva Purohit (@apurva_purohit) May 14, 2019
With inputs from Shailaja Bajpai.
Get the PrintEssential to make sense of the day's key developments