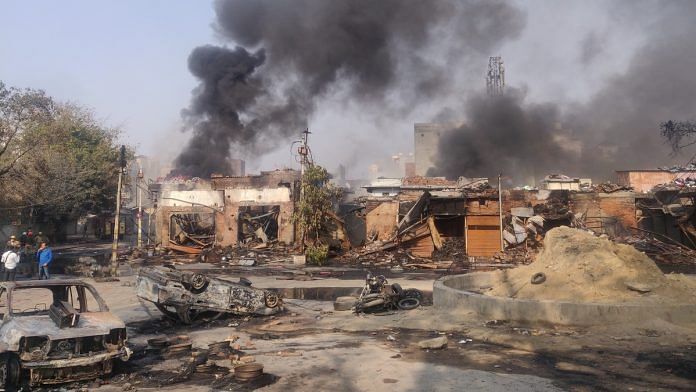 Text Size:
Violence-hit Delhi with a rising death toll dominates Page 1. The Supreme Court and High Court statements criticising police inaction also figure prominently across newspapers.
The financial press marks the economic woes due to coronavirus concerns while lone wolf Business Standard focuses on the telecom industry's never-ending troubles.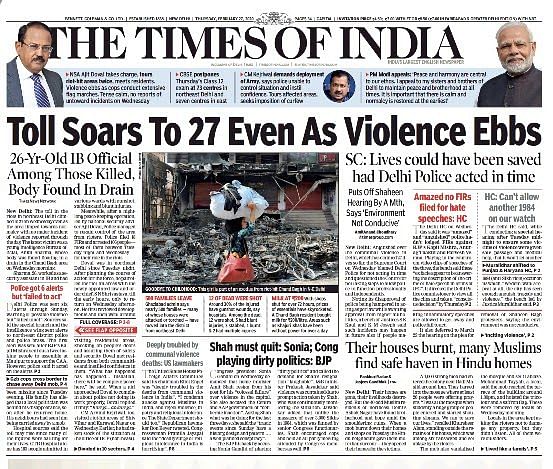 The Times of India's headline "Toll soars to 27…" says it all. The lead report on '26-Yr-Old IB official among those killed', notes, "The latest victim was a young Intelligence Bureau official, Ankit Sharma, whose body was found floating in a drain in the Chand Bagh area."
On a more positive note, the report, 'Their houses burnt, many Muslims find safe haven in Hindu homes' speaks of how "40-odd Muslim residents of northeast Delhi's Ashok Nagar have found brotherhood and hope amid the smouldering ruins."
On the top court's observations (`SC: Lives could have been save…'), the paper writes: "Supreme Court on Wednesday blamed Delhi Police for not acting in time and questioned the Centre for not taking steps to allow police to function professionally and independently."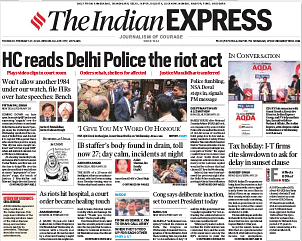 The Indian Express, in its lead 'HC reads Delhi Police the riots act', highlights sharp details from the hearing Wednesday, in which the court "questioned the conduct" of the law enforcement agency. Judges Muralidhar and Talwar Singh remarked that "this city has seen enough violence" and "let it not repeat 1984" as it directed the police to register FIRs against those who had made incendiary speeches earlier. The report points out that "Justice Muralidhar was transferred" after the central government had issued a notification Wednesday.
Do read about 'Police fumbling, NSA Doval steps in…' — National Security Advisor Ajit Doval "stepped in", walking "the streets of riots-hit areas of northeast Delhi going door-to-door and assuring residents of safety."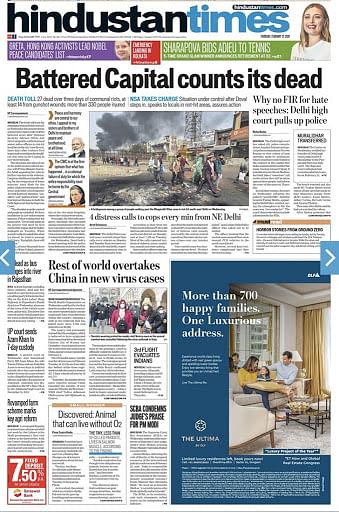 Hindustan Times calls Delhi the "battered capital" and the lead photograph describes the scene only too well. On delayed police action, the lead report notes, "Security forces appeared to regain control of the battered areas after National Security Adviser (NSA) Ajit Doval stepped in and led teams of senior police officers to riot-hit localities."
Monday and Tuesday were days when violence was at its peak and the story, '4 distress calls to cops every min from NE Delhi' reveals that data from the Police Control Room (PCR) found "3,300 distress calls were made from the north-east district on Monday, and at least 7,520 on Tuesday."
In 'Why no FIR for hate speeches', the Delhi High Court pulled up the police for not filing FIRs against those inciting violence using hate speech. The court, in an unusual move, "watched… videos of hate speeches'' made by four BJP leaders — Kapil Mishra, Abhay Verma, Parvesh Verma and Anurag Thakur.
On its flap, that can't be seen here, HT has an exclusive, 'RAW ex-chief tried to gauge Farooq's mood on new order in J&K'. The story says that there was a hushed meeting between former RAW chief, A.S. Dulat and Farooq Abdullah. The paper notes, "The brief for Dulat's secret mission was simple: to suss out Abdullah's mood in 'accepting the new reality of Jammu & Kashmir after the nullification of Article 370'. An official "familiar with what transpired in the meeting" said Abdullah was "furious and refused to yield any ground".
And, here's a fun piece: 'Discovered: Animal that can live without O2' — "The tiny, less than 10-celled parasite Henneguya salminicola lives in salmon muscle, according to the finding published on Tuesday in the journal PNAS."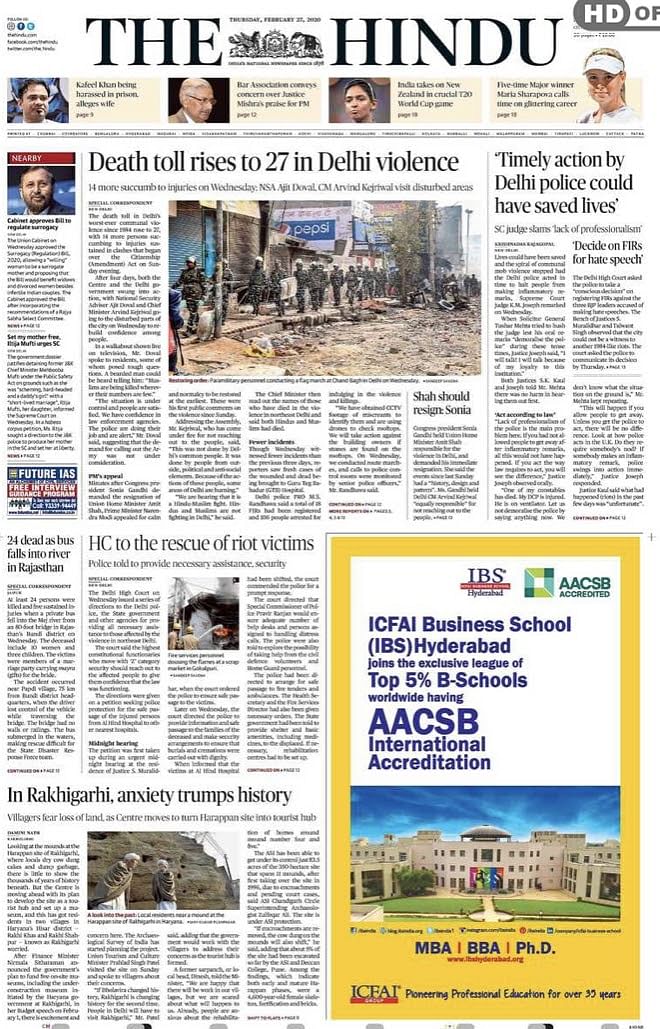 If you want a quick recap of developments in the Delhi riots, The Hindu is your go-to paper. The lead, 'Death toll rises to 27..' reads: "After four days, both the Centre and the Delhi government swung into action, with National Security Adviser Ajit Doval and Chief Minister Arvind Kejriwal going to the disturbed parts of the city on Wednesday to rebuild confidence among people." The paper calls this the "worst-ever communal riots'' in the capital since 1984.
The report, 'Timely action by Delhi Police could have saved lives', quotes the Supreme Court during its hearing and adds, "Solicitor General Tushar Mehta tried to hush the judge lest his oral remarks 'demoralise the police' during these tense times."
The anchor story, 'In Rakhigarhi, anxiety trumps history', is highly readable. The Harappan site has "little to show the thousands of years of history beneath" but the "Centre is moving ahead with its plan to develop the site as a tourist hub and set up a museum."
The Telegraph takes on PM Modi's delayed response in its headline — `I appeal (after 69 hours) . A series of smaller reports note statements made by the Opposition, the Delhi High Court and a journalist's on-ground account. The HC "expressed 'anguish' at the delay in filing of FIRs against hate speeches by BJP leaders, asking solicitor-general Tushar Mehta: "What's the appropriate time, Mr Mehta? The city is burning."
In 'Forced to drop pants: Journalist' — A journalist covering the riots "alleged on Wednesday that he was assaulted while filming in a riot-hit area and forced to drop his pants to check if he was circumcised."
In another report "Abdication by elected twins" gives an ironic and scathing account of all that was "served" up to US President Donald Trump during his visit: "27 snuffed human lives, more than 200 injured would, thousands scarred and scared and fleeing."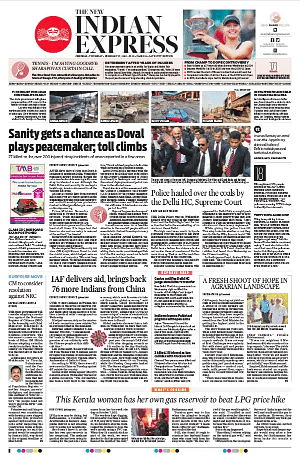 The New Indian Express lead headline is almost worshipful — 'Sanity gets a chance as Doval plays peacemaker…'
The report says that National Security Adviser Ajit Doval's visit to riot-hit areas, "helped restore a semblance of normalcy". This straight out contradicts the lede paragraph, in which the paper notes that "although the Delhi Police and security forces kept a hawk's eye, tension simmered in all the violence-hit areas".
The report about the Delhi police being "hauled over the coals" by the High Court and Supreme Court, highlights details about the number of FIRs that have been filed (only 18) and the "testy exchange" between SC Judge KM Joseph and Solicitor General Tushar Mehta. There are also references to BJP leaders Kapil Mishra, Anurag Thakur and Parvesh Verma.
The anchor story, 'This Kerala woman has her own gas reservoir to beat LPG price hike', is about Rathnamma, a resident of Kerala's Alappuzha district, stumbling on a unique solution for the rising LPG prices — a reservoir of methane gas in her own backyard. "The methane gas that she has been using for cooking for the past nine years comes from her borewell she dug on October 27, 2011".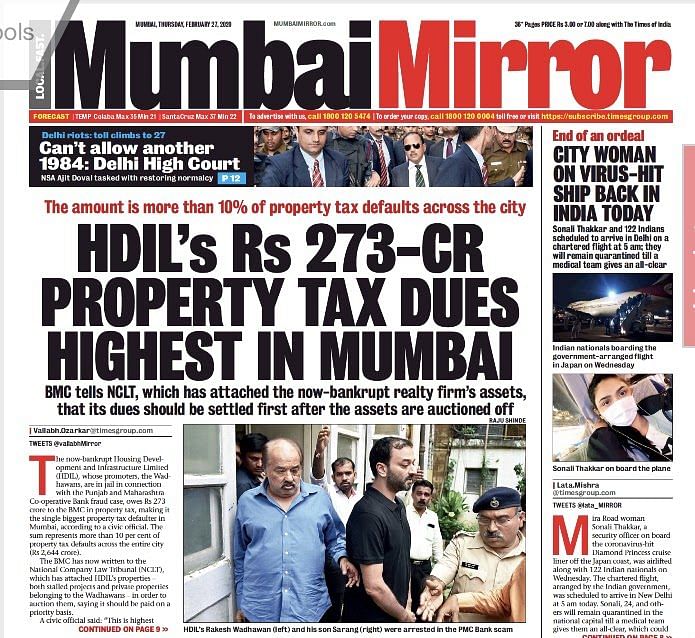 Mumbai Mirror covers HDIL's landmark property tax case. "The now-bankrupt Housing Development and Infrastructure Limited (HDIL), whose promoters, the Wadhawans, are in jail in connection with the Punjab and Maharashtra Co-operative Bank fraud case."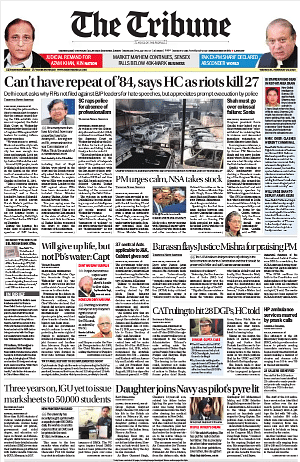 The Tribune is almost emphatic in its lead— 'Can't have a repeat of '84, says HC…' as it furnishes details of the riots which had taken place in the aftermath of then Prime Minister Indira Gandhi's assassination. "Around 3,000 people, mostly Sikhs, had died in the riots in the Capital," the paper recalls.
There's a small item which you might miss about the government giving its nod to 37 central laws in the Concurrent List to "make them applicable in the newly carved out Union Territory of Jammu and Kashmir".
Also in 'Three years on, IGU yet to issue marksheets to 50,000 students', 50,000 students of 130 colleges in Rewari and Mahendragarh districts have not received their mark sheets for three years now "ever since their institutions got affiliated with Indira Gandhi University".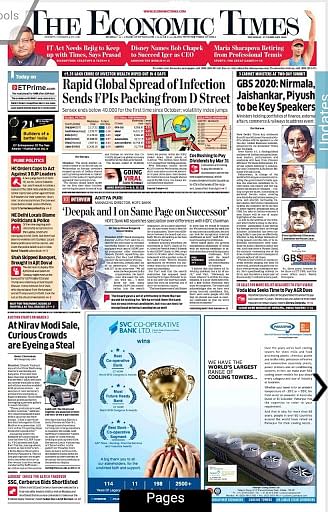 The Economic Times sounds an alarm over the "rapid global spread" of the novel coronavirus, which has made a dent in the stock markets. "The Sensex closed below 40,000 for the first time since October, mirroring the panic in the rest of Asia and Europe that Covid-19's impact on the global economy would be worse than anticipated," the report notes.
`Deepak and I are on the same page…' is an exclusive based on an interview with HDFC Bank managing director Aditya Puri who "squelched speculations" about having differences with the companies' elder statesman Deepak Parekh over the choice of his successor. Puri is all set to retire from his post as MD in October this year. "Industry is keenly watching the succession at HDFC Bank as Puri, hired by Parekh from Citibank to start HDFC Bank in 1994, steps down in October after creating a behemoth with a market value of ₹6.5 lakh crore," according to the report.
Also, there's a quaint story about the big Nirav Modi auction that everyone's been waiting for — 'At Nirav Modi sale, curious crowds are eyeing a steal'. "From Hermès bags that cost upwards of $40,000 (₹28.7 lakh) and have six-month waitlists to limited-edition watches studded with precious stones — an auction of over 100 luxury accessories belonging to fugitive jeweller Nirav Modi has got potential buyers thronging a preview gallery in south Mumbai," the report reads.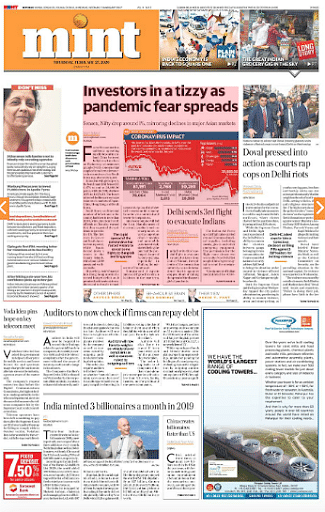 Mint also leads with the losses in the stock market because of the coronavirus, noting that "India's economy too will feel the heat" (`Investors in a tizzy as pandemic fears spread'). "Manufacturers of electronic products such as smartphones as well as importers of solar modules and automobile parts have already started feeling the pinch of the prolonged closure of factories in China, especially in Wuhan, the epicentre of the outbreak," the report notes.
Also, in 'Auditors to now check of firms can repay debt', auditors "will now be required to record their findings (of companies') related to potential frauds in companies, their ability to service debt and whistle-blower complaints after the government widened the scope of statutory audits amid a surge in fraud cases."
Read the report about 34 Indians entering the billionaire dollar club, even as unemployment was at an all-time high and GDP spiralled. " With this, India now has 138 billionaires, with only China and the US ahead, hosting 799 and 626 billionaires, respectively," the report highlights.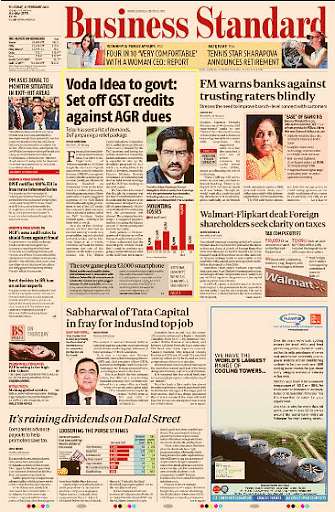 Business Standard once again strays from the pack as it leads with a piece on the crisis in the telecom industry. In `Voda Idea to Govt', Vodafone Idea wrote a letter to the Department of Telecommunications, seeking "the adjustment of goods and services tax (GST) refund to the tune of Rs 8,000 crore against its dues linked to adjusted gross revenue (AGR)", according to the report.
Also, in its second lead, Finance Minister Nirmala Sitharaman warned state-owned banks not to "'blindly trust' credit scores of loan seekers" and "focus on improving branch-level connect with customers".
Subscribe to our channels on YouTube & Telegram
Why news media is in crisis & How you can fix it
India needs free, fair, non-hyphenated and questioning journalism even more as it faces multiple crises.
But the news media is in a crisis of its own. There have been brutal layoffs and pay-cuts. The best of journalism is shrinking, yielding to crude prime-time spectacle.
ThePrint has the finest young reporters, columnists and editors working for it. Sustaining journalism of this quality needs smart and thinking people like you to pay for it. Whether you live in India or overseas, you can do it here.