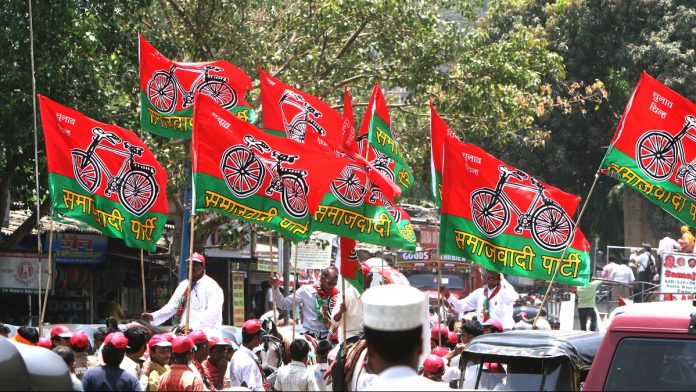 Text Size:
Front page
Media balances Rajnath and Jaitley, TOI takes credit for Rahul-Nirmala war
The front pages throw up an array of issues this morning, but one receives considerable prominence: Congress president Rahul Gandhi and Defence Minister Nirmala Sitharaman's Twitter spat over the Rafale deal.
A few papers think the BJP's newly formed election committees are Page 1 news, and most cover SP chief Akhilesh Yadav's comment that "the BJP's true colours'" have been exposed in light of the CBI's investigation into an alleged sand mining scam that dates back to his tenure as chief minister.
"They (the public) are ready to teach them a lesson," said Yadav ("Ready for CBI probe", The Indian Express).
A few papers can't resist reporting on claims made at the Indian Science Congress that the Kauravas were born due to test tube technology way back when, and that Newton and Einstein were wrong.
Nirmala and Rahul
The Times of India takes credit for the Twitter war, writing, "Rahul, Nirmala clash over TOI report on HAL orders".
Hindustan Times reveals that Gandhi called Sitharaman a liar "in response to a newspaper report on the state-owned Hindustan Aeronautics Ltd (HAL) not yet receiving the orders mentioned by the defence minister during the Rafale debate in Parliament on Friday". The Indian Express doesn't think the spar deserves Page 1 status at all.
A delicate balance between Rajnath and Jaitley
Is BJP's move to appoint election committees important? TOI and The Hindu don't think it deserves Page 1 space.
The Express does: "Rajnath heads manifesto, Jaitley publicity duty in BJP's collective front for LS polls" gets a six-column banner headline.
HT gives a similar single-column headline: "Rajnath to head BJP's manifesto panel, Jaitley to helm publicity unit".
Notice, the media's balancing act between the two leaders: It does not want to play favourites, unlike Queen Anne in The Favourite, which has just won Olivia Colman the Best Actress Award (Comedy) at the Golden Globe Awards.
The TOI's lead is on how a group of ministers is coming together to "shield" small firms from the "GST burden". Led by junior minister for finance Shiv Pratap Shukla, the group proposes the registration for GST be pushed beyond the Rs 20 lakh threshold "but could not agree on the new limit".
Temper rises over unscientific temper
Meanwhile, scientists have had just about enough of "irrational and unscientific claims" at the Indian Science Congress, made by the Andhra University vice-chancellor and others.
Laughable yes, but as The Telegraph reminds us, it's no joke: "These baseless claims could undermine the genuine scientific advances made in ancient India," it writes in "Science searches for myth filters".
TOI reports that "eminent scientists… condemned the irrational and unscientific claims" made at the congress. Protests are to be held in multiple cities today by science bodies.
Opinion: Cow-ardly politics
In editorial comment, Business Standard and Express comment on the UP government's 'cow welfare' tax.
In "Unfair Levy", BS asks, "Why should people be forced to finance what ultimately is a token of one brand of politics?"
The Express, in "Of its own making", writes, "A time may soon come when governments will have to decide whether to allocate budgetary resources for cattle shelters or schools and hospitals."
Prime Time
Sunday is a day of rest for Hindi news channels, who eschew debates at prime time, preferring interviews, like Aaj Tak's Seedhi Baat with Ramdev.
English news channels always have enough ammunition for a good fight. They took aim at the Congress, Sabarimala politics, and the CBI investigation into an SP-era scam in UP, launched amid talks of a 'bua-bhatija' alliance with the BSP (Times Now).
Cricketer Gautam Gambhir, who retired recently, was interviewed by Arnab Goswami (Republic TV) and then Navika Kumar (Times Now). Goswami said Gambhir would do well in politics, while Kumar reminded him that he had already campaigned previously – for Union Finance Minister Arun Jaitley.
Congress lies and so do others
'#Jhoot Politics': The 9 pm Rebublic TV debate saw panelist Sameer Kaul allege that anchor Arnab Goswami "lies". Off camera, Goswami denied it: "You may lie, I don't."
Kaul suggested that "politicians and some media" decided to play the game of "fake news" and, therefore, the topic for discussion – a reference to Rahul Gandhi's recent statements on Rafale, the PM and other issues — was part of the "new normal fake news" environment.
Goswami and Kaul were not the only ones to get personal: On CNN News 18's Battle of 2019, the spokespersons of the SP and the BJP got very personal.
Asked to speak on the CBI investigation into Samajawadi Party president Akhilesh Yadav's alleged involvement in a sand mining scam, BJP's Charu Pragya said to SP's Juhie Singh, "(Are you) done screaming…? You are making a fool of yourself…"
Singh repeatedly interrupted her: "Thank you for the certificate," she yelled back. "What is going on here?" asked the hapless anchor. What indeed — or wasn't it business as usual at prime time?
Pragya attempted to explain that the CBI action was in keeping with the Allahabad High Court's directive but Juhie wasn't listening.
Sabarimala and politics
Times Now joined the fun while Mirror Now chose to revisit Sabarimala.
It had Congress Kerala MP Shashi Tharoor explain why a consummate liberal in public life like himself had been critical of women's entry into Sabarimala: The CPI(M) wants to "polarise'votes" by supporting women's entry, playing "petty politics" for votes, he argued.
Sabarimala was centre-stage on NDTV 24×7's We The People and Left Right and Centre. The former debated the need for "purification" of the premises following the entry of women last week.
Anchor Gargi Rawat said this suggested women were "untouchable". BJP's Karnataka state spokesperson Vaman Acharya contended that this focus was incorrect: It should be on the Kerala government and the Supreme Court's "intervention" in an "800-year-old" tradition.
On CNN News 18's Virtuosity, host and senior journalist Vir Sanghvi asked his panelists to predict the outcome of the 2019 polls: CSDS's Sanjay Kumar and journalist-academic Mihir Sharma voted for Modi as the next PM, with a fall of up to 50 seats in its 2014 tally. Washington Post's Nihan Masih said the field was "open… as of now". To this, Sanghvi observed that, depending on how the poll results turn out, they might feel like "complete idiots" for their predictions.
Get the PrintEssential to make sense of the day's key developments