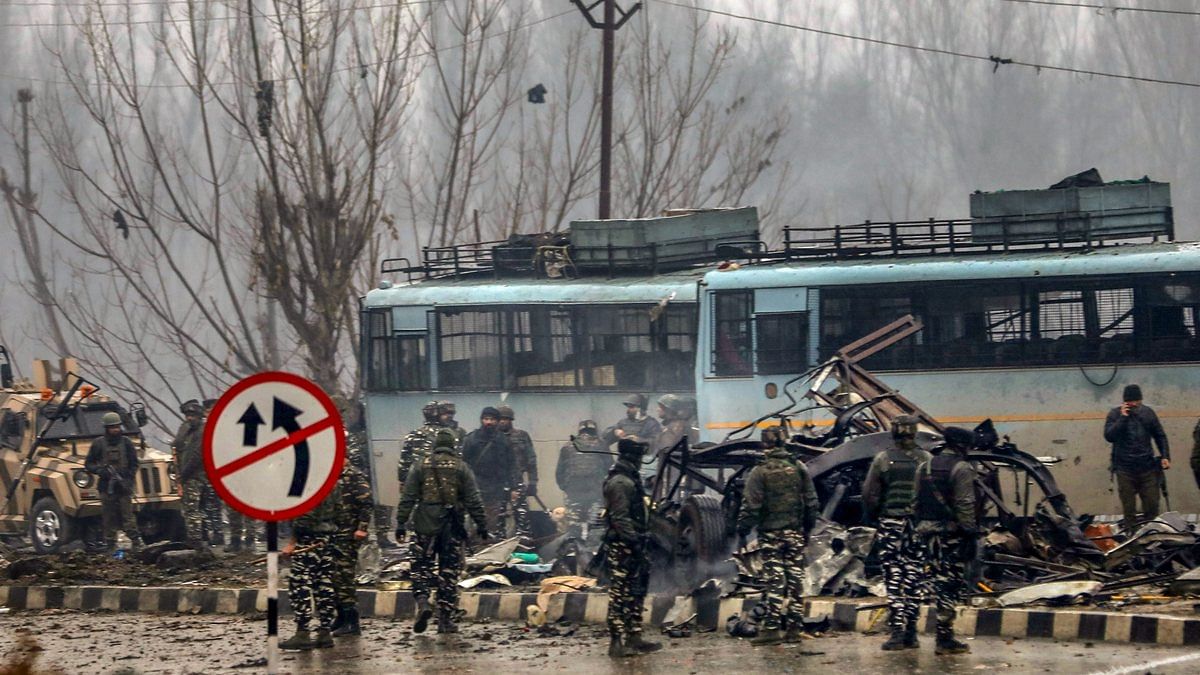 Despite all the bravado he put up in front of others, Umar had begun to sense that the security forces were closing in on him. He had begun living under a shadow of perpetual fear, and it seems he believed death was following him around. He told his handlers that the movement of armed forces had drastically intensified and they had been close to a face-off many times. Sameer suggested moving out of Pulwama in another message, since a massive operation was being planned in the district in the coming days. But Saifullah told him, 'We will fight till the end and not run away.'
In another voice note, Umar rues the fact that only JeM cadres were being targeted and killed despite utmost caution. He also casts aspersions on HM, since no one from the organization was getting killed:
Umar: With so much pressure in the area, one doesn't know who will be next. After the big incident (referring to the Lethpora bomb), about fifteen of our brothers have been martyred. I fail to understand why they are only after us. It seems the enemy has compromised with HM and is conspiring against us. Initially, I thought this could not be true, but I am now convinced they have told HM to stay aside and they won't target them, and that they were at war only with JeM.
Umar then turns philosophical and tells his Pakistani handler that they should take pride in the fact that Islam's enemy hated them so much. 'The magnitude of Allah Tallah's victory will also depend on the amount of hate the enemy has for us.'
---
Also Read: How incidents like Pulwama terror attack catch liberals on the wrong foot
---
But Umar's thirst for more kills was not getting quenched. 'It is better to hit back when the enemy is after you, otherwise they will keep killing you. Only when we can demoralize them, hurt them and hear their screams can we change the tide of this war. We have to kill more and more. A grenade here and a killing there won't mean much. There are 8,00,000 of them in this small area of Kashmir.
Umar sounded furious. He was determined to carry out another attack to match the Lethpora one. He gave his listeners an impression of invincibility and that he was already prepared with another bomb that would double his glory. There are numerous videos from March 2020 of OGWs doing a recce of possible targets for another blast. In one video, a narrow, muddy track is being discussed. 'See, here it is very easy to plant an IED; this mud can come off quickly,' the fellow shooting the video says and then points towards a ditch and continues, 'Look at this ditch here, it can easily hide three gas cylinders.'
In other videos, the movement of the security forces is seen to be recorded on the highway and link roads, along with soldiers milling about in busy bazaars, and the peripheries of security camps. In a voice message, Umar also speaks about Ganderbal, where according to him there was a lot of army movement as convoys were constantly on the move towards Leh and Kargil.
---
Also Read: India must consolidate its gains in Kashmir. Jihadist groups eyeing expansion opportunity
---
Umar and Saifullah had almost finalized the next target, once again a CRPF camp housed inside the Chadoora police station in Budgam district. Videos show CRPF vehicles entering and exiting the police station. 'There is only one sentry at the gate and its approach road has a steep gradient, necessitating the slowing of vehicular movement. An explosives-laden vehicle can ram into at least three vehicles waiting to gain entry into the police station. For fifteen minutes, everyone will lose their senses, and in this confusion, two gunmen will gain entry into the police station and cause more damage. Imagine all the bodies strewn around, at least fifty of them,' Umar chalked out the plan, hoping to make it bigger than Lethpora. 'Inshallah, only if we get the permission, Bhaijaan,' Saifullah retorts.
His handlers continued to pester him to bide his time and persuade him to lie low. But Umar was not satisfied; he grew increasingly pessimistic. In another voice message, he tells his handlers that he felt his days were numbered, and that he wanted to utilize the time he had by carrying out another sensational attack. He was so overwhelmed with his success that he seemed to be in a hurry. He began looking for someone who would do the job. Who would be his Adil the second time around? How about Shakir himself? Umar had full faith in him and knew he would never say no.
One day, Umar asked Shakir the question that had been running in his mind. These voice notes were again recovered from Umar's phone: 'My dear Huzaifah, would you like to carry out the next fidayeen attack?
Not an easy question to answer; after all, it was like signing your own death warrant. Shakir was stunned into silence at first. Then he softly said, 'I want to become an active mujahid of JeM, with a Kalashan on my arm. I will carry out the fidayeen attack and become a shaheed after that.'
---
Also Read: How Kashmiri Islam, tolerant and love-based religion, changed to hardened Sharia version
---
Umar was disappointed, but he asked Shakir to continue being an OGW, and kept pestering him to become his next fidayeen:
Umar: Okay, Bhaijaan, tell me, which is the biggest vehicle you can drive?
Shakir: I have never driven one till now.
Umar: Can you drive a Sumo? Or something bigger than that?
Shakir: Yes. I can drive a Sumo. I should be okay with that.
Umar: That is all right. Inshallah, start offering the tahajjud7 namaz before your first prayer of the day. I know you offer five prayers religiously. If you get time, do indulge in the nafil prayer, and pray that Allah accept you for this task, the same task that Allah accepted [for] Adil. Pray for this and beseech Him for your acceptance. Allah Tallah will definitely find a way and your resolve will also strengthen.
Shakir: It is okay. All right.
Umar: Bhaijaan, if I write out an Adil-type statement for you, how many days will you take to cram it properly?
Shakir: Brother, I need to become active first. I don't want to become fidayeen at the start. I first want to become active. Then I will do it. Real happiness lies in that. Salvation is much more in such a deed if I become active. My faith will also get strengthened.
It was clear that Umar wanted Shakir to become his next suicide bomber. He was growing desperate. But Shakir was equally clever. He was not ready to die so easily and so early.
This excerpt from 'As Far as the Saffron Fields: The Pulwama Conspiracy', by Danesh Rana has been published with permission from Harper Collins India.