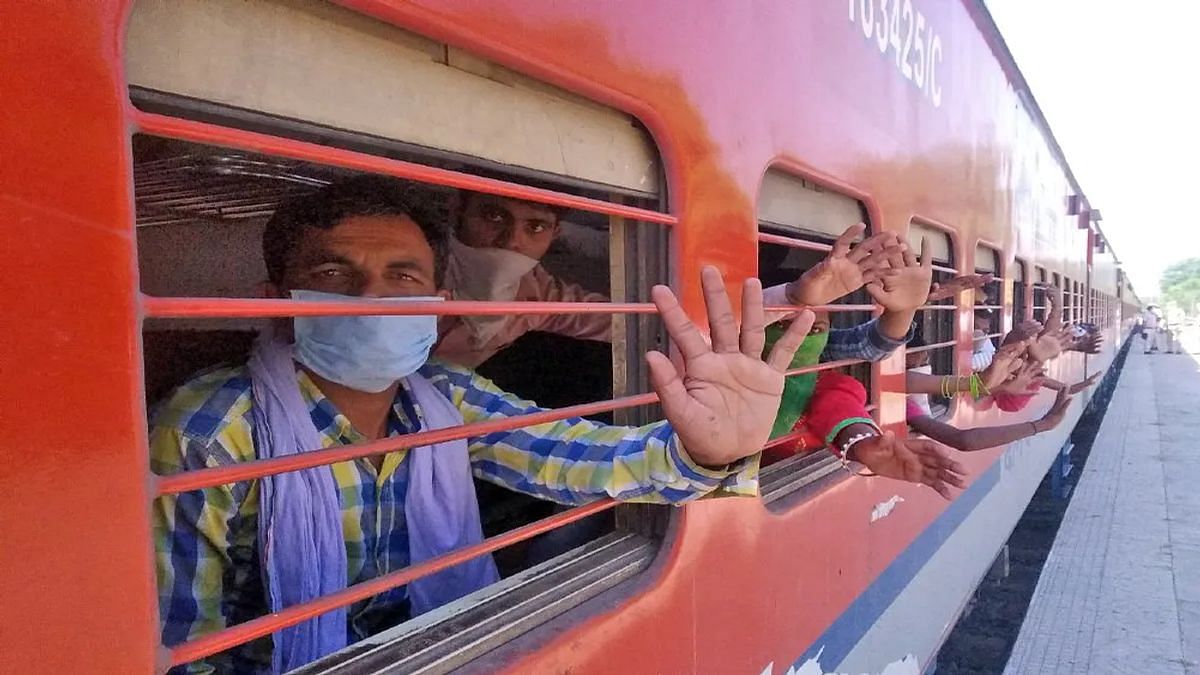 The cessation of long-distance travel might not have contained the spread of infection during the second COVID-19 wave in India. Gandhi had called the railways a 'gigantic evil' and the reason for the spread of the plague in British India. Perhaps, considering the plight of scores of migrant labourers in 2020, Gandhi would have never wanted the rail network to shut down during COVID-19. Socially ahead of his times, Mohandas Karamchand Gandhi is often criticized for his harsh words on the rail network. 'Is it any wonder that plague has become endemic in India? Any other result is impossible where passengers always leave some dirt where they go and take more on leaving … The existence of the awful war cannot be allowed to stand in the way of removal of this gigantic evil. War can be no warrant for tolerating dirt and overcrowding,' he wrote in a letter to the editor of Leader, an English-language daily published from Allahabad and founded by Madan Mohan Malviya in 1909.
Railway services had been running in India for sixty-four years when Gandhi wrote the letter from Ranchi on 25 September 1917. 'One could understand an entire stoppage of passenger traffic in a crisis (war) like this, but never a continuation or accentuation of insanitation and conditions that must undermine health and morality,' he wrote in the letter 'Third Class Travelling on Indian Railways.' Gandhi, however, was lamenting the unhygienic conditions on trains, the 'packing of passengers like sardines' and even refreshments being 'previously sampled by millions of flies.' He was also comparing the lot of lower class travel with the luxury of first-class travel on trains. The fact that he sent a copy of the letter on 31 October 1917 to the secretary, Department of Commerce and Industries, in Delhi, making suggestions for improvements in railway services, shows that much has been made of his criticism of the railways. Perhaps, considering the plight of scores of migrant labourers in 2020, Gandhi would have never wanted the rail network to shut down during COVID-19.
---
Also Read: Indian Railways transporting FMCG is good. But it has on-ground challenges to address

---
Just a few months after Gandhi wrote the letter, the first signs of a virulent form of influenza appeared in India in June of 1918. 'In the city of Bombay towards the end of that month, many employees of offices, banks and so forth, were incapacitated by fever. The disease began to spread over India and before long the mortality, at first low, began to rise in an alarming degree,' says L.F. Rushbrook Williams, officer on special duty in the Home Department, Government of India, in a report for years 1917 and 1918, prepared for presentation to the British Parliament under Section 26 of the Government of India Act. He admits India suffered more severely than any other country in the world; and 'influenza was responsible in British India alone for a death roll of approximately five million. Detailed information with regard to the incidence of the disease in the Indian States is not available, but it is unlikely that the influenza mortality therein fell short of one million.' Williams here was trying to give desegregated data for death in the British-ruled Indian territory as well as the princely states. 'Within the space of four or five months, influenza was thus responsible for the death of 2 per cent of the total population of British India. In some places, the Central Provinces, for example, two months of influenza caused twice as many deaths as 22 years of plague,' he says. The number of deaths, however, were grossly underreported. John M. Barry in The Great Influenza says it is likely that close to 20 million died in the Indian subcontinent, and quite possibly the deal toll exceeded that number. 'Throughout the Indian sub-continent there was only death. Trains left one station with the living. They arrived with the dead and dying, the corpses removed as the trains pulled into station. British troops, Caucasians, in India suffered a case mortality rate of 9.61 per cent. For Indian troops, 21.69 per cent of those who caught influenza died,' says Barry.
The British did not close the railway system despite the influenza, also called the Spanish flu. In fact, running trains was a necessity because of the movement of men and material due to the First World War. More passengers, in fact, moved by train in 1918-19, the period when the influenza infected Indians, than in the previous year. 'The increase in the passenger traffic compared with 1917-18 was chiefly due to the larger movement of pilgrims and marriage parties and also of troops, especially drafts and labour parties, and men on war furloughs and under demobilization,' says Rushbrook Williams in the 1919 annual report.
Stopping air or rail travel would not have made much of a difference during the second wave of COVID-19 in 2021, though many people did fall ill after travel. One reason was that India had already started vaccinating its population from 16 January 2021. The drive began with medical workers and then moved on to frontline workers on 1 February. By 1 March, the government had allowed the administration of either of the two approved vaccines, Covishield and Covaxin, to senior citizens above sixty years of age and those above forty-five years suffering from comorbidities. Whatever the shortcomings of India's vaccine programme, it gave people a sense of comfort in that the severity of infections would be low. However, even fully vaccinated people were contracting infection and dying.The other reason that shutting down of transport would not have helped much during the second wave was the superspreader events of assembly elections and the Mahakumbh. There was no social distancing being followed in election rallies and the religious gathering in Haridwar. Elections were held in multiple states between 2 March 2021 and 4 May 2021. It was only on 22 April 2021 that Prime Minister Modi decided to cancel his election rallies. 'Tomorrow, will be chairing high-level meetings to review the prevailing COVID-19 situation. Due to that, I would not be going to West Bengal,' he announced in a tweet that day.
---
Also Read: Migrant exodus during Covid due to lack of 'immobility infrastructure' in India: Expert
---
Besides, even local lockdowns, first called 'curfews', were able to control infections only marginally since the disease had spread rapidly within housing complexes all across the country. The infection was officially declared airborne and could travel from one house to another, even if the people in those houses did not interact.
On 30 April 2021, the World Health Organization (WHO) acknowledged for the first time that COVID-19 was airborne. 'Evidence suggests that the virus spreads mainly between people, who are in close contact with each other, typically within 1 metre (short-range). A person can be infected when aerosols or droplets containing the virus are inhaled or come directly into contact with the eyes, nose, or mouth. The virus can also spread in poorly ventilated and/or crowded indoor settings, where people tend to spend longer periods of time. This is because aerosols remain suspended in the air or travel farther than 1 metre (long-range),' it said in a Q&A section on its website in April 2021. This was in contrast to what it said on 29 March 2020. 'According to current evidence, COVID-19 virus is primarily transmitted between people through respiratory droplets and contact routes. In an analysis of 75,465 COVID-19 cases in China, airborne transmission was not reported,' it had said in the 29 March 2020 scientific brief on modes of transmission of the disease. It further said droplet transmission occurs when a person is in close contact (within 1 metre) with someone who has respiratory symptoms (coughing or sneezing) and is, therefore, at risk of having his/her mucosae (mouth and nose) or conjunctiva (eyes) exposed to potentially infective respiratory droplets. Transmission, it said, may also occur through fomites in the immediate environment around the infected person. Therefore, transmission of the COVID-19 virus can occur by direct contact with infected people and indirect contact with surfaces in the immediate environment or with objects used on the infected person (for example, stethoscope or thermometer). 'Airborne transmission is different from droplet transmission as it refers to the presence of microbes within droplet nuclei, which are generally considered to be particles <5 micrometre or microns (μm) in diameter, can remain in the air for long periods of time and be transmitted to others over distances greater than 1 m, it had emphatically claimed in March 2020.
This excerpt from 'The Great Shutdown' by Jyoti Mukul has been published with permission from HarperCollins Publishers India.