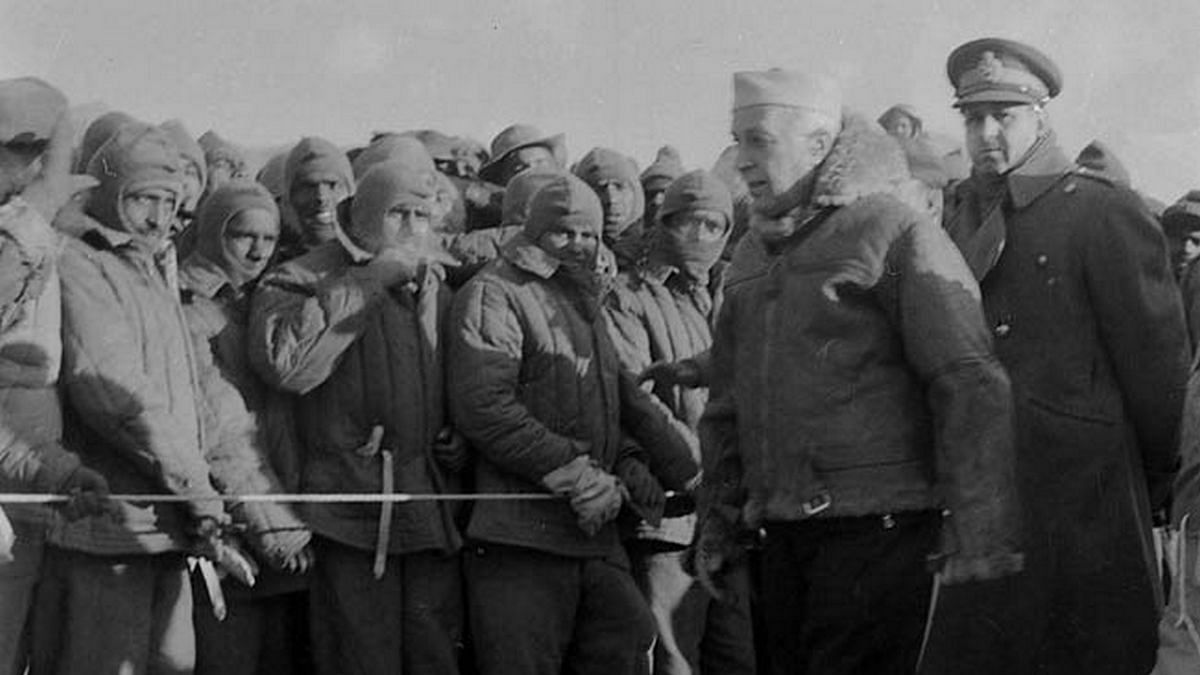 The first-ever Param Vishisht Seva Medal of the Indian army was awarded to Lt Gen B. M. Kaul in 1960, notably for the successful completion of Operation Amar – the construction of 1,450 barracks/family quarters for troops in Ambala – which was inaugurated by the Prime Minister on 20 August 1958. This project was the brainchild of the then Defence Minister V.K. Krishna Menon. To save on cost, the project entailed using troops as labour for the construction. Gen Thimayya, the Chief of Army Staff, was opposed to the project, but during his absence for a visit to the USA, Maj Gen B. M. Kaul, then General Officer Commanding (GOC) of 4 Infantry Division at Ambala, directly approached the Defence Minister and got the necessary approvals. The famous Red Eagle division rose to the occasion under his dynamic command and successfully completed the project in a record seven months.
During his command tenure, in 1956, he had also given a firepower and manoeuvre demonstration by an infantry battalion to the visiting Chinese delegation led by Prime Minister Chou En-Lai at the Naraingarh field firing ranges. Our army and air force had put all their might on display – troops had rehearsed the demonstration for months to achieve perfection. The Chinese were awestruck and a visiting General was compelled to ask, 'General, would such immense resources be available to a battalion in war?' Thus 1956–1959 was spent by 4 Infantry Division in organising great spectacles to showcase nationalistic spirit by constructing housing using troop labour and in impressing the Chinese by using disproportionate assets in support of a battalion attack.
In end-1959, 4 Infantry Division was despatched to NEFA. Lt Gen B. M. Kaul, having earned his PVSM, was now the Quarter Master General responsible for army housing. War clouds were looming, but the General was still obsessed with his pet projects. Rather than staying in tents and focussing on preparing defences, the ever-efficient 4 Infantry Division was tasked to construct bashas (temporary mud and tin-roofed accommodation) under Operation Amar 2. Representations were brushed aside and construction began on a war footing. Operation Amar 2 was inaugurated by none other than the prime minister on 14 April 1960.
---
Also read: Forgotten history —When India put 3000 innocent Chinese-Indians in a camp due to 1962 war
---
In the early 1960s, the unit lines, messes and bungalows were also used for the 'grow more food' campaign for wheat and other crops. It was a common sight in Meerut Cantonment to see troops engaged in farming. Bullocks and ploughs had been bought from regimental funds and old Persian wells had been reactivated. A still older method of drawing water out of conventional wells using a buffalo hide as a water bag and pulled by bullocks or male buffaloes was also put to use. Once, during a locust attack, it was a sight to see troops in hundreds beating empty peepas (metal canisters) to frighten the locust away from the wheat!
In 1961, it was clear to all that war with China was imminent. However, the government at this juncture decided to throw the Portuguese out of Goa. Operation Vijay to liberate Goa was a classic tri-service operation against a very weak enemy and was all over in two days. However, great publicity was given to this 'feat of arms' with high-pitch political rhetoric and public adulation. The only sour note was that some units indulged in looting and were forced to march on foot on the way back. The liberation of Goa was long overdue but in hindsight, the timing, by design or default, led to public attention being diverted from what was happening on the northern borders. Also, it brought a false sense of complacency about our military prowess.
Such was the prevailing environment, ethos and culture in the Armed Forces during the Fifties and early Sixties. Grassroots training, the primary preoccupation of an army in peacetime, had been neglected; generals were bending backwards for political favours; the Chief of Army had resigned due to reckless political orders for taking over the northern borders to execute the forward policy without requisite infrastructure; he was, of course, cajoled into withdrawing his resignation but was later humiliated during discussions in parliament.
---
Also read: India learnt the wrong lesson from 1962 China war. Modi govt must be more open
---
Note the irony, when war came in October-November 1962, it was the 4 Infantry Division that faced the brunt in the Kameng Division. 4 Corps, responsible for the defence of NEFA, was commanded by none other than Lt Gen B. M. Kaul. During the final conference held by the Chinese Politburo on 6 October, Marshal Ye Jianying informed all present that during his 1957 visit to India, he had met General Kaul, the Indian Commander in NEFA. He said that though Kaul had served in Burma (now, Myanmar) during the Second World War, he had no actual combat experience. He added that Kaul seemed, 'to be very rigid, even if an impressive looking soldier. Still, he was one of India's most outstanding commanders'. Mao cut him short and sarcastically said, 'Fine, he'll have another opportunity to shine.'
Alas, the rest is history. The Indian army with 200 years of unblemished history was routed in just eight days of fighting, four days each in October and November 1962. Of course, we have come a long way. It took us three years of concerted training and 'detoxification' to keep our heads above water in 1965 and another six years of hard work to redeem our reputation in 1971.
With the above backdrop, I appeal to our political leaders and our generals, that while participation in non-military 'national causes' is a noble effort, do not forget that our primary mission is to safeguard the nation.
This article was originally published in Newslaundry, 4 October 2017. Excerpted with permission from The Indian Army: Reminiscences, Reforms & Romance by H.S. Panag, published by Westland Publications, July 2020.