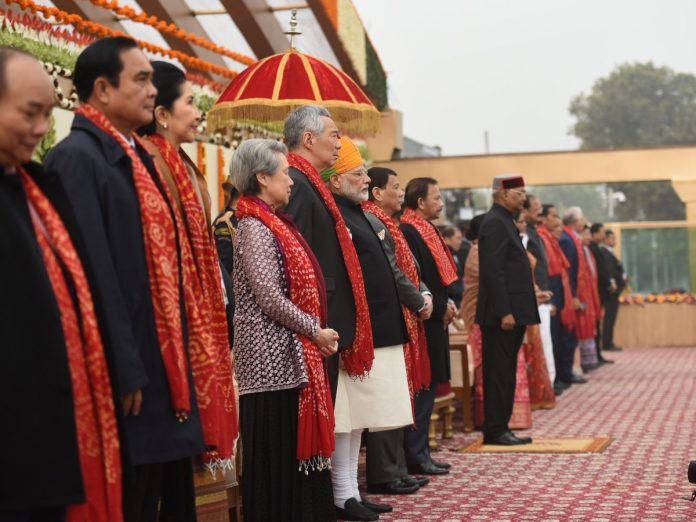 Text Size:
Frederic Grare's book 'India Turns East' forcefully argues that Act East has become India's favorite instrument to mitigate its China concerns and prevent the emergence of a China-led regional order.
One region that remains central to the construct of the Indo-Pacific today is Southeast Asia. Politics over resources, discordance between China and the Association of Southeast Asian Nations (ASEAN) over the South China Sea and the Sino-US rivalry in the region make the Southeast Asian region a strategic hotspot. The actuality of ASEAN-centred multilateral mechanisms equally makes the region one of the prime sub-regions of Asia. Amidst all this, India's rising economic and strategic presence, especially as an influential power through its "Act East" policy, is altering the geo-strategic balances in Southeast Asia, making the balance of power equations in Southeast Asia much more complicated than it appears to be. Frederic Grare's India Turns East brings these shades of Southeast Asian politics to the intellectual core by contending forcefully and thoughtfully that India's tryst with the East will continue to emerge as one of the defining features of Southeast Asia in times to come, and is already changing the course of the region.
The book analyses the existing power rivalry between China and the United States and contends that China's authoritative profile is undoubtedly the most significant aspect of East Asian power dynamics. Frederic Grare cogently contends that Chinese assertiveness is the main factor that builds a strategic congruence between Indian and American strategic interests in the region, but a level of strategic maturity is missing between Indian and American planning at present. India was factored highly in the American 'rebalancing' strategy. Barack Obama had recognised in the Australian Parliament the vitality of India's Look East policy in Asia and the potentiality of India emerging as an Asian power. Donald Trump at present equally sees India as an important strategic partner. Despite these overtures, a stronger Indian-American congruence, however, is yet to be noticed in East Asia. Different ambitions and intentions of India from that of the United States is making this strategic congruence quite feeble.
The American approach in East Asia is to contain China, while India's approach in East Asia is to advance New Delhi's positioning in the region without really engaging in a China-containment strategy. Grare argues that the US rebalancing strategy is to project the American military positioning globally while balancing China "through the making of a large coalition of countries on China's periphery under US leadership …". India, however, has a different perspective. It neither wants to restrict its foreign policy outreach through defined parameters by engaging in a containment strategy nor would allow its foreign policy to be dictated by outside powers like the United States. Even though the China factor should have brought India and the US closer together, signs of a long-enduring and stable strategic convergence are yet to be visible between the two countries.
New Delhi's approach to East Asia has been one of the defining features of India's rise as a power, especially in the context of Asia. Grare calls India's "Look East Policy" its "most important foreign policy initiative": India has tried to respond to China's rise globally through this policy. In fact, the key driver that has been shaping India's Act East Policy is the China factor. In order to respond to China's rise, the book argues, India's Look/Act East Policy has evolved from stronger defence cooperation with the ASEAN countries to a special partnership with Japan. Reviving the relationship with Australia and engaging with multilateral mechanisms and institutions in the East Asian region have been other key features that have shaped India's Look/Act East Policy. Frederic Grare forcefully argues further that "India's Look East has become India's favorite instrument to mitigate its China concerns and prevent the emergence of a China-led regional order". This assertion is certainly correct, but there is much more to this assertion since India's engagement with East Asia is becoming more autonomous and self-guided than just centring on the China factor.
India's presence in East Asia has been steadily growing since the 1990s. Engagement with ASEAN has emerged as the most important portent in India's Look/Act East Policy. East Asia figures as the most important region in India's strategic choices where a comprehensive and multi-textured engagement between India and Southeast Asia is clearly noticeable. This engagement is taking place within a politics of interdependence and inter-reliability along with a new set of multilateral mechanisms where the focus is on multilateral trade. In fact, politics surrounding the free-trade mechanisms are entering a new chapter of interaction and integration with the Regional Comprehensive Economic Partnership (RCEP) initiated by ASEAN where China wants to lead the economic integration process. The Chinese ambition is not really restricted to the RCEP negotiation, but extends rather to the Free-Trade Area of the Asia-Pacific (FTAAP) to lead the regional trade liberalisation and economic integration process. Thus, it poses a number of challenges to India in East Asia. First, it will severely test the Indian economy since China will have Free Trade Agreements (FTAs) with most of the Asia-Pacific countries, making the Chinese economy the single most influencing factor in the regional economic integration process. Second, India may be forced to sign an FTA with China, notwithstanding its long-standing demand to address the growing trade imbalance in China-India ties, which Beijing has been ignoring for years. Third, China is a resident economic power in East Asia. With regional economic integration, the Chinese economic and strategic presence in East Asia will be much more stable and attractive, which neither India nor the US will be in a position to balance.
From the Indian perspective, what is important is even though India's engagement with the East has been a progressive aspect of Indian foreign policy since the 1990s, still, India's engagement with East Asia has been limited to that of just a 'security partner'. Contrary to expectations from Southeast Asia to see India as an 'alternate' prism to China in the region, India is yet to emerge as a 'security provider'. As Frederic Grare puts it succinctly, India's outreach in East Asia has been a progressive one through connectivity in the immediate Myanmar, strategic partnership with Australia, special partnership with Japan and with a growing economic engagement through institutional engagement. These engagements however fall short and remain deficient in offering a solid capacity to Indian presence in East Asia. Hence, no matter how many countries favour India to provide security, India is yet to emerge as a security provider in the region due to its non-comprehensive outreach. Besides, to play the role of a security provider, a country needs to have a comprehensive set of policies, take positions on conflicting issues and maximise its economic and strategic interests in the region that will make it one of the foremost contenders among the countries in the region for strategic engagement. India falls deficient in that, especially in the context of Chinese presence and its growing clout. After all, a security provider does not only need to have a stronger security presence but requires leadership visions too. This is one aspect where India needs to expedite its leadership presence in East Asia.
Despite these limitations, India continues to emerge as a key balancing factor in East Asia. The Indo-Pacific scenario is becoming more interesting due to India's emergence as a stable power. India's engagement with East Asia remain a defining feature in this regard. In fact, if a stronger engagement between India and East Asia has emerged; this is not in vacuum. The East Asian region has coveted India's rise as much as India has craved to embrace East Asia for its economic and geo-political dynamism – that remains the crux of India Turns East. There are books aplenty on India's Look/Act East Policy; Frederic Grare's India Turns East, however, must rank among the best for its depth of analysis and perspective on the Indian presence in the East and how the East, including China, visualises it at present. The distinction of India Turns East lies not only in its rich language and fine set of arguments, but also in that this book is an interesting anthology that explains systematically the transition in India's initial amorphous approach towards East Asia that has gradually become a procedural one, slowly transforming India into a revered power in East Asia today.
Dr. Jagannath Panda is Research Fellow & Centre Coordinator for East Asia at the Institute for Defence Studies and Analyses (IDSA), New Delhi. 'India Turns East by Frédéric Grare' has been published by Penguin Random House India.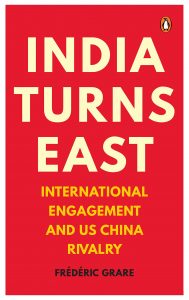 Read Global Pulse for a sampler of the big international stories, and why they matter.