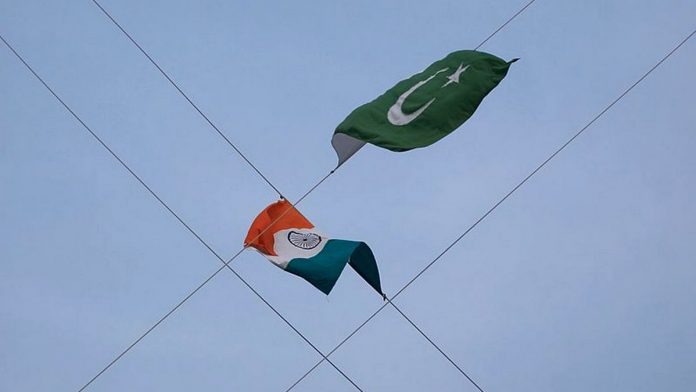 Text Size:
Call me a silly romantic if you will but India-Pakistan peace would save a lot of lives: from the fishermen of Gujarat to the teenagers of Kashmir; from the soldiers of south India to the poor young men of Pakistani Punjab brainwashed into becoming jihadis.
India-Pakistan peace would save a lot of money in defence budgets. It would bring great relief and joy to the divided families. It would bring prosperity to the region through mutual trade. It would stop the demonisation of religious minorities in both countries.
The mayhem of Partition never really ended. Far too many Indians and Pakistanis have shown the ability to be friends – over the internet or on foreign shores – without having to agree with the other's version of history. An Indian and a Pakistani can be friends without figuring out who really won the 1965 war.
There's more to life than nationalism. The Indian flag doesn't come in the way of Indians enjoying Pakistani music or dramas, and Bollywood movies are seen in Pakistan as if Bollywood were theirs.
In the one visit I was fortunate to make two years ago, every other Pakistani I met asked me this question: 'Why do you think our countries can't be at peace with each other?'
---
Also read: Abhinandan's return: Has Imran Khan bought temporary peace or must he do more to end terror?
---
Indian peaceniks in hiding
As India and Pakistan nearly go to a scary war, I notice with some surprise that there seem to be more peaceniks in Pakistan than India. Liberal Pakistanis have already held demonstrations asking us to say no to war. I've seen a lot more Pakistanis than Indians use hashtags against the prospect of war. Even at the risk of being labelled traitors, some Pakistanis asked their government to immediately send back the Indian pilot, Abhinandan Varthaman, who ended up on the Pakistani side.
There was a time when civil society stalwarts in India were known for their candlelight vigils at Wagah. That generation has passed away. There is no equivalent of a Kuldip Nayar or a Vinod Mehta today.
What explains this? No, everybody hasn't turned to Hindutva, just like not everyone in Pakistan is an Islamist. Not every Hindu Indian is an Islamophobe just as not all Pakistani Muslims want to establish 'Ghazwa-e-Hind' in the subcontinent. So why have India's peaceniks gone into hiding?
The answer lies in the Pakistani army's brazen use of terrorism as a foreign policy tool against India with the aim of ensuring permanent hostility.
Despite terror attacks emanating from Pakistan, the Indian peacenik would often make the case for talks: we've got to try. Trust but verify. Costs nothing to talk. And so on.
Like the changing seasons, a thaw comes along and just when talks begin, boom, Pakistan's jihad factories sabotage them. The hawks look at us and say: is this your peace dividend?
The turning point was 26/11, an event so spectacular that it stunned us all into silence. How do you suggest making peace with a country that exports suicide-bombers in the name of religion?
---
Also read: Pakistan releasing Abhinandan for peace but Imran Khan isn't optimistic about Modi
---
Is it really about Kashmir?
Of course, the Indian government cannot pretend that Kashmir isn't a bilateral issue between the two countries when so many bilateral documents say so. New Delhi has no doubt messed up Kashmir year after year. The Kashmiri Muslim has reasons to be cross with New Delhi. But how in the world does that justify Pakistan sending jihadi suicide-bombers to India, or motivating Kashmiris to become terrorists through online propaganda?
It can't be about Kashmir because if it was, Pakistan wouldn't allow terrorists to sabotage talks. These talks include Kashmir. When a suicide bomber decides to aim for the 72 virgins in heaven, he's coming in the way of talks on Kashmir.
In Pakistan, any thought of questioning the flourishing anti-India jihad factories is silenced with whataboutery, conspiracy theories and 'look what India is doing in Kashmir'. The truth is that India doesn't have any equivalent of the Jaish-e-Mohammed or the Lashkar-e-Taiba, proscribed groups that are banned only on paper.
If New Delhi shouldn't use terrorism as an excuse to continue its political alienation of Kashmiris, the opposite is also true: Pakistan can't use its Kashmir plank to justify terrorism.
---
Also read: Why Pakistan's PM talked of Tipu Sultan the day he decided to release IAF pilot Abhinandan
---
Who's afraid of talks?
No, public opinion in India does not allow talks to happen in the wake of terror attacks. There's fatigue with the charade of talks and terror. 'Bahawalpur Blasters' come in the way even when India and Pakistan *are* talking about Kashmir. This was true when Kargil happened, this was true when 26/11 happened.
Clearly, Messrs Hafiz Saeed and Masood Azhar do not want Kashmir to stop burning. Why then does the Pakistani deep state treat them like VIPs. After sabotaging talks, Pakistan says look, India doesn't want to talk!
26/11 happened a few days after then-president Asif Ali Zardari spoke of toning down Pakistan's nuclear policy. When even a hardliner like Narendra Modi goes to Pakistan at great political risk, he gets a terror attack in Pathankot a week later. The familiar show of dossier diplomacy is enacted but nothing ever happens.
After Pulwama, the Pakistani government's statement didn't even condemn the attack.
Yes, we must 'wage peace', except that the Pakistani state is engaged in a continuous low-intensity proxy war through an infrastructure of jihad it barely hides. Anyone who overlooks this reality is not a peacenik.
For ThePrint's smart analysis of how the rest of the media is doing its job, no holds barred, go to PluggedIn