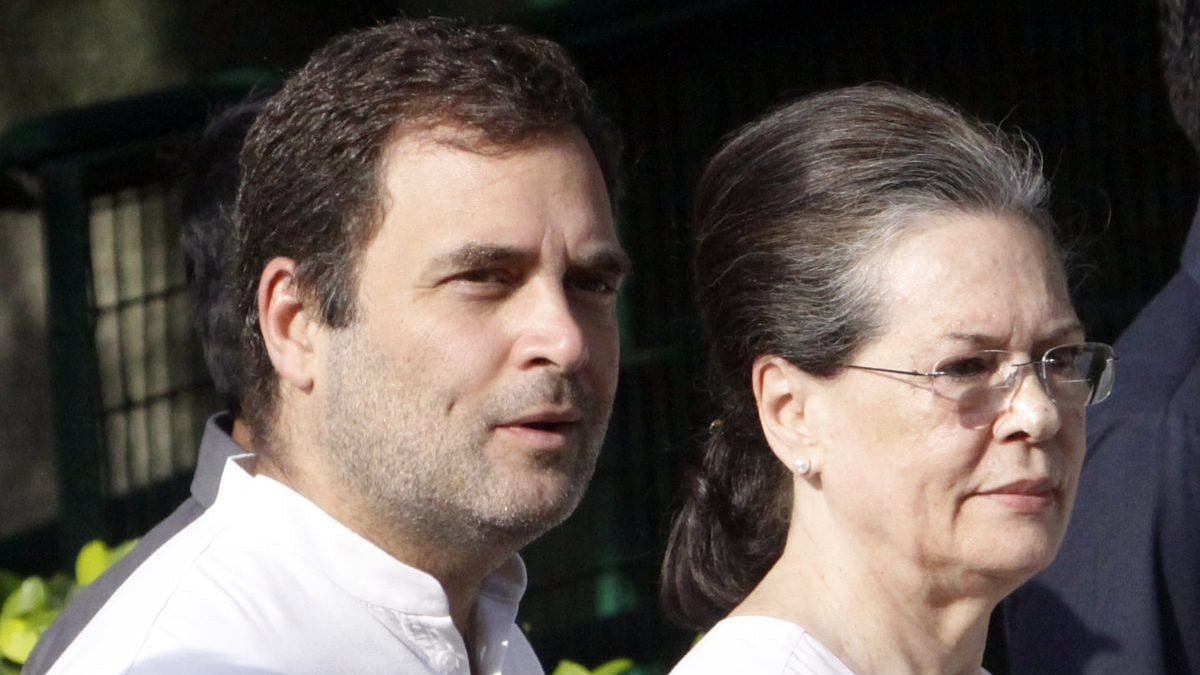 Sonia Gandhi is preparing for the return of her son, Rahul Gandhi, as Congress president. As reported by ThePrint on Thursday, a meeting of the All India Congress Committee is likely to be convened early next year. In the run-up to this, one can anticipate a chorus — a well-choreographed overflow of powerful emotions — to bring Rahul Gandhi back in the saddle to steer the party.
No prize for guessing that Sonia Gandhi will finally yield to their 'wish' in the interest of the party — and the nation, of course. Rahul has had a rollicking time abroad after quitting the Congress president's post in July — or so one assumes seeing how his visits to India have been less frequent. The next Lok Sabha election is four-and-a-half years away. Left to him, Rahul would prefer the status quo, with his mother, who turned 73 Monday, keeping the seat warm for him in her role as interim Congress president.
There is a problem though. The Congress has done better than expected in Rahul Gandhi's absence — in Haryana and Maharashtra. He hasn't shown much interest in the ongoing Jharkhand assembly election either. If Chhattisgarh Chief Minister Bhupesh Baghel's prediction of a Congress-JMM-RJD victory in Jharkhand — voiced at ThePrint's Off the Cuff programme on Saturday — holds true, then Congress leaders may start thinking what they don't want to believe: the party's future doesn't necessarily depend on the Gandhi family.
---
Also read: It's Rahul Gandhi again — Congress all set to bring him back as party chief
---
Congress needs a non-Gandhi at helm
The Congress' first family was once seen as the 'glue' that bound the party together. Rebellion by scores of top leaders in states, especially in the past six years, suggests that this glue may be drying up. Another reason proffered in support of family rule was that the Gandhis were the only ones with a pan-India mass appeal; Congress leaders don't vouch for it any longer. The third argument is that there is no one outside of the family who would be acceptable to Congress leaders across the country. That may be true. But  there is no dearth of party leaders who are willing to experiment with a non-Gandhi family face — provided that Sonia Gandhi, who still commands their respect and loyalty, agrees to it.
Even after two Lok Sabha defeats, there is still no evidence of any leader, including Rahul Gandhi, emerging as Prime Minister Narendra Modi's alternative in popular imagination. Sonia Gandhi can, therefore, afford an experiment. Instead of thrusting Congress presidency on a seemingly reluctant Rahul, she can pick one of the veteran leaders —  who her son feels abandoned him in his fight against Prime Minister Narendra Modi and the Rashtriya Swayamsevak Sangh (RSS) — to head the party as an interim arrangement.
That may silence Modi, Amit Shah and numerous others who have made a political fortune by projecting the Congress as a dynastic party. If the experiment succeeds, that may also take a huge burden off Rahul Gandhi — of being a Sisyphus in the Congress, the mythical Greek king who was eternally condemned to roll a boulder up a hill only to see it rolling down every time he reached near the top.
But who could Sonia Gandhi turn to for this experiment — an interim party chief from outside the family who can revive the moribund party organisation? Of course, he or she must step down to make way for a Gandhi scion at an opportune time.
---
Also read: Jyotiraditya Scindia is 'cricket enthusiast' on Twitter now, keeps Congress guessing
---
Ruling out the obvious
Some obvious-looking choices must be excluded to suit the whims and 'ideologies' of Sonia Gandhi's 'janeudhari' Brahmin son of Dattatreya gotra. So, Ahmed Patel, her loyal and self-effacing political secretary, who was primarily instrumental in re-establishing the supremacy of the Gandhi family after the turbulent 1990s, is ruled out.
Though BJP president Amit Shah is hailed as Chanakya, it was Ahmed Patel who emerged victorious in one-on-one challenges, be it the 2017 Rajya Sabha election in Gujarat, when Shah exhausted his arsenal to unsuccessfully try to defeat Sonia's closest aide, or the latest Maharashtra show, where Ahmed Patel once again got the better of Amit Shah. Some others such as Ghulam Nabi Azad and A.K. Antony, whose powers in the organisation are absolutely out of sync with their political competence or utility, are ruled out for the same reason.
Anyone below 60, if competent and ambitious, is also ruled out. The family can't take the risk of promoting them as Rahul Gandhi is 49. So, one must exclude Bhupesh Baghel, the 58-year-old OBC leader and Chhattisgarh Chief Minister, who is a proven street fighter gifted with sharp political understanding, acumen and wit. Sachin pilot, Manish Tewari, D.K. Shivakumar, Jyotiraditya Scindia, Deepender Singh Hooda, Jitin Prasada — and even Shashi Tharoor who is 63 — are all promising in different ways, and therefore, they must wait for their place in the Sun until Rahul Gandhi shines.
That leaves Sonia Gandhi with some veteran leaders comprising incumbent and former chief ministers who enjoy or enjoyed some kind of mass following: Ashok Gehlot, 68; Siddaramaiah, 71; Capt Amarinder Singh, 77; Kamal Nath, 73; Digvijaya Singh, 72; Bhupinder Singh Hooda, 72; Harish Rawat, 71; Tarun Gogoi, 83. Their age is a big plus point here if one were to look at them from the perspective of a Gandhi family loyalist.
Of these, there are only three — Siddaramaiah, Hooda and Rawat — who still show the stamina and willingness for street fights and agitations, a quality Sonia Gandhi must look for if she gets serious about rebuilding the Congress. Digvijaya Singh did show a glimpse of his old self as a practitioner of mass politics during his Narmada Yatra ahead of the 2018 Madhya Pradesh election, but he seems to be working towards a post-retirement life in his home state.
Of the above-mentioned three, former Karnataka chief minister Siddaramaiah may not fit the bill as the Congress needs someone from north India to take on the BJP. That leaves Hooda and Rawat.
---
Also read: How the SPG Act destroyed the Congress party
---
Two choices, one problem
Thrust into opposition after the Congress' defeat in the 2014 assembly election, Bhupinder Singh Hooda kept the BJP government in Haryana on a tight leash, holding rallies across the state all through Manohar Lal Khattar's term. In the election this year, the BJP won 40 seats in Haryana as against the Congress' 31, but a closer look at the results shows it could have gone either way. The Congress lost five seats to the BJP — Thanesar, Ratia, Kaithal, Badkhal and Rai — by a combined margin of 8,511 votes. If the party had got these votes, it could have emerged as the single-largest party. The advantage with the former Haryana chief minister is the decisive role his Jat community plays in an estimated 50 Lok Sabha constituencies in Haryana, western Uttar Pradesh, Rajasthan, Delhi, Punjab and Madhya Pradesh.
As for Harish Rawat, the former chief minister of Uttarakhand has single-handedly tormented the BJP government in his state, holding protests, dharnas and rallies on "unfulfilled promises" of the BJP, unemployment, and other failures in governance.
The only problem Sonia Gandhi may have with Bhupinder Singh Hooda and Harish Rawat is that Rahul Gandhi likes neither– not that he loves other veteran leaders– and they have also not been very coy about their ambitions.
Sonia Gandhi has no dearth of leaders who can revitalise the Congress but she probably can't afford to take chances at a juncture when there is a big question mark on the Gandhi family's political relevance.