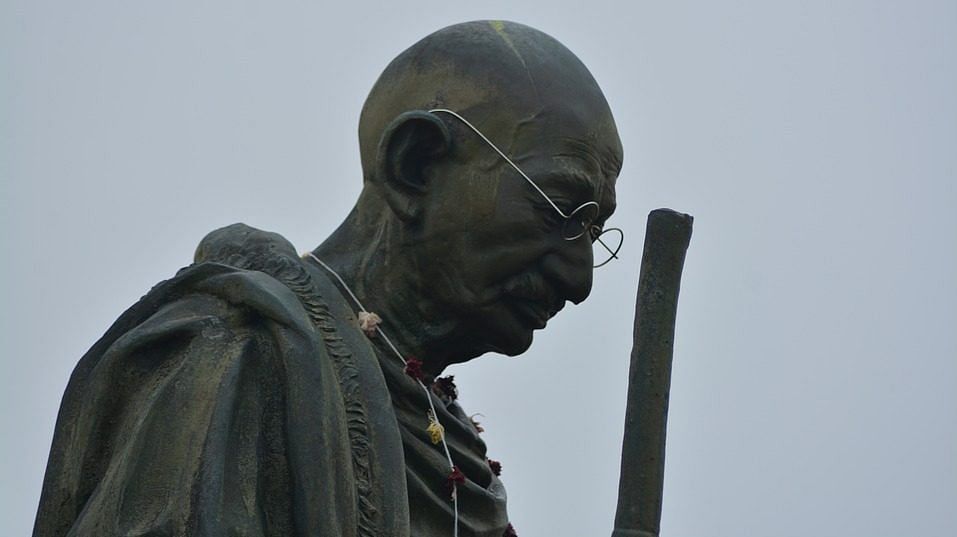 Best way to commemorate Gandhi in his 150th-year would be to critically examine him — not just garland and worship him.
As Prime Minister Narendra Modi's government prepares to celebrate Mahatma Gandhi's 150th birth anniversary in 2019, students and professors of the prestigious University of Ghana removed the freedom fighter's statue from the campus in the middle of the night this week.
They considered Gandhi racist and said that his statements about Black people when he lived in South Africa run counter to their hard-fought battle for self-respect and against colonialism and discrimination.
Gandhi often described Black Africans as "savage" and "raw", and wrote that "the white race in South Africa should be the predominating race".
Many of these remarks were not exactly unknown – after all Gandhi's books, journals and letters have been available in the archives for so long. He is one of the most well-documented leaders of the 20th century.
So why is it all resurfacing now? A combination of new research, scholarship and the internet.
---
Also read: For much of his political career, Narendra Modi has been trained to dislike Mahatma Gandhi
---
For too long, the global 'peace' icon's controversial remarks about Black Africans were hidden by many scholars. A racist Gandhi was just too inconvenient in the myth-making project. And Gandhi himself appears to have contributed to this project.
Gandhi was not alone. Almost all South Asian people believe they are "infinitely superior" to black Africans and use the racist pejorative negro, habsi, kallu, kailla to describe them.

— taslima nasreen (@taslimanasreen) December 14, 2018
In a 2013 article in The Guardian, Patrick French writes about how even Ramachandra Guha's book Gandhi Before India "seems to have excluded a great deal".
"It largely follows the authorised, conservative version of Gandhi: When there is a doubt, he is given its benefit."
For decades, the popular cliche in South Africa went something like this: "India gave us a Mohandas, we gave them a Mahatma".
But people like historian Runoko Rashidi and author G.B. Singh (Gandhi Behind the Mask of Divinity) have been highlighting Gandhi's racism in recent years.
In 2015, two South African scholars — Ashwin Desai and Goolam Vahed, professors at the University of Johannesburg and the University of KwaZulu Natal – removed some of the Gandhi-gloss through their book. They conducted a thorough scrutiny of Gandhi's life in South Africa – based on his own early writings and government archives — and discovered that the leader had indulged in some kind of sanitising of his past in his later autobiography. They published all these details in their book The South African Gandhi: Stretcher-Bearer of Empire.
---
Also read: Students in Canada cannot fix racism by removing Mahatma Gandhi's statue
---
Indians had been taught that Gandhi became a Mahatma in India, but the roots of his 'sainthood' lay in his years in South Africa between 1893 and 1914. The incident of being thrown out of a train in Pietermaritzburg for being non-White is taught in Indian schools as an iconic and transformative moment when Gandhi rose up against injustice. It is there in textbooks, museums and oral histories. However, what is absent from this version is that Gandhi did not wish to be seated along with the Black Africans, as recent scholarship has revealed. That is why he protested the seating.
In fact, the very basis of his struggle for the rights of Indians living in South Africa was the way he positioned Indians above Black people.
During his fight against the system of separate Whites and Blacks' entrances to the Durban post office, Gandhi's main objection was that Indians were "classed with the natives of South Africa". He demanded a third entrance for Indians. He wrote in an 1895 petition that placing Indians alongside Blacks in public space would lead to the former being "degraded". He based this on his conviction that Indians and the Whites came from the common Indo-Aryan stock.
Later in 1904, Gandhi wrote to the Johannesburg municipal authorities that it was "very unfair" to make the Indians live close to Black people because "it is an undue tax on even the proverbial patience of my countrymen".
In India, Gandhi's conservative Hindu views have been challenged by Babasaheb Ambedkar and several generations of Dalit and anti-caste scholars. Even as he wrote against untouchability, he never really questioned Hindu religion, whose dominant rituals supported and justified the caste system.
---
Also read: This leader forced Mahatma Gandhi to change his views on caste
---
But all this while his racist views remained largely eclipsed from mainstream historiography. This was one of the reasons why Gandhi's legacy successfully became a central part of  India's soft power outreach globally. The power of his politics and ideas abroad is not unlike the sway that yoga enjoys among foreigners, especially in the West.
Thanks to the interconnected world of ideas and ideology that we inhabit, it is no longer possible to hide the unseemly aspects of revered historical figures. It will find a way to float up.
Many protestors in South Africa believe that unless the Gandhi statue is removed, the world will just not listen to the voices of Africans and others.
In December 2017, a professor of African studies at the University of Ghana, wrote a letter asking for a timeline for the removal of the Gandhi statue from the campus. The university, in turn, wrote to the country's foreign affairs department, which said it will relocate it. The statue in Ghana had been inaugurated by former president Pranab Mukherjee two years ago – a reason why Ghana's government offered to relocate the statue instead of letting the campaigners bring it down.
It is not just Ghana, but a similar campaign is underway in Malawi as well where communities are trying to stop the erection of a Gandhi statue in Blantyre.
From racist to saint is a rather incredible trajectory. Did Gandhi evolve over time? Or was he, like all mortals, a bundle of contradictions? Or was he just a very smart strategist who didn't always believe that means justify the end?
Whatever be the truth, the best way to commemorate Gandhi in his 150th year will be to critically examine him — not just garland and worship him.
This article has been updated to reflect changes.