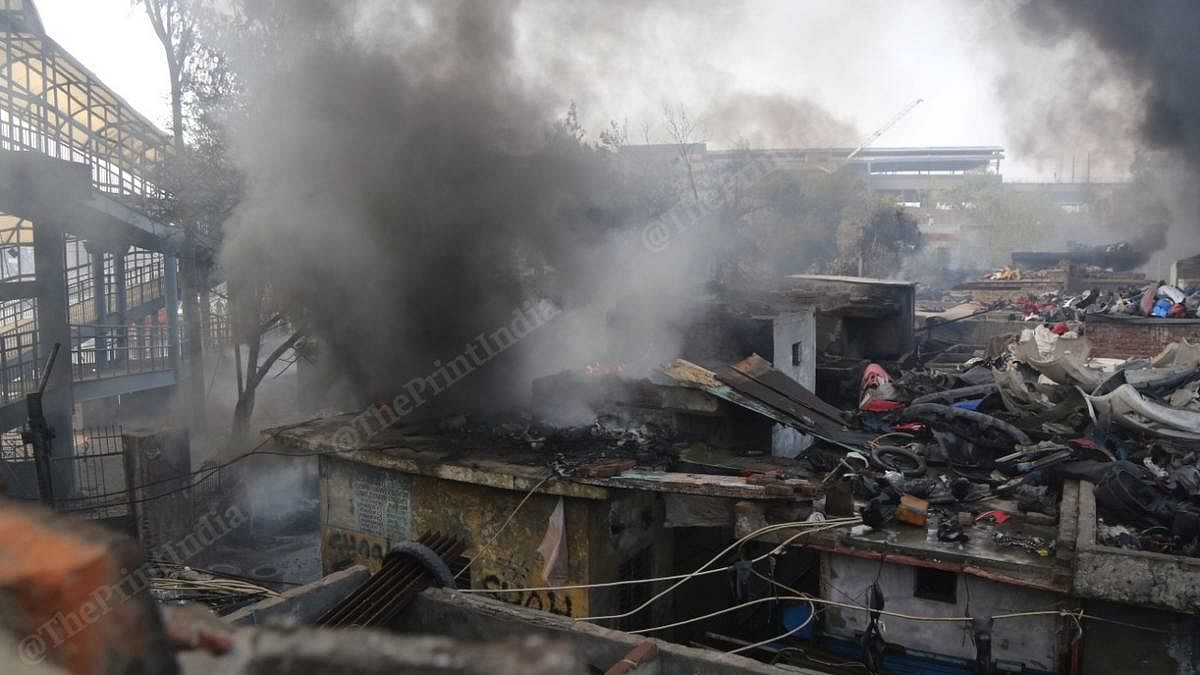 New Delhi: The national capital is witnessing communal riots it hasn't seen in decades. While the anti-Sikh riots engulfed the city in 1984, Hindu-Muslim conflicts of this nature are largely unheard of.
There have been Hindu-Muslim riots in the city in the past, but they have been a distance apart from each other. Here are some of them:
On 5 May 1974, in north Delhi's Sadar Bazaar, a fight that started off with two urchins from each community escalated into a riot that led to 10 deaths. Sadar Bazaar remained under curfew for 44 days.
In May 1987, a series of rumours about events happening in Meerut triggered riots in a mosque in Hauz Khas, where mobs went on a rampage. 15 deaths were reported in one and a half days, but 12 of them were in police firing. The police took swift and effective action in this case.
Just after the Babri Masjid demolition, Seelampur saw riots on 10 December 1992. Estimates of the death vary, but the highest is at 30 people.
---
Also read: There's fear, grief and dejection after Delhi riots but Shaheen Bagh resolves to protest on
---
What makes these riots different
There are issues in Delhi that make violence here different from a 'straightforward' riot. There are several factors behind this:
Firstly, Delhi doesn't have many mixed populations. Delhi only has about 12 per cent of Muslims, and the areas in which they live tend to be ghettoised because they tend to be part of the working classes. Many used to live in central Delhi in Turkman Gate — a slum — in the mid 1970s. However, a demolition drive helmed by Sanjay Gandhi destroyed these settlements and pushed them to the outskirts.
Soon, Muslim immigrants were also encouraged to settle in these areas, because they became Congress vote banks. Problems arise when populations are ghettoised.
Secondly, the Delhi Police has a record of consistently failing the city when it comes to a crisis of this kind, involving a large number of people. The biggest example of this is the 1984 riots. Delhi is where the Government of India's authority sits, and is equipped with the best police force, so the Delhi Police's consistent failure can only be political.
Lastly, Delhi is India's political capital, but it has no master — there is no mayor, governor, or chief minister who can be held accountable for law and order.
---
Also read: Why Modi decided to send Ajit Doval to enforce the law, bring peace to Northeast Delhi
---
What ThePrint's reporters saw
Thirteen reporters and photojournalists from ThePrint's bureau were out covering the riots across the areas that were hit in Delhi — Babarpur, Jaffrabad, Maujpur and Gokulpuri. This is what they had to say.
"There were people running amok with sticks and lathis, not allowing any kind of videography or pictures. It became clear the mob would allow you (to proceed) depending on your name, organisation, and whether they could trust you," said reporter Fatima Khan.
Veteran photojournalist Praveen Jain said mobs were targeting those with cameras more this time as compared to riots in the past. Reporter Simrin Sirur noted that Rapid Action Force (RAF) officers just stood by even as members of the Kardam Puri community asked for help for a child who had been injured by a bullet.
"There were amplifiers in the Babarpur area, and pro-CAA gathering blasted provocative slogans and hurled insults at minorities," said correspondent Tarun Krishna.
Senior assistant editor Ananya Bharadwaj said she saw a crowd of Hindu men destroying a Muslim cemetery. "My hair was pulled, they heckled me, pulled my clothes. I felt more unsafe than I did when I covered Kashmir after the abrogation of Article 370," she said.
Assistant editor Swagata Yadavar spent Wednesday at Guru Tej Bahadur (GTB) Hospital in Shahdara. "There was no animosity between the Hindu and Muslim families in the hospital — what you see (is) common people living their common lives, who were caught in all this violence," she said.
Photojournalists Manisha Mondal, Urjita Bharadwaj and Suraj Singh Bisht said they had to be especially careful, given that they were carrying cameras which became a target.
"We [Simrin and I] were a few hundred meters away from gunshot firing. I decided I needed to protect myself. A Hindu man gave me a lathi, and a Muslim gave me a helmet," said Mondal. Urjita said she and Fatima — whom she was with — constantly exchanged names depending on the crowd.
Journalist Revathi Krishnan recalled having seen a dead body in the context of a riot for the first time, "The job de-sensitises you in a way, because even if it makes you sick you can't show any of that."
Journalists Kairvy Grewal, Soniya Agrawal, and Samyak Pandey said what stood out was that people were still hopeful and confident that their neighbours, of the other community, would not engage in this level of violence. Instead, most blamed outsiders.
---
Also read: Who is Kapil Mishra? BJP leader being blamed for Delhi riots had once called Modi ISI agent
---
You can watch the full episode here.