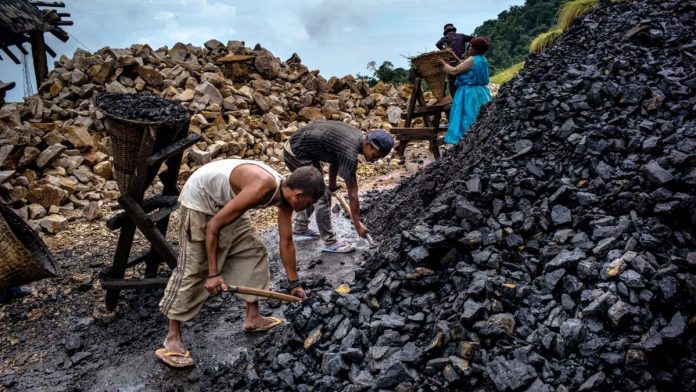 Text Size:
India's switch to renewable energy faces a major hurdle: the political dominance of coal.
A new report by Rahul Tongia (Brookings India) and Samantha Gross (Brookings) on renewable energy in India highlights the challenges that lie ahead. Many of them are political in nature and complicate the simplistic narrative that decreasing renewable energy costs will automatically translate into a rapid phase-out of coal.
Comparing the cost of renewables to coal
The cost of renewable power generation has decreased rapidly in India, as project developers have responded to the government's tenders with aggressive bids. We now see bids below 4 cents per kilowatt-hour (kWh) – roughly comparable to the cost of running an existing coal-fired power plant in India.
One should, however, note these costs do not include "integration costs" from dealing with intermittent solar and wind power. Because the sun does not always shine and the wind sometimes does not blow, the real cost of renewable power generation at the system level is higher. When that cost is considered, renewable energy is only competitive with new coal-fired power plants.
---
Also read: Badarpur power plant has no plans to shut down despite order from court-appointed body
---
Drivers and barriers to an Indian renewable energy revolution
The primary driver of India's renewable energy boom has been the government's target to increase renewable power generation capacity to 175 gigawatts. This would be a massive increase, considering that India's total electricity generation in March 2018 was only 344 gigawatts. So far, the government is on track.
The central government sees a lot of value in renewables. They are a publicity coup in an age of climate change, create an opportunity for domestic industrial growth, and resonate with Prime Minister Modi's experience as the Chief Minister of the state of Gujarat, India's industrial leader and a forerunner in solar power development.
Besides integration costs, moving away from coal toward renewables faces a number of political obstacles within India's federal structure. To me, with a background in political science, this discussion is the most original and useful part of the report. Here is a brief summary of what Tongia and Gross find:
· Integration costs currently fall on states with high renewable energy penetration rates. If this uneven pattern of growth continues, these states could face increasingly severe problems in dealing with the cost of renewable energy penetration.
· Conversely, states with coal mines and power plants – these tend to be clustered to minimise transportation costs – remain dependent on coal mining, transportation, and burning for livelihoods, jobs, and revenue. In fact, coal is a major source of revenue for the Indian railways.
· Electric utilities are worried about a "death spiral," as increasingly competitive distributed solutions, such as rooftop solar, encourage consumers to reduce their grid power consumption. Considering India's high electricity prices for the industry, this is a direct threat to the already ailing power distribution companies' finances.
· In states with governments outside Prime Minister Modi's BJP and allied parties, a lack of interest in collaborating with the Centre raises barriers to coordination.
For India to accelerate the transition from coal to renewables, policymakers and the civil society must thus solve a few important problems:
1. How to encourage current renewable energy leaders to continue? Here the sizeable gains from avoided air pollution and water use could play an important role, but this strategy cannot succeed without greater levels of awareness outside metropolitan centres such as Delhi.
2. How to reduce coal-fired power generation in India's coalfield states? These states are economically and politically dependent on coal, and the central government does not have any easy or inexpensive ways to reduce dependence. The coal-dependent states will probably oppose any restrictions on coal mining and use, or efforts to force them to pay a portion of the renewable energy integration cost.
---
Also read: This village 'lives with cancer, TB & death' just so Delhi can have a fraction of its power
---
3. How to deal with electric utilities? India's electric utilities are already struggling, and renewable energy presents a set of new challenges from integration costs to the utility death spiral.
Solving these problems is complicated by Centre-state conflicts.
Overall, I see a very important role in enhancing public awareness through campaigning on air pollution, water use, and other direct and imminent environmental problems related to coal-fired power generation. Such campaigning will absolutely have to reach beyond India's large cities and to states that are currently dependent on coal. If these campaigns can provoke a backlash against coal's environmental problems, there could be an opening for India's capable and organized energy policy community to develop innovative and equitable policy solutions.
Johannes Urpelainen is the Prince Sultan bin Abdulaziz Professor and Director of Energy, Resources and Environment at the Johns Hopkins School of Advanced International Studies. He is the Founding Director of ISEP.
This article was originally published in sais-isep.org
Get the PrintEssential to make sense of the day's key developments.