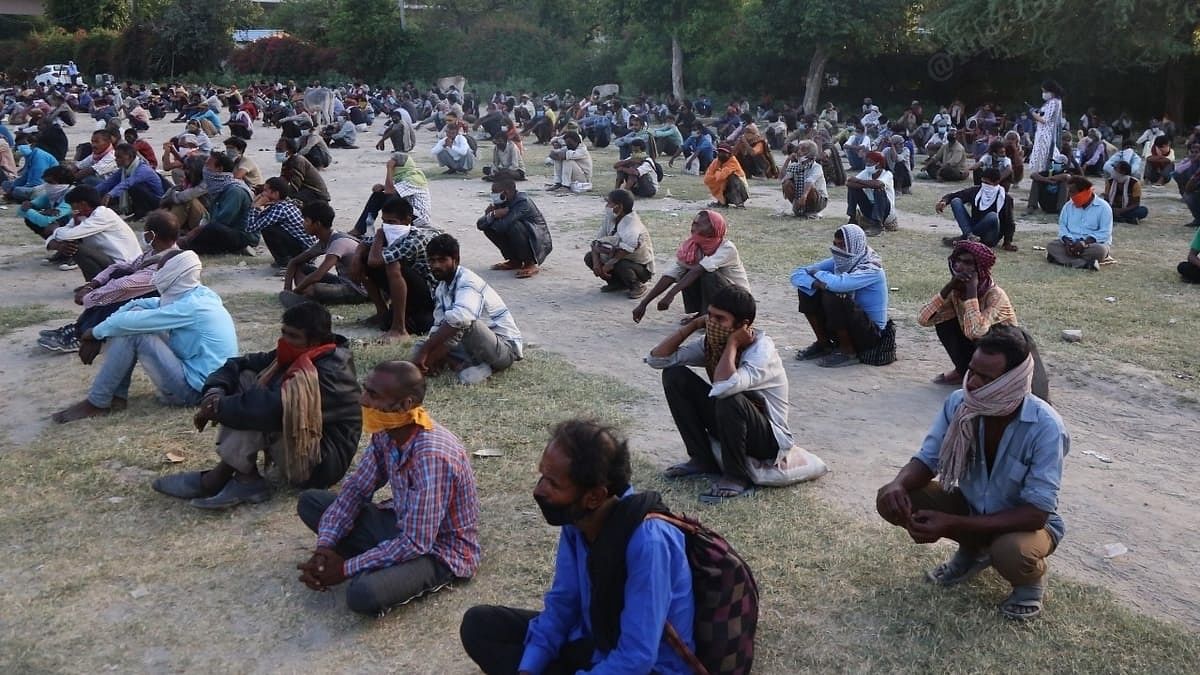 Whether it is the coronavirus pandemic or tsunami tragedy or Latur earthquake, India's ugliest social fissure of caste always plays out jarringly. It is a cliché to say that a crisis is an opportunity. But a crisis is actually a mirror to the unfinished democracy project, it reminds us of all the opportunities we have missed and keep missing.
Once again, discrimination and hatred based on identities like caste, religion and race are showing their ugly face in India at a time the world is reeling under the social and economic impacts of Covid-19.
In Uttar Pradesh's Kushinagar district, at a quarantine centre housing five people, two members refused to eat the food because it was cooked by a Dalit — village head Leelavati Devi. In a hilltop village in Andhra Pradesh's Vijayawada, 57 Dalit families have been barred from going down the hill to buy essentials like vegetables and milk. Upper caste men stand guard and send people, even pregnant women, away.
---
Also read: You clapped for them as they picked garbage. Respect them and Ambedkar would clap for you
---
Safai Karamcharis at continued risk
The coronavirus pandemic has brought out the best in us and the worst in us. After first putting on a religious colour, the pandemic soon engulfed the people on the basis of caste and class.
Nowhere is this discrimination more starkly visible than among the Safai Karamcharis — the lowest-paid workers in India's labour system who are also at the bottom of the social hierarchy. During the coronavirus pandemic, they are working at the frontline, disposing hospital waste and cleaning the infectious garbage that cities are producing. And so, it's no wonder that from Dharavi to the Rashtrapati Bhavan, it's the sanitation workers who are getting infected by the virus. But has that changed anything for them? Certainly not, because they continue to work mostly with their bare hands, without any protective gear.
What does it mean, then, when the Narendra Modi government announces their work as "essential services", or when the prime minister washes their feet in a symbolic gesture? Their demand for safety equipment, after all, will be seen as blasphemy. Three decades of economic growth and privatisation has failed to touch the lives of these casual labourers.
The sanitation workers, most of whom are Dalits, are not alone in this segregation. Remember, India's Muslims had also entered the chart of discrimination — only in their case, religious hate and bigotry was the driving force.
---
Also read: Coronavirus was a test of secular nationalism. Then Tablighi Jamaat became the scapegoat
---
Manufacturing hate, with intent
As soon as news about Tablighi Jamaat members being Covid-19 positive broke on 31 March, a section of media and Right-wing bigots started the narrative about 'Muslims' deliberately spreading the coronavirus. The spate of hate that began over the gathering at Nizamuddin Markaz in mid-march turned more pronounced with each reported case of a Tablighi member or a contact contracting the virus. From "corona jihad" to "thook jihad", it was all about finding new terminologies to target Muslims, with pro-government channels and social media trolls leading the way.
Even government agencies, such as the Union health ministry, reported Tablighi Jamaat-related cases separately when giving out the total numbers of Covid-19 infected people. The same government didn't say anything when hate crimes against Muslims began to be reported from across the country — Muslim vendors being stopped from entering colonies, incidents of goons accosting Muslims and demanding to see their identity cards, mobs and police attacking any Muslim they caught a sight of. Most of these attacks were triggered by fake news on social media and instant messaging platforms like WhatsApp.
Only when Arab countries criticised the rising Islamophobia in India and treatment of Muslims — even as several Twitter accounts of Hindus living in those countries were flagged for spreading hate against Muslims — did PM Modi issue a statement, invoking the idea of "unity and brotherhood" because Covid-19 "does not see race, religion, colour, caste, creed, language or border before striking".
COVID-19 does not see race, religion, colour, caste, creed, language or borders before striking.

Our response and conduct thereafter should attach primacy to unity and brotherhood.

We are in this together: PM @narendramodi

— PMO India (@PMOIndia) April 19, 2020
It may sound absurd to link a disease with a particular sect or religion but for Indians normalised to hate against Muslims and religious bigotry over the past several years, this seems to be a new normal.
Seen historically, this coronavirus-induced bigotry fits alongside several past incidents from across the world when pandemics or similar crises have given rise to such discrimination — part of the process of finding scapegoats, situating blame. The spread of bubonic plague, or Black Death, in the 14th century Europe was blamed on Jews, Africans, and Asians. Similarly, the spread of H1N1 infection (the 2009 swine flu pandemic) in the US was blamed on the Mexicans. The spread of cholera in the US was blamed on Irish immigrants so much so that it eventually came to be known as Irish disease.
In India, though the burden of the coronavirus fell squarely on Muslims due to the hate propaganda, they weren't the only ones to be discriminated against. There were many instances when people from north-eastern states were racially abused, spat on and targeted, even called "Corona".
---
Also read: Meerut cancer hospital wants Muslims to come only after getting Covid-19 negative test report
---
No loss of Indian character
In a way, the pandemic brought to the forefront all the fissures and fault lines of Indian society — with all its vigorousness and in a vicious form. It also showed how an unequal society like India doesn't lose its character even during a pandemic.
If we look at history, we can find that pandemics, or any disease for that matter, do not impact everyone equally. The vulnerable sections of the society bear the burnt more severely because they are less equipped to tackle the problem on their own and the state is also not so benevolent while deciding who dies and who lives. Moreover, their immunity level is poor because of the quality of food they eat.
In a country like India, with one of the worst hospital bed-to-patient ratios, it will be difficult for the marginalised to get treatment or, if required, get a ventilator. The association with need may not be the only criterion determining who gets the ventilator and who does not. Obviously, the social capital of the patient will play a role, because in India, privilege is decided by accident of birth. In this scenario, the socially and economically disadvantaged groups would be left to fend for themselves.
After all, we Indians are Homo Hierarchicus, and this fact does not change in the time of a pandemic. It's why nobody objects when the Haryana government segregates members of the medical field by announcing separate ex-gratia packages for the family of doctors (Rs 50 lakh), nurses (Rs 30 lakh) and the associated staff (Rs 20 lakh) in the event of death. Clearly, it was based on the principle of graded inequality, which Indians are accustomed to for centuries.
But this new normalisation of hate for Muslims and other communities, coupled with the long-existing discrimination for Dalits, may exact a heavy price.
The author is the former managing editor of India Today Hindi magazine, and has authored books on media and sociology. Views are personal.