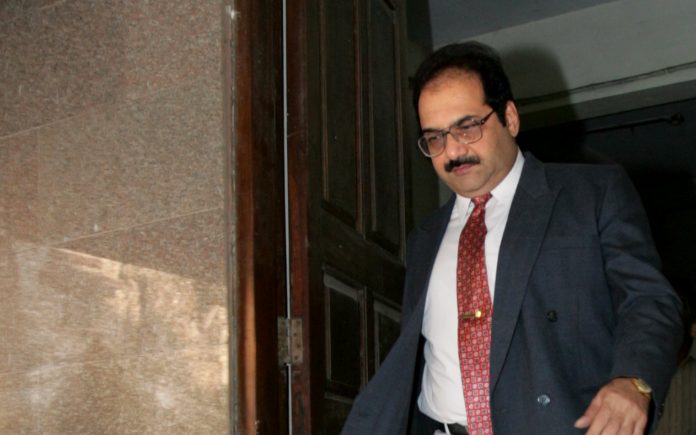 Text Size:
Justice Abhay Thipsay said he will not contest election or seek power from the Congress. There is no reason to distrust him.
Former high court judge Justice Abhay Thipsay joining the Congress party has not only raised eyebrows but even tempers and the odd suspicions in certain circles. These are attributed to his critical observations in the controversial Sohrabuddin murder case, in which Amit Shah, the BJP president now, is allegedly involved. When the alleged fake encounter took place and the trial was conducted, the BJP was not in power at the centre. Narendra Modi was a chief minister and Amit Shah was his protégé. Justice Thipsay was not a party to the judicial process then.
Justice Thipsay's interview to the press a couple of months ago, in which he made some remarks about the way trials are being conducted and acquittals are being issued, particularly in the Sohrabuddin case, are now being quoted. This is being done to undermine his joining the Congress.
After joining the Congress, he gave an interview to the media, wherein he made it amply clear that he was worried about the direction in which the country's polity was headed. Communal polarisation and enveloping majoritarianism in society were his concerns.
Justice Thipsay's father was a freedom fighter and a strong believer of the Gandhian values and Nehruvian politics. Justice Thipsay felt that the legacy of Gandhi-Nehru was being erased, and he thought it was his moral duty to join the party, which was the flag-bearer of those values.
I see no reason to question his integrity or attribute any other motive for his decision to join the Congress party. He is 63 and, so far, has not been associated with any social or political movement, not even with any civil society groups. He is not known to be an "activist judge". Indeed, even in the legal circles, he is not known for any ideological or political bias, nor has he been accused of corruption. Therefore, I see no reason to accuse him of a motive in joining the Congress, particularly when the party is not in power and unlikely to acquire power and glory in the near future.
In short, the Congress can offer nothing to lure him into the party. And indeed, if he was interested in joining politics for power, it was the BJP that was in a position to offer him governorships, commissions, national or international assignments, or cosy arbitrations. It is the BJP, despite being in power for over four years, which is desperately seeking respectability and credibility. So Thipsay had a profitable option available. But he let that pass.
One of his recent controversial decisions, I recall, was granting bail to Salman Khan. At that time, he was heavily trolled allegedly by the Sangh Parivar for appeasing Khan, a Muslim. Later, not only was Thipsay vindicated, but Salman Khan and his father, Salim, became prominent guests at Modi's functions. Salman Khan was shown across TV channels flying kites in Modi's august company. The bonhomie between Salman and Modi was such that Thipsay's trolling suddenly began to evaporate. But, by and large, Thipsay has not been the target of any gossip, rumour or slander.
Then, why the trolling, attribution of motives and innuendos now? There are sociological and psychological dimensions, and both are interconnected.
Thipsay belongs to the middle-class intelligentsia. Being a high court judge (and a Brahmin), he is part of the elite and enjoys some intellectual status. His clean image gives him certain social standing. People from this class and caste are known to consider the BJP as a "natural" party to work for or at least vote for. The RSS, seemingly, provides them an ideological frame and platform, as well as social security and identity. In Modi, they see a fulfilment of their majoritarian ambition. To be anti-Muslim, anti-reservation, anti-Pakistan, and anti-Left are believed to have been ingrained in this caste and class. Anti-Congressism, or rather anti-Nehruvism (that includes "anti-dynastism"), is a natural corollary and culmination of all this.
Thipsay defied this sociological pattern, in many ways. For some years now, this class had made the Congress a political untouchable, even before Modi vowed to make India "Congress-mukt". The media too, many argue, comes from this class and shares this bias.
The Congress is painted as a party of corruption, of being pro-Muslim, anti-Brahmin and anti-meritocracy. The upper castes regard themselves as meritorious by birth and, therefore, cannot support a party that demands welfarist affirmative action. How can Thipsay, an elite Brahmin, dent the firewall?
Like White Anglo-Saxon Protestants (WASPs) in the US, this is a closed community, which dominates bureaucracy, academics, art, media, judiciary, the IT industry, the NRI circle, hi-tech research and development field, and the vast network of public and private sector executives and managers. It is a sort of gated society that was ironically born of the Congress's policies – initially from license-permit raj and the public sector era – and more recently from the commanding heights achieved by the private sector and multinational corporations.
After liberalisation, privatisation and globalisation, the new middle class in India became an echo chamber of the NRI community.
Unless we understand this context, we would not be able to understand the significance of Thipsay's plunge into the Congress. Thipsay has broken the upper caste-middle class firewall. There would have been no ripples, not even a debate if he had joined the BJP, and was given a ticket by Amit Shah to fight an election in some urban constituency. He has made it categorically clear in his interview that he will not take part in any election or seek power from the Congress. There is no reason to distrust him.
Kumar Ketkar is a former editor and Congress member of Rajya Sabha.
Read Global Pulse for a sampler of the big international stories, and why they matter.