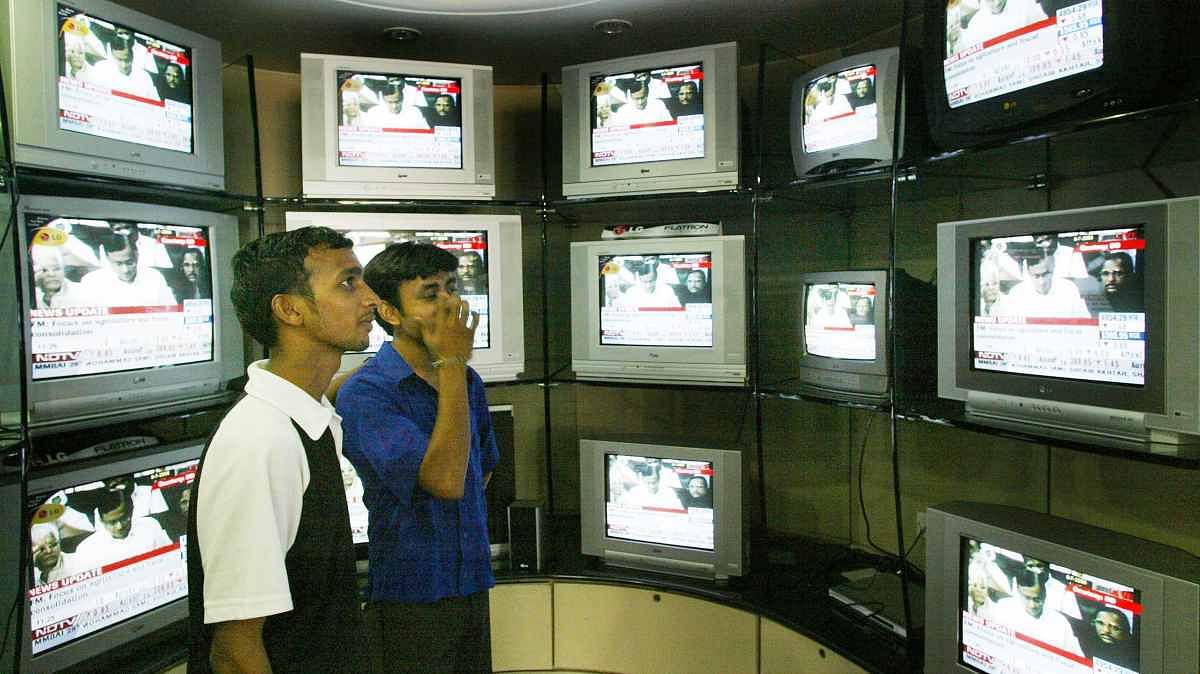 We are a funny people. We enjoy a good laugh at the expense of others but don't like it when the joke is on us. That is why when you watch television in India, you'll find precious little that's funny — unless it's how seriously we take ourselves, or the poor quality of our TV shows.
We all know what happened to comedian Vir Das when he dared to make fun of India and Indians in his six-minute satire, '2 Indias': He was slapped with an FIR. Ironically, Das was nominated for an international Emmy Award – the United States TV awards – for another show in the comedy section on Netflix. Unfortunately, he didn't win, but in interviews with NDTV 24×7 and India Today, he said he would face whatever was thrown at him. He also appeared at the Emmys, nattily attired in an outfit by fledgling designer Pradeep Bhatt, after he crowd-sourced it on Instagram.
Along with Das, Nawazuddin Siddiqui (Serious Men) and Sushmita Sen (Aarya) were up for Emmys that they didn't get either. But at least the three were nominated for shows on streaming channels. When did you hear of any show/series on Indian cable or satellite TV being nominated for anything?
---
Also Read: The India that Vir Das and liberals want – and the one they won't talk about
---
Back when Indian shows stood out
The lack of humour and poor content quality are the weakest links on entertainment and news television. It wasn't always so: In the '80s and '90s, the creative talents of Indian cinema tickled our funny bone and expanded our souls with excellent sitcoms and dramas – Yeh Jo Hai Zindagi (1984), Wagle ki Duniya (1988), Dekh Bhai Dekh (1993), Idhar Udhar (1985) — or even the silly-willy Shriman Shrimati (1994) — were hilarious compared to the laughable shows we now have, including The Kapil Sharma Show or the sitcoms on Sony Sab. Have to give it to Sony though, at least it tries.
If the leading entertainment channels don't believe in producing sitcoms, then news channels ignore political satire that flourishes on American TV news and even in Britain. Think Late Show with Stephen Colbert (CBS), The Mash Report (BBC 2). The closest we get to Colbert and co. is someone like Arnab Goswami who, unintentionally, makes viewers laugh with his histrionic outbursts at 'Vadra Congress' and other 'enemies' of the State.
Fact is, you can't laugh at politicians. For fear of sedition charges? Could be. Can you even think of cracking a joke about Prime Minister Narendra Modi or Amit Shah on air, the way people do on social media? Never. This says something about the fragility of the news media and democracy here — in robust democracies, the political class is always the butt of the best jokes.
The only show that defies self-censorship in comedy is The Week That Wasn't with Cyrus Broacha, weekends on CNN News18. May it be allowed to continue. Hindi news boasts of kavi sammelans with strong satire, but these are also the exceptions.
---
Also Read: Indian standup comedy has a bright future, even in these times of intolerance
---
Decline of comedies and satire
The absence of sitcoms on entertainment channels suggests that we don't enjoy a good joke. And if you think about it, Bollywood has shied away from comedy, too – one of the reasons Jaane Bhi Do Yaaro (1983) remains such a celebrated and fondly remembered film is the lack of any worthy satirical successors.
Likewise, television has produced no really good comedy, since, well… the nineties. Can you think of any? Has today's political and social correctness, hallmarks of liberal, egalitarian thinking, actually made us more intolerant?
As for drama, well, things have come to such a pass that the K-serials from Ekta Kapoor's stable, once considered flagrantly melodramatic with absurd plots, would now draw exclamations of 'wah-wah'. Today's soaps and serials (some still from Kapoor) need Naagin (Colors) to rescue them for anonymity.
Mythologicals rule television like they never have before — and obviously, they are no laughing matter. The only other form of entertainment is the reality contest shows — Sa Re Ga Ma Pa (Zee), Indian Idol (Sony), Dance India Dance (Zee TV), and of course there's Kaun Banega Crorepati (Sony) and Bigg Boss (Colors) — the latter's charm lies in that we don't know whether to laugh or cry while watching it.
---
Also Read: Hindi Dalit literature has a gaping hole – satire
---
Only TRP, no content
Indian entertainment channels don't seem interested in excellence at all,  just viewership ratings. Hence, the ascendancy of the epic. There is also no attempt to gamble, to try out innovative formats, genres or break new ground. Hence, a perpetual cycle of the same tired-looking soaps and mythos throughout the week, and reality shows on the weekend.
Clearly, producers and channels know something we don't — that Indians don't watch TV to be amused or elevated, and therefore, there is no money to be made in quality shows or comedies. They have left that market for the streaming channels.
Oh well, what a pity. Wouldn't it have been marvellous if streaming channels had been challenged by Indian entertainment channels and the viewer could have had the best of both worlds?
Lastly, on a completely different note, will someone please tell news channels, DD News in particular, that PM Modi had his beard trimmed and hair cut a while ago? So why do they insist on showing us photographs of him in his avatar of a sage?
Honestly, it's not funny.
Views are personal.
(Edited by Srinjoy Dey)